Evanston is Paying Reparations of $25,000 to Black Residents—They Say That's Not Enough
Evanston, Illinois could soon become the first American city to provide reparations to some Black residents, making amends for the city's past discriminatory housing policies.
The Chicago suburb's reparations program was established in 2019, with a $10 million fund established from a 3 per cent tax on recreational marijuana sales.
The program's focus is on addressing housing inequity, with a first phase that allocates $400,000 of the budget to provide $25,000 grants to eligible recipients to help with home ownership, mortgage assistance and home improvements.
But even those who helped launch the groundbreaking program acknowledge that it is just a first step towards righting the historical wrongs against Black people in Evanston, and the nation.
Robin Rue Simmons, the 5th Ward Alderman who spearheaded Evanston's reparations program, told Newsweek she is proud of the city for advancing the initiative.
She said the enduring racial divide that remains in Evanston despite years of various equity initiatives prompted her to pursue reparations. "I thought that we as a city might localize a reparative policy to empower the Black community and help rebuild wealth that had been stripped away due to predatory practices and other anti-Black practices," she said.
To qualify for Evanston's reparations program, Black residents must have either lived in Evanston between 1919 and 1969 and suffered from housing discrimination, or be a direct descendant of someone who did.
It was during that period that Evanston's Black families suffered from redlining and other discriminatory housing policies that prevented them from purchasing property in desirable neighborhoods, Dino Robinson, a historian and the founder of the Shorefront Legacy Center, told Newsweek.
Simmons said Evanston should serve as inspiration to other cities seeking to provide reparations, although she said they would need to outline programs that tackle the anti-Black practices in their community.
"It may look different from city to city, but the toolkit that we have developed in Evanston certainly is one that is replicable and includes starting with a very public process, understanding the history of the city, and where white supremacy and anti-Blackness plays a role that has disadvantaged the Black community," Simmons said.
Every step of the process was focused on creating a model that could be duplicated in other cities, Rev. Michael Nabors, the president of the Evanston NAACP, added.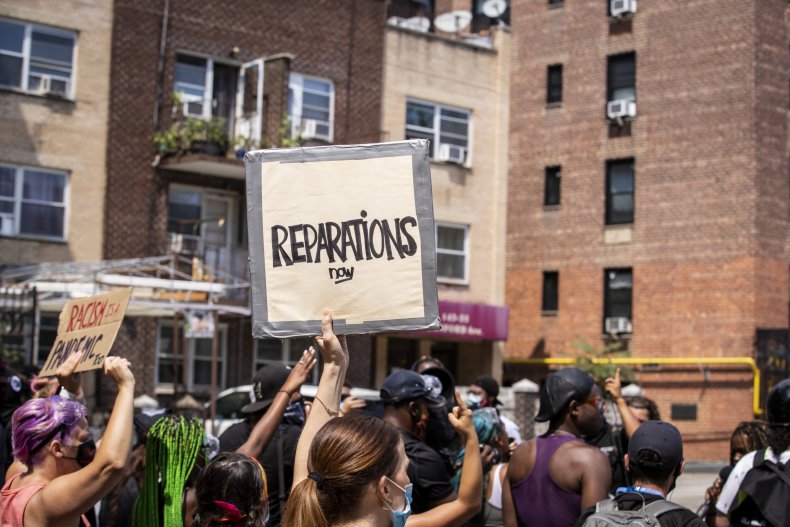 Many communities across the city, from the state of California to the city of Providence, Rhode Island, are seeking to provide reparations to Black people, with some of those efforts gaining momentum during the national reckoning on race prompted byGeorge Floyd's killing in Minneapolis police custody last year.
President Joe Biden has shared his support for creating a federal commission to study Black reparations—that proposal, known as H.R. 40, has languished in Congress for decades, but advocates are surer than ever that it will soon pass.
It was the lack of federal action on reparations that prompted the program in Evanston, Nabors and Simmons said.
"We felt like doing something locally, in a town like Evanston, would be much easier around the county to get done," Nabors told Newsweek.
"We are now at a time in history where we're able to stand up and represent those people that suffered before us."
But he added that "when it's all said and done, however much money is raised for reparations... will only be a drop in the bucket for the suffering and the oppression that Black people experienced in this nation.
"When we talk about that being a drop in the bucket, that's what we're talking about. There is no amount of money in the world that can take the place of the pain and the suffering that was caused emotionally, that was caused psychologically.
"The only thing that we can do to try to make up for that is by building a beloved community in Evanston, and I think that reparations is a part of that effort."
Simmons agrees. "I am clear on how long reparations have been deliberated and considered and introduced with no action," she said. "And I do believe that this first step will inspire more steps towards repair in the future.
"We can operate within our homeroom and in our municipality in ways that allow us to bring some relief, but not nearly not what federal legislation could do. We have supported HR 40 for years, and we're taking the step that we can take within our purview as a city government."
She noted that the first phase has only allocated 4 percent of the city's $10 million commitment. "We will have more recommendations to come in the future," she said.
The City Council will vote on the Restorative Housing Reparations program later this month, but local organizers recently launched a campaign criticizing the program its current form and urging a delay on the vote.
The group, Evanston Rejects Racist Reparations, said in a post on Facebook that the "current bill proposed by the city of Evanston never went through a racial equality, anti-capitalist process. As a result, historically racist financial institutions like banks, corporations and various individuals, will profit from this proposal. Reparations should not be monetized."
The group is also critical of the program's eligibility requirements, noting that "racial harm deserving of repair did not begin or end in those windows of time."
One of the organizers, Kevin Brown, noted that the $400,000 set aside for the first phase of the program will only accommodate 16 people. "There are 12,500 Black people in Evanston and apart from the housing program, nothing else has been designed," Brown told Newsweek.
Brown added that in order to receive the $25,000 payment, some recipients would have to submit a home loan application. "We don't believe that qualification for reparations should be dependent upon a credit score," he said. "We are asking that they change the name and not call it reparations."
But Simmons says the first phase will "build $25,000 of wealth instantly for a family, which is an appropriate remedy for the injuries in our city."
She also described the program as a "nudge" for schools and other institutions, such as Northwestern University, to "develop their own reparation benefit, in line with the injuries that they enforce and are responsible for."
She added: "We are fully aware that this single initiative is not a response to full repair for Black residents, that's going to take an initiative at every level of government, throughout big business, in all institutions, and certainly is going to take H.R. 40 passing as well.
"We are fully aware that there is a lifetime of work ahead of us to justice and repair for the Black community. And we're taking the first step."