Even With Loans, Survey Shows Almost Half of Small Business Owners Say They'll Have to Shut Down For Good
As small businesses across the United States struggle to stay afloat amid the new coronavirus pandemic, a new survey found close to half of owners believe they will eventually be forced to close their establishments for good.
There have been multiple reports of small businesses already closing their doors as a result of mandated closures and social distancing orders implemented as a means to slow the virus' spread.
Results of the survey, conducted by financial services company Azlo, compiled responses from small business owners regarding the pandemic's economic impacts. Of those surveyed, 47 percent said they anticipate shutting down, and 41 percent said they are looking for full-time work elsewhere. Respondents also shared their experiences with the Paycheck Protection Program (PPP), a federal loan initiative meant to alleviate fiscal burdens to small businesses during the outbreak.
Originally established under the Coronavirus Aid, Relief, and Economic Security (CARES) Act, which passed at the end of March, the program stopped accepting applications due to lack of funding less than two weeks after its launch. The PPP began accepting applications again on April 27, shortly after President Donald Trump approved a second coronavirus relief package that allocated roughly $320 billion to revitalize it, with $60 billion set aside for smaller lenders and community development financial institutions (CDFIs).
According to the U.S. Small Business Administration's guidelines, businesses or non-profit organizations with fewer than 500 employees are eligible to apply for loans through the PPP, as are sole proprietors, independent contractors and self-employed individuals. Certain businesses that exceed the 500-person staff threshold but meet other criteria are also eligible.
Less than half of participants—38 percent—involved in Azlo's recent survey applied for PPP loans. Of those who did apply, 37 percent said the program was slow to distribute funds and 20 percent described the process as "painful," the company reported.
Additional studies examining the loan program's effectiveness for small businesses have produced similar results. One, conducted by analysts from the Federal Reserve Bank of New York, indicated that fewer small businesses had successfully obtained PPP loans in regions experiencing more severe ramifications of the pandemic than in others. The study used New York, New Jersey, Michigan and Pennsylvania as examples, noting that less than 20 percent of small businesses in New York had been approved for PPP funding compared to 55 percent in Nebraska.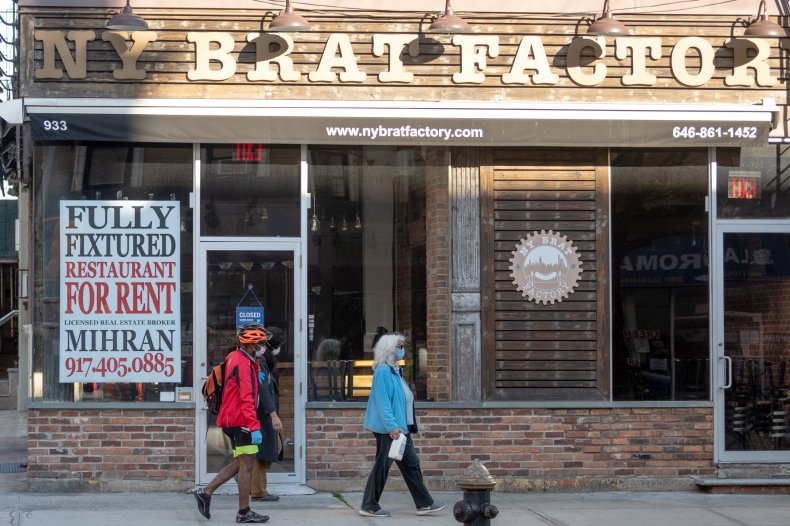 With considerably higher incidences of diagnoses, hospitalizations and deaths related to the novel coronavirus than any other U.S. state, New York is considered the epicenter of the nation's outbreak. Nebraska's numbers are lower than those reported by at least half of the country's regions, according to Johns Hopkins University.
Another study released May 4 by CNBC found that a substantial number of small businesses nationwide had not received relief through the loan program. According to the outlet's report, CNBC surveyed 2,200 small business owners across the U.S., 45 percent of whom said they applied for PPE funding. Of those who applied, just 13 percent said their applications had been approved.