'Even Republicans Agree:' Georgia Democrats Issue Ad Showing GOP Members, Fox News Hosts Scrutinizing Loeffler
Ahead of the Senate runoff races in Georgia, the state's Democratic Party released an advertisement showing two GOP party members and three journalists scrutinizing Republican incumbent Kelly Loeffler.
The ad features clips from Republican Representative Doug Collins, Great America PAC Chairman Ed Rollins, Fox News hosts Tucker Carlson and Neil Cavuto and former Fox News host Ed Henry. Each clip highlights criticism levied against the Georgia senator, with the ad declaring "even Republicans agree," Loeffler "serves herself and not Georgians."
"Her only claim to fame is re-elect me, I'll still be the richest person in Congress, and I went on and I bought a jet airplane so I could fly back and forth between Georgia and Washington," Rollins said in a clip taken from Fox News.
The ad also shows Carlson, Cavuto and Henry, questioning Loeffler about selling $20 million in personal stock after receiving a private briefing regarding the potential economic effects of the coronavirus leading up to the March 9 market crash.
Both Carlson and Henry questioned Loeffler during appearances on the cable news network regarding the stock sale, with Carlson asking the Republican senator to explain how her decision to sell the stock didn't violate the Stock Act, a law which prohibits lawmakers from using non-public information in stock trades.
Loeffler denied all allegations of insider trading, telling Carlson that her investment portfolio was managed by "third-party" advisers, and that her decisions were informed by her previous experiences working in financial services.
"I decided that I was going to maintain the same posture that I had in the financial services industry, which was to have a third-party person that was, and Senate advisers, who were fully charged and able to make these transactions on my own, so I did not have to be involved in any of the decision-making around these financial transactions, and that worked very well in the private sector and it kept us from having to have concerns around insider trading," she said.
In April, Carlson criticized a tweet she wrote in March after she had dumped millions in stock, telling her constituents that, "The consumer is strong. The economy is strong. Jobs are growing."
"If Loeffler knew about these trades and still issued that little PSA we showed you, she should leave office," Carlson said on April 2, a clip which is featured in the Georgia Democrat ad.
Henry pressed Loeffler in March asking her if she was involved in insider trading.
"You thought the government was prepared, yet shortly after that tweet [shown above] that I just noted, you sold over a million dollars in stocks in your own personal portfolio before the market went down. Were you trading on inside information about what was coming?," he asked.
But Loeffler consistently defended herself, claiming that it was "absolutely false" that she participated in insider trading.
"I want to set the record straight: This is a ridiculous & baseless attack. I don't make investment decisions for my portfolio. Investment decisions are made by multiple third-party advisors without my or my husband's knowledge or involvement," she tweeted on March 20.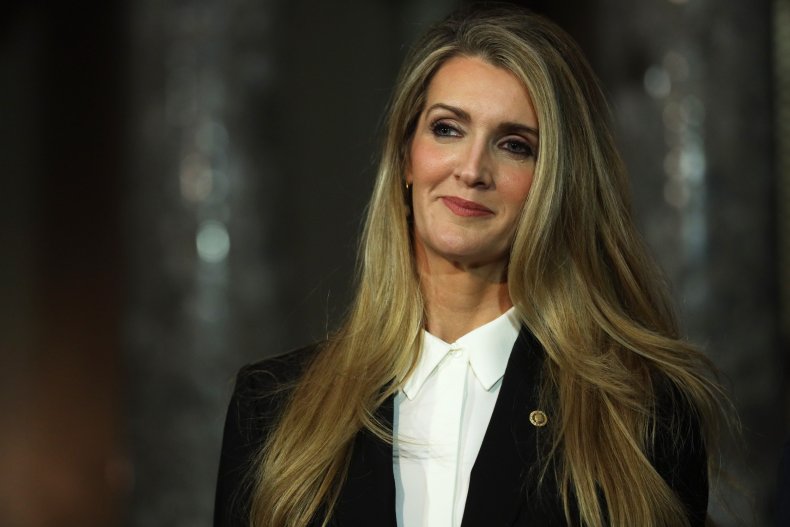 Loeffler's stock dump ultimately prompted an investigation and calls from numerous other lawmakers, both Democratic and Republican, to resign from her position. Though the issue garnered scrutiny, the Senate Ethics Committee dropped its investigation against Loeffler on June 16.
But Georgia Democrats are pointing fingers at the Republican Party for attacking the GOP hopeful.
"After months of denouncing her shady stock trades and her corrupt bought-and-paid-for politics, Georgia Republicans have a lot to answer for about their devastating attacks on Senator Kelly Loeffler," Alex Floyd, a spokesman for the Democratic Party of Georgia said in a press release emailed to Newsweek.
While the GOP has attempted to paint Warnock as a "radical" leftist and "anti-American," the Democratic Party maintains that Loeffler's record has been both self-serving and corrupt.
"The record of the past nine months is clear: even Republicans believe that Kelly Loeffler serves herself, not Georgians," said Floyd.
Loeffler will face Democratic challenger Raphael Warnock, while David Perdue will face off against Jon Ossoff, in the January 5 runoffs. The two races are already drawing interest from both parties on a national scale as the results will determine which party takes control of the Senate.
Democrats will need to win both races to obtain a 50-50 tie, in which case Vice President-elect Kamala Harris will provide the deciding vote on bills that require a tiebreaker.
Newsweek reached out to the Loeffler campaign for additional comment but did not receive a reply before publication.
Correction: A previous version of this story referred to Jon Ossoff as a Republican. He is a Democrat.