Every Celebrity to Speak Out Against Vaccines
Black Panther star Letitia Wright today made headlines for posting an anti-vaccination video on Twitter.
The actress faced swift and intense backlash from followers leading to calls for her role as Shuri in the Marvel superhero movie to be recast.
Following the news of COVID-19 vaccinations being rolled out in the United Kingdom, the British actress, 27, posted a YouTube video that featured a presenter named Tomi Arayomi saying: "I don't understand vaccines medically, but I've always been a little bit of a skeptic of them."
The Black Mirror star has since defended her stance in replies to Twitter users.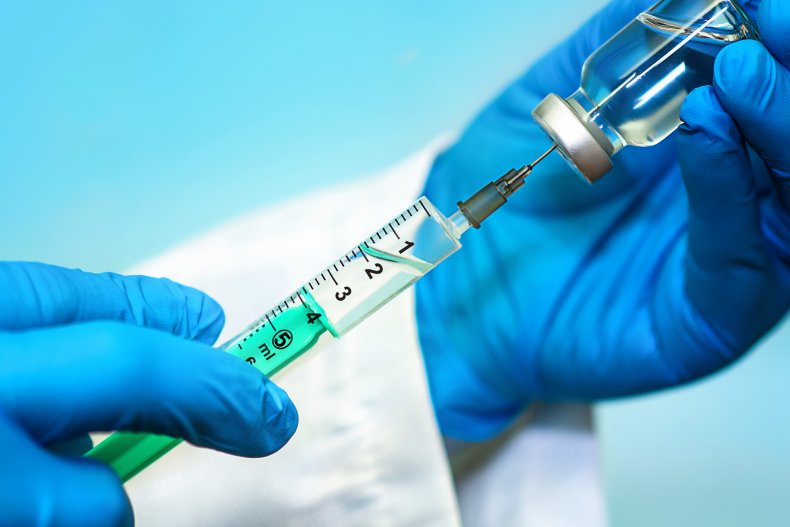 In light of Wright's posting of anti-vax ideas, here are a number of celebrities who have also shown skepticism towards vaccines in the past.
Not all are formally identified as "anti-vax" however—the list highlights those who have chosen not to vaccinate their children, or who have expressed or endorsed views that are critical or skeptical of vaccinations.
Jenny McCarthy
Jenny McCarthy has been vocal for more than a decade about her belief that vaccines caused her son's autism, becoming the de-facto face of the anti-vax movement.
McCarthy has published a number books on the subject, and serves as president of the non-profit organization Generation Rescue, widely considered an anti-vax group.
The belief that there is a link between autism and the measles vaccine started with discredited British doctor, Andrew Wakefield, whose study has been retracted.
Jim Carrey
Jim Carrey has been publicly critical of vaccinations. He also dated McCarthy from 2005 to 2010.
He wrote in the Huffington Post in 2009: "In this growing crisis, we cannot afford to blindly trumpet the agenda of the CDC, the American Academy of Pediatrics (AAP) or vaccine makers. Now more than ever, we must resist the urge to close this book before it's been written."
In 2015, the Dumb and Dumber actor tweeted: "I am not anti-vaccine. I am anti-thimerosal, anti-mercury. They have taken some of the mercury laden thimerosal out of vaccines. NOT ALL!"
Jessica Biel
Last year, Jessica Biel spoke out publicly against California State Bill 276, which seeks to limit medical exemptions from vaccinations.
Prominent anti-vaccine activist Robert F. Kennedy Jr. revealed that he had met with The Sinner actress at the California State Assembly to lobby against the bill.
Responding to the ensuing uproar, Biel took to Instagram to clarify her stance, writing: "I am not against vaccinations—I support children getting vaccinations and I also support families having the right to make educated medical decisions for their children alongside their physicians."
Kat Von D
Celebrity tattoo artist Kat Von D made some comments that were critical of vaccines after she had her first child.
"If you don't know what it's like have people around you think you are ridiculous, try being openly vegan," she wrote in a now-deleted Instagram post in 2018. "Try being an openly pregnant vegan on Instagram, having a natural, drug-free home birth in water with a midwife and doula, who has the intention of raising a vegan child, without vaccinations." (via USA Today.)
She later released a YouTube video saying she is "not anti-vax."
"I am not an anti-vaxxer," she said. "What I am is a first-time mother. I am one of those moms that reads everything. Anything that is going in my baby or on my baby, I research like a complete and total nerd. After doing a bunch of research and reading the ingredients, naturally I experienced some hesitancy."
Kristin Cavallari
The Hills star told Fox News in 2014: "Listen, to each their own," she said. "I understand both sides of it. I've ready too many books about autism and there's some scary statistics out there. It's our personal choice."
Alicia Silverstone
The Clueless actress was highly skeptical of vaccinations in her 2014 book, "The Kind Mama: A Simple Guide to Supercharged Fertility, a Radiant Pregnancy, a Sweeter Birth, and a Healthier, More Beautiful Beginning."
She wrote: "There has not been a conclusive study of the negative effects of such a rigorous one-size-fits-all, shoot-'em-up schedule."
Another passage reads: "There is increasing anecdotal evidence from doctors who have gotten distressed phone calls from parents claiming their child was 'never the same' after receiving a vaccine. And I personally have friends whose babies were drastically affected in this way."
Rob Schneider
The Hot Chick actor has publicly spoken about his belief surrounding the idea that vaccines are linked to autism.
In 2012, he told a California news outlet: "The doctors are not gonna tell you both sides of the issue... they're told by the pharmaceutical industry, which makes billions of dollars, that it's completely safe."
He added: "The efficacy of these shots have not been proven," he later continued. "And the toxicity of these things—we're having more and more side effects. We're having more and more autism." (via Huffington Post.)
Toni Braxton
Toni Braxton also publicly expressed that she believes that vaccines are linked to autism.
The "Un-break My Heart" singer's son Diezel has autism.
In her 2014 memoir, she wrote: "Maybe it's just a coincidence that after my son's first MMR vaccine, I began to notice changes in him."
Robert DeNiro
In 2017, Robert De Niro joined forced with RFK Jr. to host a press conference about vaccine safety.
The event highlighted common uncredited claims such as the notion that vaccines cause autism and contain a large source of mercury.
The veteran actor previously promoted the anti-vaccine film, Vaxxed.
Lisa Bonet
Back in 1990, Lisa Bonet told The Donahue Show that vaccines could potentially "introduce alien microorganisms into our children's blood" and linked vaccines to "cancer, leukemia, multiple sclerosis, sudden infant death syndrome."