Queen Elizabeth II's Platinum Jubilee began with a series of scandals that left some calling for the abolition of the monarchy.
The monarch, 95, marked 70 years on the throne on February 6, a day both of celebration and of sadness as it was also the day her father, George VI, died in 1952.
The whole of 2022 is supposed to be a year of celebration for the royals and a moment for the British public to come together after the isolation days of the COVID-19 pandemic.
But before February has even finished, the monarchy has been plunged into scandal and crisis.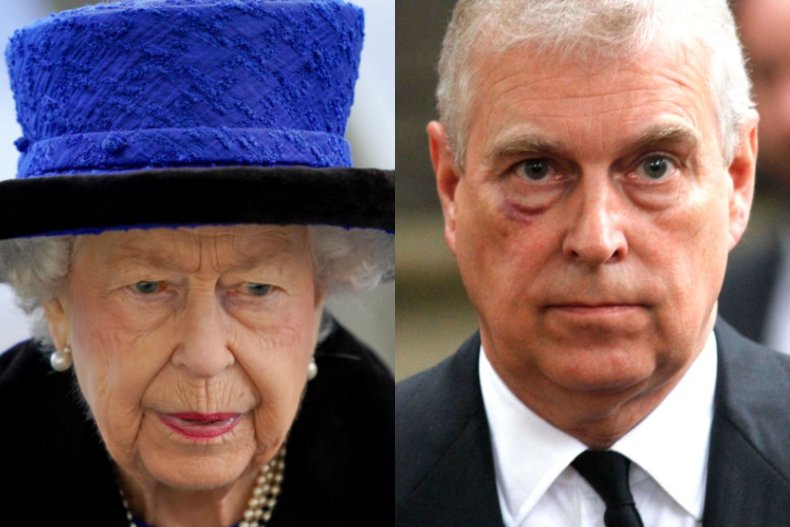 Queen Camilla
The month started as planned, though still controversially, when Elizabeth delivered a major announcement on the future of the monarchy.
Most significantly, she scrapped a 17-year policy that Camilla, the Duchess of Cornwall, would be known as "Princess Consort" when husband Charles becomes King.
The edict was originally designed out of respect for Princess Diana but Elizabeth said she wanted Camilla to instead get the honor of being named "Queen Consort."
The royals won the backing of much of the British press, including the pro-royal Daily Mail, which ran an editorial under the headline: "Monarchy will thrive under Queen Camilla."
It did also trigger a lively public debate over how the move would be received by the public.
Prince Andrew
If the debates that began the month were triggered intentionally by the queen, things went rapidly downhill from there starting when Prince Andrew settled his Jeffrey Epstein lawsuit out of court.
The Duke of York agreed to pay an undisclosed sum to accuser Virginia Giuffre despite previously stating he had never met her and just a month after vowing to fight the case.
Estimates in British media for the settlement place it well above the $1 million mark, with many suggesting it will likely top $10 million.
Attention quickly turned to where Prince Andrew would get the money and whether the queen would contribute.
The Daily Telegraph suggested Elizabeth would contribute using funds from the Duchy of Lancaster, a property portfolio which the palace view as private but anti-monarchy campaigners say is a public asset.
Actress and commentator Kelechi Okafor wrote on Twitter: "No part of Elizabeth's funds are 'private' because every penny from every asset is a result of draconian classist and racist structures."
She added: "Abolish the monarchy."
Prince Charles and a Police Investigation
Prince Charles' charity The Prince's Foundation is at the center of a police probe into allegations its former chief executive, Michael Fawcett, offered to help secure a knighthood and citizenship for a Saudi tycoon in return for donations.
Fawcett resigned in 2021 amid an inquiry by the Office for the Scottish Charities' Regulator (OSCR). However, now both he and the charity more broadly have seen detectives take on the case.
The stakes are high for the Prince of Wales partly because he has brought Fawcett back after past resignations—the former valet was previously so close to Charles he famously at one stage squeezed the toothpaste onto his toothbrush.
However, Charles may himself also be interviewed by police and if criminal charges do emerge against any employee it could lead to a reputationally damaging court case.
Before long, anti-monarchy campaign group Republic was using both Prince Andrew and Prince Charles to promote a fundraising drive.
Within days, the organization hit an initial target of £5,000 ($6,777) to be spent on digital advertising calling for Britain to abolish the monarchy.
Prince Harry
The Atlantic Ocean did not stop Prince Harry from getting in on the action as his judicial review of the Home Office decision to remove his police protection got underway in London, around 5,500 miles away from his home in Montecito, Santa Barbara.
The Duke of Sussex did not attend in person but his legal team was arguing that it is unsafe for him to return to Britain without a Metropolitan Police protection detail, which he is willing to fund himself.
The saga will be embarrassing for the queen, and if the government's rebuttal of Harry's claim is anything to go by it may not be much better for him.
Home Office lawyers were scathing in their assessment of his case, arguing it was filed too late and did not show proper respect for its own experts and status as a democratically accountable institution.
Among the many bombshells in its response, Robert Palmer, a lawyer representing the British government, said Harry's case was "unarguable and unmeritorious."
He suggested the duke's request for the entirety of his 283 pages of court filings to be kept confidential led to "unprecedented expenditure of time and resources" and warned that the government would be seeking costs.
The Home Office court filing, seen by Newsweek, read: "Personal protective security by the police is not available on a privately financed basis."
Queen Elizabeth II
As if all that was not bad enough, the royals have been hit by a COVID outbreak.
Prince Charles was the first royal to test positive on February 10, followed by Camilla on February 14, Valentine's Day.
The queen tested positive on February 20 following a spate of infections at Winsor Castle where she is living.
The announcement triggered an outpouring of support from the prime minister, the archbishop of Canterbury and others.
Elizabeth is being closely monitored by physicians while experiencing mild, cold-like symptoms, but continued to work.
She then canceled her scheduled video meetings on February 22 but did keep up with lighter duties, including paperwork from her famous red boxes.