Evidence of Trump Crimes at Center of Phone Court Battle
Proof that former President Donald Trump committed crimes in his efforts to overturn the result of the 2020 presidential election could be contained in the cellphones of several lawmakers and prominent businessmen. Whether federal investigators will be able to get their hands on it, however, is another question.
In August, federal law enforcement seized the cellphones of several high-profile Trump associates as part of a sweeping investigation by members of Congress into the extent of his alleged role in inciting the January 6, 2021, riot at the U.S. Capitol in an attempt to remain in power.
The ability to search those phones, however, remains in legal limbo as their owners have argued that any of their communications with the president were privileged and therefore not subject to legal scrutiny.
On Thursday, attorneys representing Pennsylvania Republican Representative Scott Perry—a top figure in the events of January 6—were scheduled to deliver arguments before a three-judge panel in the Washington, D.C., Court of Appeals. They will argue that any communications he might have had with the president or his staff was protected under the "speech or debate" clause in the Constitution that his attorneys claim protect him from the special counsel probe.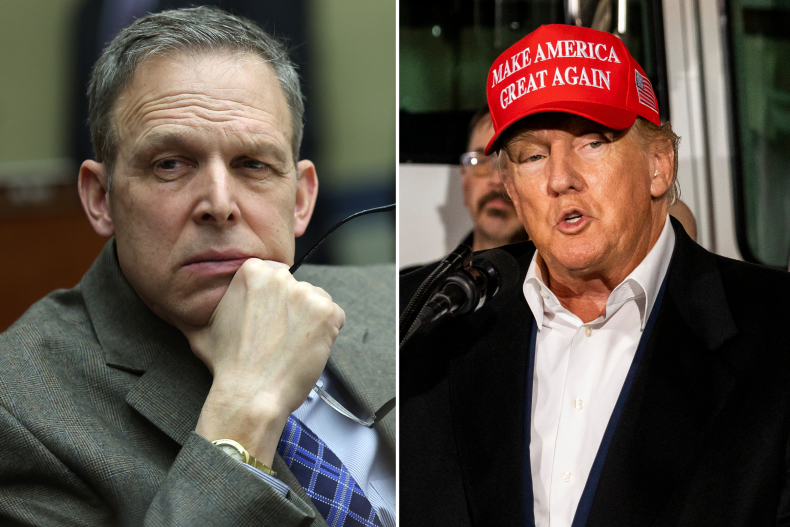 The proceedings, which will partially take place under seal, come after Perry joined a group of several Republican lawmakers who declined to answer subpoenas from House lawmakers investigating the riot. The case could also have precedent-setting implications on special counsel Jack Smith's ability to get information from him and other members of Congress in his office's ongoing probe into Trump's role in the riot.
Newsweek reached out to Perry's attorney, John S. Irving, for comment. In previous public statements, Irving has emphasized that Perry is not under investigation, though others—like former Republican Representative Liz Cheney—suggested in an open hearing that Perry sought preemptive pardons from the Trump administration for any crimes he might have committed. (Perry has forcefully denied those charges, calling them an "an absolute, shameless and soulless lie.")
Perry, however, remains a key figure in understanding the events of January 6. In legal filings to unseal records relating to the proceedings, three Pennsylvania news organizations argued that the conditions surrounding the seizure of Perry's phone were of "enormous public interest" and raised "unique separation-of-power concerns" in relation to a president's alleged attempt to overturn the result of an election.
And there are still ample questions about what took place.
Prior to the riot, Perry was a leading voice in Congress pushing the Trump White House and Attorney General William Barr to investigate allegations of systematic fraud in the 2020 presidential elections. He also pushed baseless claims that the British government or even the Chinese sought to interfere in the elections using devices like surveillance thermostats.
In another allegation, Perry pushed the Trump White House to investigate claims that an Italian defense contractor conspired with senior CIA officials to use military satellites to flip votes from Trump to eventual winner Joe Biden, according to a Washington Post investigation after the riot.
In addition to proactive efforts to overturn the result of the election in Pennsylvania—which was narrowly decided in Biden's favor—Perry was an alleged party in December 2020 conversations by the Trump White House as it considered firing former U.S. Deputy Attorney General Jeffrey Rosen and replacing him with Jeffrey Clark, the then-acting chief of the Civil Division of the Justice Department, who was allegedly open to investigating fraud claims.
Perry, however, has maintained that efforts to search his cellphone are not—nor ever were—about investigating Trump's alleged crimes. He said it was an effort to sway public opinion, particularly ahead of the 2022 midterm elections.
"What happened here isn't about January of 2021. This is about Nov. 8, 2022," he told the York Dispatch last summer. "There's absolutely nothing I can do about the overreach and abuse of power by the Biden administration."
Newsweek contacted Perry's office for comment.