Donald Trump Rages at Jack Smith as FBI Investigations Close In
Donald Trump has hit out at special counsel Jack Smith amid reports he is ramping up two criminal investigations into the former president.
In a post on Truth Social, Trump accused Smith, the prosecutor who is leading the classified documents and January 6 inquiries into Trump, of leaking stories to the press "like a sieve" following two major updates in the investigations.
On February 9, it was first reported that former Vice President Mike Pence has been subpoenaed to testify as part of the investigation into the Capitol riot and Trump's attempt to overturn the 2020 election.
Recently, The New York Times first reported that Smith is seeking further testimony from Trump lawyer Evan Corcoran in the investigation into the classified materials found at the former president's Florida home.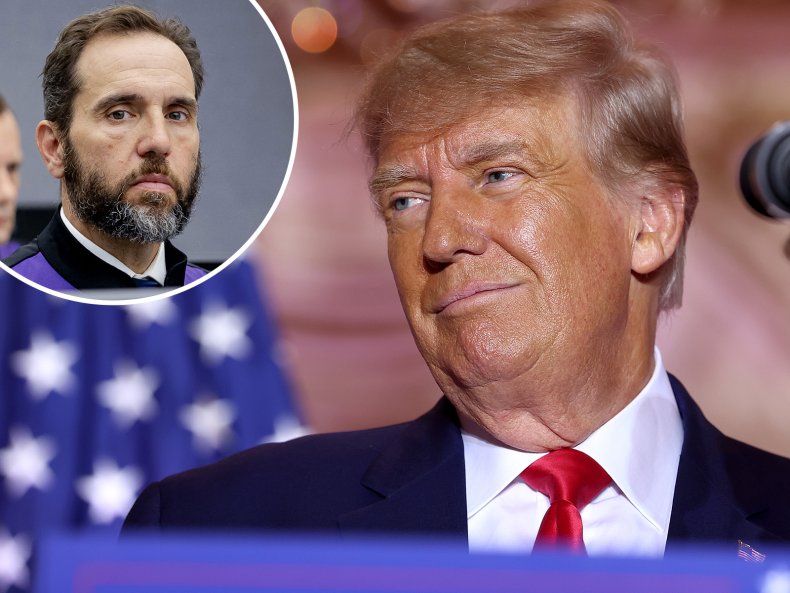 "Radical Left (Trump hating!) Special 'Prosecutor' Jack Smith is leaking to the Fake News Media like a sieve," Trump wrote.
"He is going absolutely crazy trying to nab the political candidate who is way ahead of his 'boss' in the polls, and won the 2020 Presidential Election, except for the fact that it was RIGGED. He's got a job to do, and is working hard to scare & intimidate witnesses, even lawyers who have never seen such antics before."
Pence is seen as a key witness in the January 6 probe, with Smith demanding his testimony a sign that the investigation is nearing an end.
"It signals that DOJ is seriously considering criminal charges against Trump for January 6," Barbara McQuade, a University of Michigan law professor and former U.S. attorney, told Newsweek.
"It also suggests that charges are close. Prosecutors typically question the top witnesses at the end of the investigation after they have learned as much as they can about the facts."
Legal experts have also said that seeking further testimony from Corcoran is a significant step in the classified documents case.
Corcoran has already appeared before a special jury in Washington, D.C. as part of the probe, but cited attorney-client privilege to refuse to answer a number of questions.
Prosecutors are now hoping to force Corcoran to answer further questions while citing what is known as the crime-fraud exception, meaning that the usually absolute protected attorney-client privilege cannot be invoked if a lawyer and their client are allegedly attempting to cover up or engage in a crime.
As the Department of Justice is citing a crime-fraud exception in a sealed motion to Beryl Howell, chief judge of the U.S. District Court in D.C., to force Corcoran to testify again, it is an indication that prosecutors believe Trump or one of his allies may have used the lawyer's service to commit a crime.
"This is a bold escalation by Jack Smith to avoid the attorney/client privilege and otherwise, non-answers from Trump's lawyer," Andrew Lieb, attorney and managing partner of Lieb at Law, P.C., told Newsweek.
"Regardless of what Judge Howell rules, expect an appeal as this is a big turning point in the case," Lieb said.
The Department of Justice has been contacted for comment.