Jack Smith Tightens the Screws on Donald Trump
Federal prosecutors investigating the alleged mishandling of classified materials recovered from Donald Trump's Mar-a-Lago resort are ramping up the criminal probe by seeking further testimony from the former president's lawyer, according to reports.
Jack Smith, the special counsel leading the classified materials investigation, is said to be attempting to get Trump attorney Evan Corcoran to speak before a grand jury by suggesting the former president may have used legal advice in furtherance of a crime, reported The New York Times and CNN.
Prosecutors allegedly want Corcoran to answer more questions that he was previously able to avoid while using attorney-client privilege—an absolute protected privilege which keeps legal communications between a lawyer and their client confidential.
However, attorney-client privilege is voided under what is known as the crime-fraud exception, meaning it cannot be cited if a lawyer and his client are allegedly attempting to cover up or engage in a crime.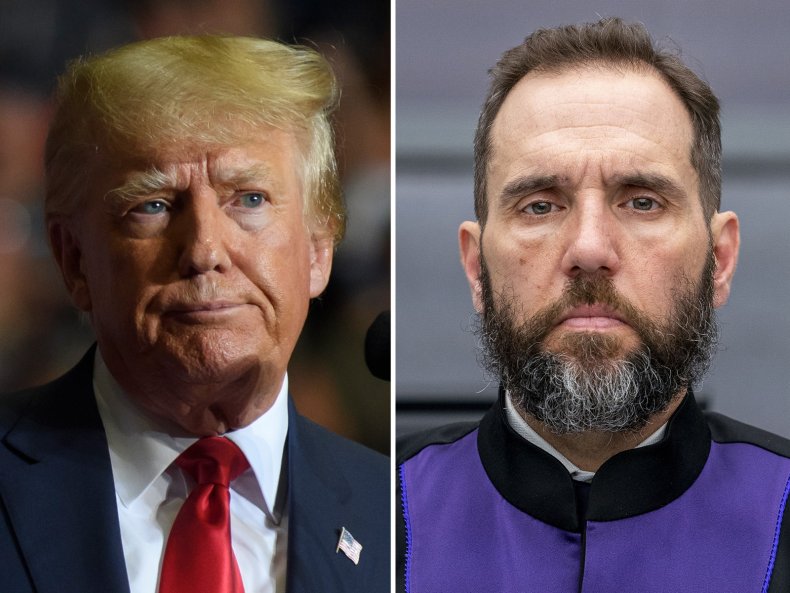 Corcoran recently appeared before a grand jury as part of the classified documents search and asserted attorney-client privilege to refuse to answer certain questions, reported The New York Times.
After his appearance, Corcoran received notice that the Justice Department would be later citing crime-fraud exceptions to get around his assertions of privilege.
It is unclear what questions Corcoran originally avoided during his previous appearance in front of the grand jury, nor what specific crime federal prosecutors cited to a judge while hoping to assert crime-fraud exception.
Trump and his lawyers are accused of attempting to hinder the federal attempt to retrieve the sensitive materials removed from the White House in January 2021.
In February 2022, the National Archives confirmed it had found 15 boxes containing classified material in Trump's Florida home. The FBI returned to Mar-a-Lago in June to retrieve more documents after the agency issued a subpoena for their return.
During the June FBI visit, Trump's legal team are alleged to have "explicitly prohibited" federal agents from looking inside a storage room at Mar-a-Lago.
Corcoran also drafted a statement, signed by fellow Trump attorney Christina Bobb, telling federal investigators that all the classified materials being kept at Mar-a-Lago were returned in June.
It was reported Bobb requested that a line was added to the attestation which stated that the claim about all the materials being returned was "based upon the information that has been provided" to her, suggesting doubt in the validity of the original statement.
Last August, FBI agents raided Trump's Florida home, seizing more than 100 classified and top secret documents, including some found in the storage room.
Trump has frequently denied any wrongdoing in connection to the classified materials found at his Florida home.
The reported attempt to seek testimony from Corcoran is the latest aggressive move by Smith in his investigations into Trump.
Smith, who is also heading the criminal probe into the January 6 riot and the efforts to overturn the 2020 election, recently subpoenaed former Vice President Mike Pence to testify under oath about the insurrection.
Pence said he will fight the special counsel subpoena, arguing that his role as president of the Senate on January 6, 2021, offers him protection from testifying under the Constitution's "speech or debate clause."
Trump, Corcoran and the Department of Justice have been contacted for comment.