Ewan McGregor and Mary Elizabeth Winstead—A Timeline of Their Relationship
Ewan McGregor and Mary Elizabeth Winstead have quietly entered a major new phase in their relationship after welcoming the birth of their son.
McGregor's eldest daughter Clara McGregor, 25, took to Instagram to make the announcement as she shared two snaps of herself cradling the newborn.
"Welcome to the world little brother ❤️ congratulations to my Dad & Mary—this is the greatest gift," Clara captioned the images, which were posted on Sunday.
Clara's younger sister, Esther McGregor, 19, welcomed the bundle of joy in similar style, when she posted a trio of snaps on the image-sharing platform.
Captioning the adorable photos, she wrote: "Met my little brother looking like a pirate. I recommend! Welcome to the family little Laurie."
The news has come as quite the surprise, as neither McGregor, 50, nor Winstead, 36, had publicly announced that they were expecting a child together.
And keeping things low-key has certainly been a theme for the couple, who first met while working on the third season of FX's Fargo in late 2016.
At the time, McGregor was married to Eve Mavrakis, while Winstead was entering her seventh year of marriage with filmmaker Riley Stearns.
As well as daughters Clara and Esther, McGregor and production designer Mavrakis also share Jamyan, 20, and Anouk, 10.
Here's a look at how the new parents' relationship developed over the years.
2017
In May 2017, Winstead announced that she was splitting from her husband Stearns, as she shared a snap on Instagram of herself kissing him on the cheek.
"Sitting here with my best friend who I love with all my heart," she wrote. "We have spent our lives together and it has been full of joy and warmth every day.
"We've decided to move on from our marriage, but we will stay best friends and collaborators for all our days. We are still ride or die, just in a different way now. I love you always."
Posting the same image, Stearns said: "We just took this photo together. I met Mary 15 years ago and we've been the most important people in each other's lives ever since. Those lives have been full of every emotion imaginable and we've embraced it all. Life is unpredictable though.
"While we will still be in each other's lives we will no longer be living those lives together. We still love each other very much but we're different people with different paths and different futures. I can't wait to see where we both end up."
Several months later, in October, U.K. tabloid The Sun published photographs of Winstead and McGregor kissing during an outing in London. One day later, People reported that McGregor and Mavrakis had split after 22 years of marriage.
In the weeks that followed, McGregor and Winstead and were photographed holding hands as they strolled through the streets of Los Angeles together.
2018
In January 2018, McGregor filed for divorce from Mavrakis, citing "irreconcilable differences"—but not before he caused a stir by thanking both women as he scooped a Golden Globe for his acting efforts in Fargo.
"I want to take a moment to just say thank you to Eve, who always stood by me for 22 years and our four children Clara, Esther, Jamyan, and Anouk," he said in his speech, adding: "And there wouldn't have been any Ray without Mary Elizabeth Winstead."
Weeks later, in February, The Sun published an interview with Mavrakis, in which she bluntly addressed rumors about her estranged husband's new romance.
"I haven't spoken to Ewan at all, so I don't actually know whether they are together or not," she was quoted as saying. "I don't care what he is doing. I don't know anything about it. We don't speak and I haven't spoken to him for some time."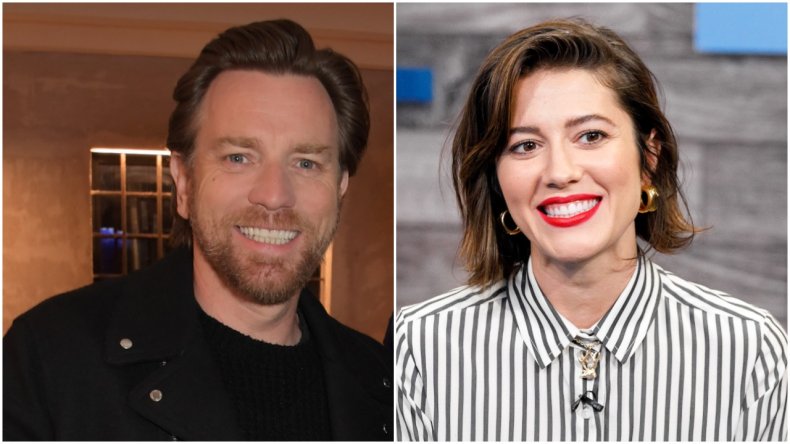 In July of that year, the actor's eldest daughter made her feelings known, when she publicly lashed out at his relationship with Winstead on Instagram.
After seeing a post labeling Winstead "beautiful," Clara McGregor wrote: "Most beautiful and talented woman on earth? Oh man y'all are delusional. The girl is a piece of trash x."
Months later, in August, Clara admitted that the online outburst "wasn't [her] finest moment," telling the U.K. edition of The Times: "There had been a lot building up to it and a lot to deal with, not to make excuses or anything, but, yeah, it wasn't my finest moment. But I'm not afraid to speak out if I feel strongly about something."
The source of her frustration, Clara would explain, was that she had been repeatedly tagged in the photo praising Winstead, while seeing negative comments being made about her mother.
"I said how I felt and I didn't want to apologise for it," said Clara. "It wasn't the right way to go about things, but it's a hard thing to wrap your head around when you feel you had this idea of what the family unit is and then to have that shift. It's very weird."
She added of her dad: "I love him and I always will. The relationship's not going to end because of this. We are incredibly close and despite me strongly disagreeing with how he's gone about things, I'll always love him, and I hope he's happy, you know?"
2019
In November 2019, McGregor filed court documents petitioning a judge to dissolve their marriage and declare them both single before their divorce was finalized.
According to People, he stated in documents he believed "that a termination of the status of our marriage at this time will assist in [the] resolution of the balance of this matter."
2020
McGregor and Winstead appeared together again onscreen in the film, Birds of Prey, which was released in January 2020.
Winstead, who played Helena Bertinelli in the film, gushed to Warner Bros. about McGregor's turn as the villainous Roman Sionis, saying: "He's just such a great actor and I think he's one of the most versatile actors out there. So he's perfect for this because it's sort of shocking in a way to see him be nasty and vile."
In an interview with Glamour U.K., which was published in January 2020, Winstead spoke about starting over again following the end of her marriage.
"I got divorced a couple of years ago, which was a scary, crazy thing for me because I had been with the same person since I was 18 years old, and that was what I knew," she said. "I was really starting new as an adult for the first time in my life.
"For me that was a big turning point, being OK with changing, accepting that change is a good thing and that it's OK not to know where that change is going to take you."
McGregor's divorce from Mavrakis was finalized in August 2020.
Newsweek has contacted representatives for Mary Elizabeth Winstead and Ewan McGregor for comment.