Ex-Burundi Presidents Warn of 'Another Rwanda'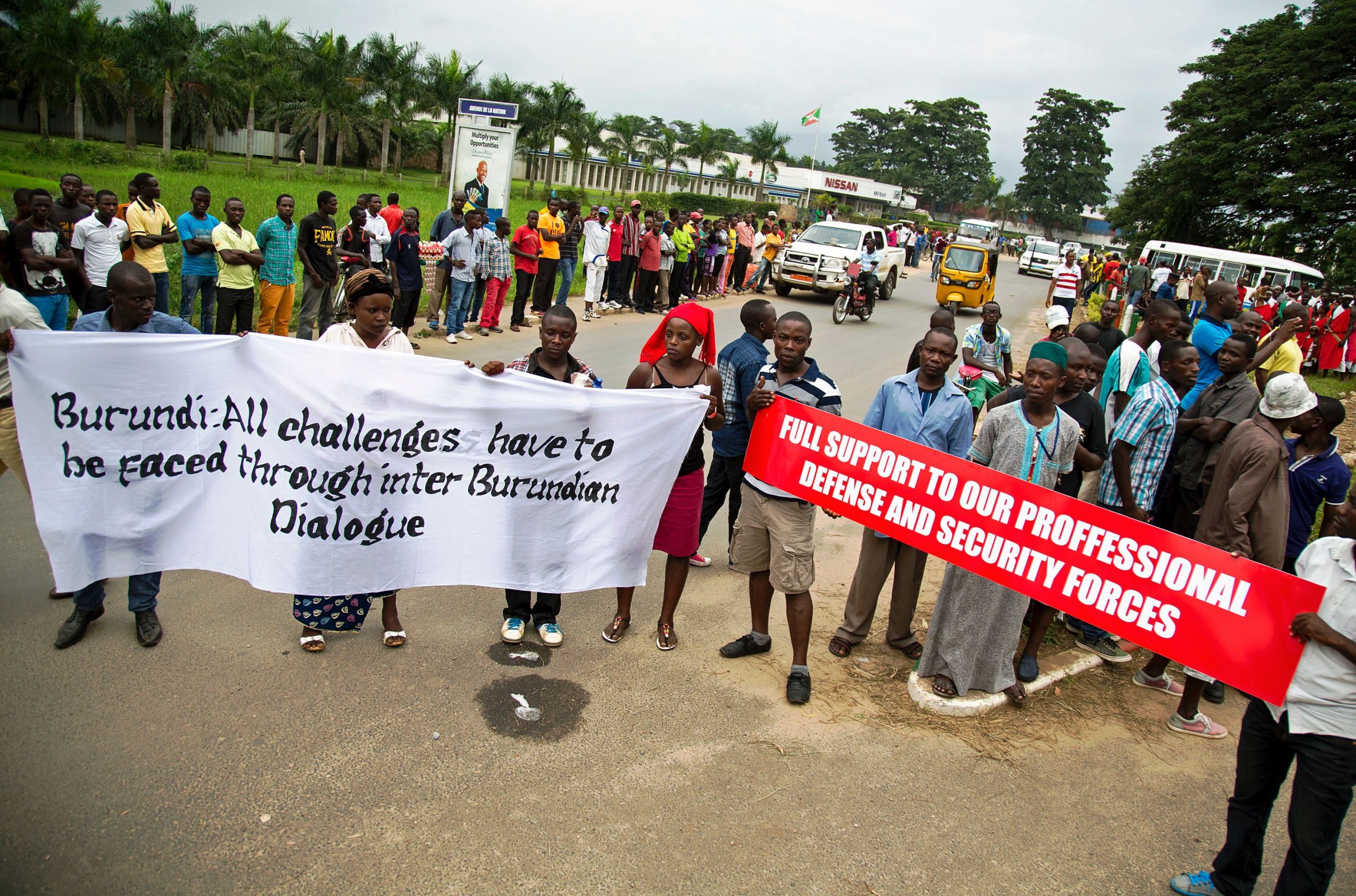 Two former presidents of Burundi have petitioned the United Nations (U.N.) to support armed intervention in the country, with one warning that Burundi risks becoming "another Rwanda," Reuters reported.
A delegation from the U.N. Security Council arrived in Burundi on Thursday and is scheduled to meet with President Pierre Nkurunziza on Friday. At least 439 people have been killed in clashes in Burundi, according to the U.N., since Nkurunziza declared his intention to run for a controversial third term in April 2015.
The Burundian government has rejected proposals for the deployment of a 5,000-strong African Union (AU) peacekeeping force, with Nkurunziza saying Burundi "will have been attacked and it will respond" if AU troops are deployed. Peace talks scheduled for January 6 in Tanzania also collapsed after the government pulled out in protest at opposition figures, whom it holds responsible for the violence, being invited.
Security Council delegates met on Thursday with Jean-Baptiste Bagaza and Domitien Ndayizeye, who served as presidents of Burundi between 1976-87 and 2003-05 respectively. Both former leaders backed armed outside intervention as necessary to de-escalate the crisis in Burundi, which has forced 235,000 refugees to flee the country. "Otherwise we run the risk of becoming another Rwanda," said Bagaza, while Ndayizeye told the delegates that Nkurunziza's government was a "dictatorial regime which is imposed only through force."
A spokesperson for the Burundian presidency was not immediately available to comment on the allegations.
Samantha Power, the U.S. ambassador to the U.N., tweeted on Wednesday that the Burundian government must be open to scrutiny on human rights and allow international peacekeepers to protect civilians:
An ethnic genocide in Rwanda in 1994 saw Hutu extremists kill some 800,000 Tutsis and moderate Hutus. U.N. officials have previously warned that the fighting in Burundi was at risk of developing into an ethnic conflict. Burundi endured a 12-year civil war that ended in 2005, in which some 300,000 people were killed in fighting between the Tutsi-led army against Hutu majority rebels. Burundi also has a similar ethnic makeup—around 85 percent Hutus and 15 percent Tutsis—as its neighbor Rwanda.
Ahead of Friday's meeting, FOREBU, a recently created rebel force in Burundi, announced its new leader as Godefroid Niyombare, an ex-intelligence chief in the Burundian army who led a failed coup against the government in May 2015.