Ex-Judge Roy Moore Files Supreme Court Brief to Urge End to Marriage Equality
In a court filing on behalf of former Rowan County, Kentucky clerk Kim Davis, The Foundation for Moral Law (FML) petitioned the U.S. Supreme Court on Friday to reverse its decision to legalize marriage for same-sex couples. The FML is a non-profit organization founded by former Alabama Supreme Court justice Roy Moore and his wife Kayla.
Davis made headlines in 2015 for her refusal to issue marriage licenses to same-sex couples on religious grounds, a stand which led to a five-day stay in jail for Davis.
"It is not a light issue for me," Davis said in a 2015 statement. "It is a heaven or hell decision."
Moore was removed from the bench twice. In 2003, he lost his seat after installing a granite monument depicting the Ten Commandments in the rotunda of the Alabama Judicial Building.
When Obergefell v. Hodges was decided in 2015, Moore ordered Alabama judges to ignore the ruling. Moore was suspended for that action.
Same-sex marriage was legalized in 2015 by the Supreme Court's decision in the Obergefell v. Hodges case in which justices found that the Fourteenth Amendment protects both opposite-sex and same-sex marriage.
"The Foundation has an interest in this case because it believes that religious liberty is the foremost gift of God," the briefing read, "and Kim Davis was deprived of her religious liberty because of this Court's decision in Obergefell."
"In addition, the Foundation believes that the Framers of the Fourteenth Amendment did not intend for it to protect a right to same-sex marriage," the briefing continued.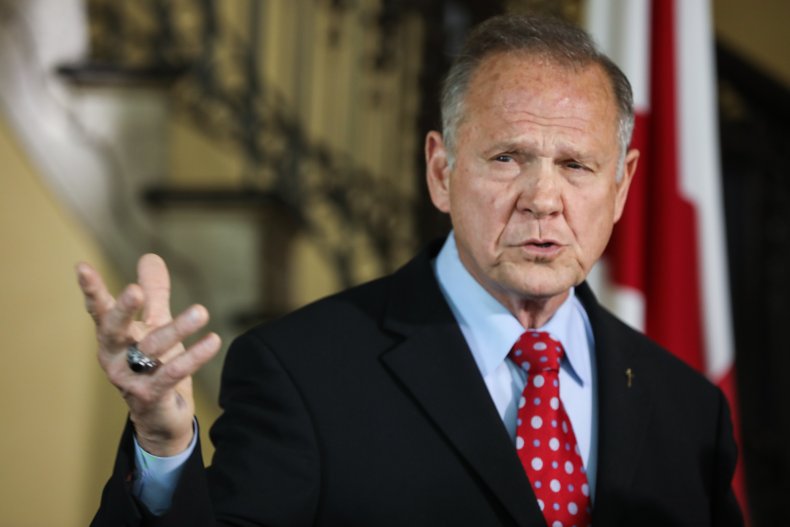 Newsweek reached out to FML for comment but did not receive a response in time for publication.
Davis accrued over $220,000 in legal fees resulting from lawsuits filed by couples to whom Davis refused to issue marriage licenses. In 2019, an appeals court ruled that the state of Kentucky was liable for those fees.
During a senate run in 2017, allegations of sexual misconduct were levied against Moore by women who claimed he had acted inappropriately towards them while holding the title of district attorney. One individual accused Moore of sexually assaulting her when she was still a minor. Moore lost the election.
Moore ran for senate again in 2020, but was defeated in the primary. Former Auburn football coach Tommy Tuberville won the seat in a runoff against former U.S. Attorney General Jeff Sessions.
Moore has been listed as an extremist by the Southern Poverty Law Center because of his anti-homosexual views.
"Homosexual behavior is a crime against nature," Moore wrote in a 2002 Alabama Supreme Court ruling, "an inherent evil, and an act so heinous that it defies one's ability to describe it."
Based in Alabama, the FML describes itself as existing to "restore the knowledge of God in law and government and to acknowledge the truth that man is endowed with rights, not by our fellow man, but by God!"
Moore is listed on the foundation's website as President Emeritus of the FML.