Ex-Maintenance Manager for Surfside Condo That Collapsed Recalls Saltwater Intrusion
A former maintenance manager for the Surfside, Florida, condominium building that collapsed on Thursday said he previously worried about the amount of saltwater that would flood the garage, as authorities continue to search for 156 missing people in the wreckage.
William Espinosa, who oversaw maintenance of the Champlain Towers South condo building from 1995 to 2000, recalled the building's garage experiencing a concerning amount of seawater during high ocean tides.
"Any time that we had high tides away from the ordinary, any King Tide or anything like that, we would have a lot of saltwater come in through the bottom of the of the foundation," he told CBS 4 Miami, adding they had to use two large pumps to try and remove the rising water.
"But it was so much water, all the time, that the pumps never could keep up with it."
Though investigators have yet to determine the exact cause of the collapse, a 2018 report that the condo had "major structural damage" have since come to light. The report noted that the building had an inadequate water drainage system on its pool deck, and several residents have previously spoken out about water damage and leaks.
Furthermore, building managers discovered a large hole under the condo after the collapse that may have been caused by saltwater intrusion. Saltwater intrusion can be particularly corrosive to older concrete, as it attacks the pillars and foundation and can slowly erode concrete and cause damage to steel, CBS 4 Miami reported.
"The water would just basically sit there and then it would just seep downward," Espinosa told the news outlet. "It would just go away after a while. And I would think, where does that water go? Because it had to go in through somewhere. I'm talking about a foot, sometimes two feet of water in the bottom of the parking lot, the whole parking lot."
Espinosa added that even when he attempted to flag the issue, the building managers merely said that the issue had been occurring for years.
"But I go, 'You know, that's it's endless,'" he said. "Every month we had a problem with this. And I go, this is just not normal. I mean, this is just too much water."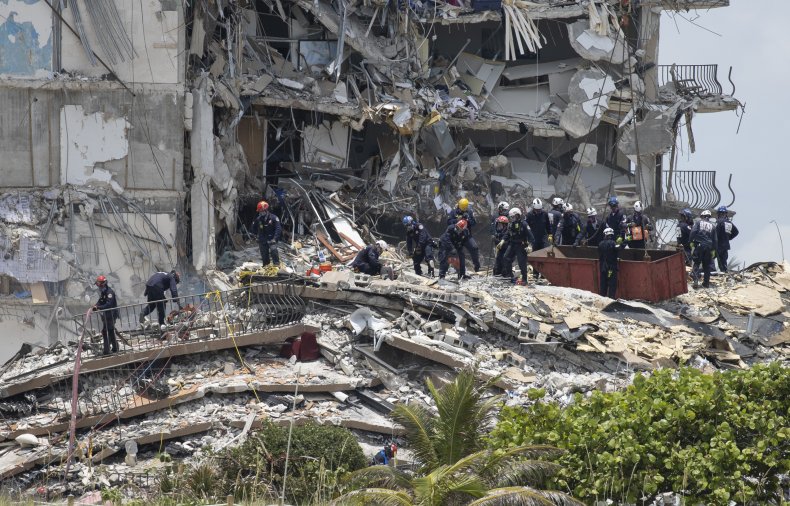 The 12-story oceanfront condo partially collapsed before dawn on Thursday when large sections began to crack and crumble, leaving several residents trapped and missing.
By Sunday morning, the official death toll from the incident rose to nine, with only four victims so far identified. Those identified include Stacie Dawn Fang, 54; Antonio Lozano, 83; Gladys Lozano, 79; and Manuel "Manny" LaFont, 54. An additional 156 people remain unaccounted for.
"As a father, Governor DeSantis sympathizes with the devastating pain these families are feeling as they await news about their missing loved ones. Any of us would feel the exact same way in this tragic situation," Florida Governor Ron DeSantis' office said in a statement to Newsweek on Sunday.
"Miami Dade County has some of the best First Responders in the world. They responded within minutes of the collapse and their rapid response saved lives. They've continued for the last 3 days around the clock, in dangerous conditions, to find the missing," the statement added.
Miami-Dade Mayor Daniella Levine Cava said Sunday that first responders are making every effort to identify those who have been recovered, but warned that the death toll may become grimmer as the search efforts continue.
"We do continue to hope that we find people, but certainly they're aware that we're finding remains and even that we're finding body parts so they're preparing for that," Levine Cava told the Miami Herald.