The former head of the U.K.'s foreign intelligence service believes that Russian President Vladimir Putin would be succeeded by Nikolai Patrushev, the secretary of Russia's Security Council, if his health fails.
Ex-MI6 chief Sir Richard Dearlove made the prediction on the longtime Russian leader's potential replacement during an episode of the One Decision podcast that was released on Thursday. Dearlove's comments come amid global speculation over Putin's health as Russia's invasion of Ukraine surpasses five months.
"I would go as far as to say almost for certain, it would be Patrushev at the moment," Dearlove said. "Whether that figure will survive politically in the longer term, is entirely another question."
Putin, 69, has faced an onslaught of rumors that he is suffering from poor health or some type of ailment. Russia has dismissed these rumors as hearsay, but the denials have not halted discussions on who could replace Putin if he could no longer serve as president.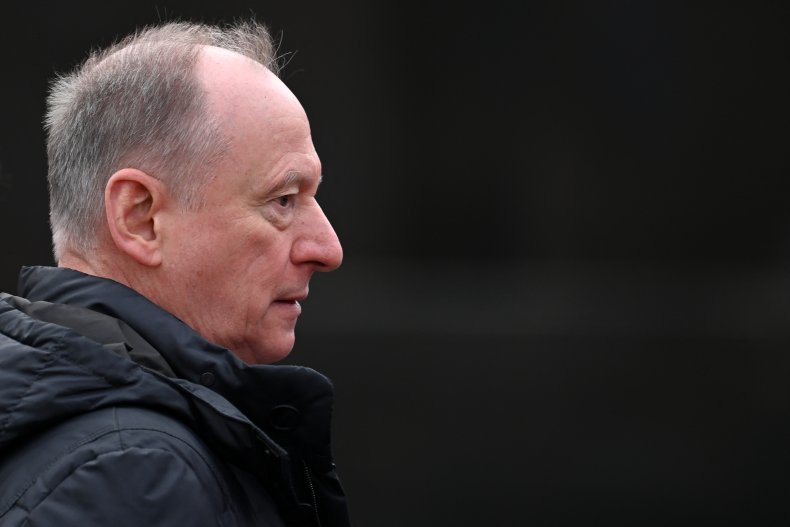 Patrushev is a close ally of Putin who has attempted to justify Russia's invasion of Ukraine and its goals in the war-torn country, The Washington Post reported. Like Putin, Patrushev served in the KGB, the main security agency for the Soviet Union. The Security Council of Russia, for which he is the secretary, is a "separate department of the Presidential Executive Office," according to the Kremlin's website.
In predicting that Patrushev could be a successor for Putin if his health fails, Dearlove was agreeing with Dr. Louise Shelley, a professor at George Mason University in Virginia and director of the school's Terrorism, Transnational Crime and Corruption Center that she founded. Shelley said on the podcast that she believes if Putin were to become ill, it would be a member of the siloviki that takes his place. Shelley described the siloviki, or security forces, as "the power structures of Russia."
"Someone like Patrushev, somebody who is in Putin's inner circle at the moment," would likely succeed him, Shelley said.
"Whether that person would survive in power a long time, I don't know. But that's what I see as the next scenario," she added.
Dearlove responded that he "absolutely" agreed with Shelley.
"It'll definitely be initially one of the siloviki," he said.
Any successor would take office in a country that has seen Putin maintain his grip on power for more than two decades while serving as the country's prime minister and president. In April 2021, Putin signed a law that reset the terms he has served back to zero and could allow him to seek two additional terms. If he chooses to do so and succeeds, the additional 12 years would make him president of Russia until 2036.
Newsweek reached out to the Kremlin for comment.