Ex-San Diego Mayor Kevin Faulconer To Challenge Gavin Newsom in Potential Recall Election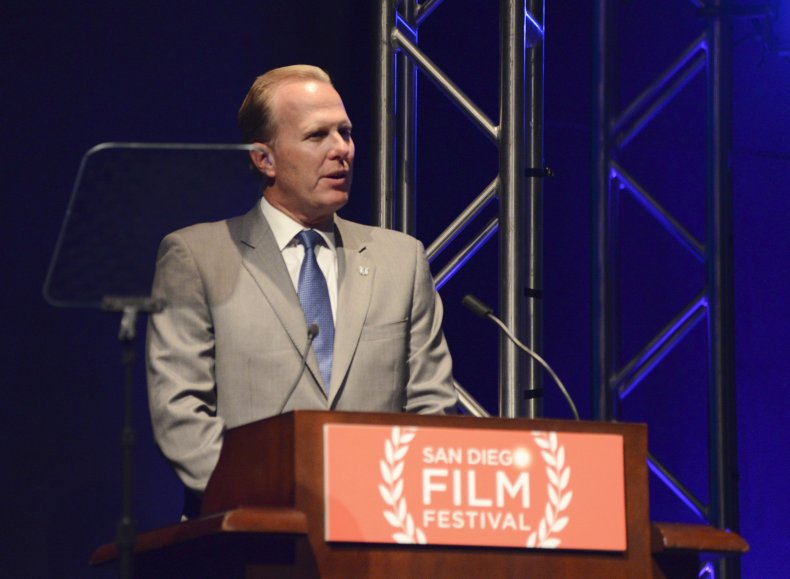 A former San Diego mayor announced he is running for governor of California on Monday, becoming the latest of at least three potential candidates who could appear on a special ballot if a recall effort against Governor Gavin Newsom is successful.
Kevin Faulconer, a centrist Republican who was San Diego mayor from March 2014 until December 2020, announced his bid almost a month after forming an exploratory committee to help him make the decision. He is the first major GOP candidate to formally announce a challenge to Newsom. The governor has not yet said whether he intends to run for reelection in 2022, when the next election is set to take place should the recall challenge fail.
"Governor Newsom's ruling class has failed us," said Faulconer in a video posted to his campaign website. "They promised equality but gave us some of the worst income inequality in the nation. They promised modern infrastructure but can't even keep the lights on. They promised prosperity but created high costs, higher taxes and killed jobs. All to protect powerful special interests."
"Gavin Newsom promised vaccines but delivered confusion and chaos," Faulconer continued. "He's failed us year after year. Wasting billions, turning his back on millions ... I know we can clean up California and that's why I'm running for governor. I'm running to make a difference, not to make promises."
The recall effort has largely focused on Newsom's response to the COVID-19 pandemic. Organizers say they are less than 200,000 signatures away from the roughly 1.5 million required to trigger a recall election, with the deadline to gather signatures in mid-March. Should the effort be successful, voters would decide whether to recall Newsom while choosing a candidate to replace him if a majority opts for his removal.
Conservative social media personality Mike Cernovich also announced his run for California governor on Monday, while venture capitalist Chamath Palihapitiya has suggested a challenge as well. A video posted to Cernovich's Twitter account conceded that he has a "zero percent chance" of winning the election while insisting that voters who support him would make Newsom "answer" for "human rights violations" like implementing COVID-19 public health restrictions.
"There's no chance in hell that I could win California," Cernovich said. "But if I can get enough of a base of support, then I can force hair gel Hitler, which is what we call Newsom... to answer for his crimes, his war crimes, his human rights violations."
There is reason to believe that voters could decide against removing Newsom even if a recall election is triggered, with the most-recent polling indicating that a clear majority of Californians still approve of the governor. Former California Governor Gray Davis, a Democrat who was forced out of office after being recalled in 2003, told Newsweek on Friday that he does not believe the recall will be successful and "would bet on" Newsom to win reelection in 2022.
Newsweek reached out to Newsom's office for comment.