Ex-Trump Campaign Manager Brad Parscale Shares Bible Verse About Persecution After Being Replaced
President Donald Trump's ex-campaign manager tweeted a cryptic Bible verse hours after Trump announced his replacement.
"Bless those who persecute you; bless and do not curse them," Brad Parscale wrote on his Twitter account Thursday, quoting from the Bible's Romans 12:14. The chapter details several commands painting a picture of the Christian way of life.
Newsweek contacted Parscale for comment but did not hear back in time for publication.
Trump announced in a tweet late Wednesday night that Bill Stepien, formerly his deputy campaign director, would replace Parscale.
Parscale is expected to remain with Trump's campaign, overseeing digital and online strategies, Trump wrote.
"Both were heavily involved in our historic 2016 win, and I look forward to having a big and very important second win together," Trump wrote, adding that a victory in November "should be a lot easier as our poll numbers are rising fast."
A new national poll conducted by CNBC/Change Research showed that presumptive Democratic nominee Joe Biden holds a 10-point advantage over Trump. According to the survey, 51 percent of 1,258 likely voters across the U.S. said they would vote for Biden, while 41 percent supported Trump.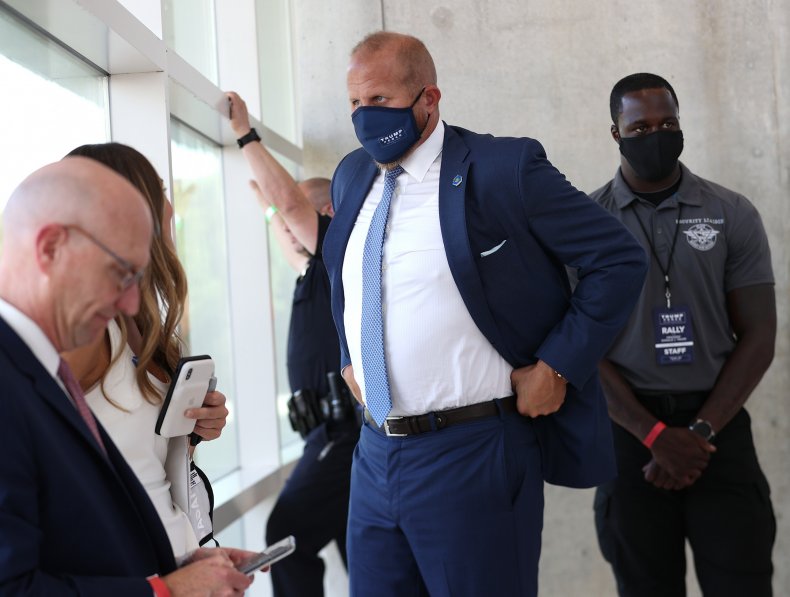 Despite the president's falling poll numbers, Parscale's apparent demotion "shocked" some members of the Trump campaign, Fox News reported.
Hogan Gidley, White House deputy press secretary, said that Parscale had not in fact been "demoted," arguing that the ex-campaign manager will instead focus on Trump's digital strategy.
"Let's be clear what happened here," Gidley said during an appearance Thursday on Fox News. "The only thing that shifted was Donald Trump simply asked Bill to steer the ship and Brad to man the guns."
Both men are "working toward victory for the American people," Gidley said.
Reports had initially surfaced that Trump made the decision to switch up the leadership positions after reports that his June 20 rally in Tulsa, Oklahoma, had seemed to greatly overestimate attendance.
But Gidley said he did not know if Trump's decision about Parscale could be connected to the rally.
In an email statement shared with Newsweek, Stepien provided an update on the Trump campaign.
"President Trump and Brad Parscale have built an unprecedentedly strong campaign based on data and technology and Brad will remain heavily involved," Stepien wrote. "With 109 days left, our goal is clear—to win each day we have left until election day. If we win more days than Joe Biden wins, President Trump will be re-elected."
Stepien went on to call Biden a "hapless tool of the extreme left."
A campaign spokesman for Biden reacted to the news of Trump's change in leadership.
"Almost 140,000 Americans have lost their lives and millions more have lost their jobs because of Donald Trump's failed leadership," Andrew Bates said in a statement to Fox News. "The Trump campaign's game of musical chairs won't fix this. We need a new president for that."
Newsweek contacted the Biden campaign for comment but did not receive a response in time for publication.