Ex-Trump Cybersecurity Head Krebs Sees Smilarities Between Vaccine and Election Misinformation
Christopher Krebs, the former director of the Cybersecurity and Infrastructure Security Agency (CISA), compared communication about the COVID-19 vaccine to misinformation surrounding the 2020 presidential election.
Krebs joined CBS News' John Dickerson for Sunday morning's Face the Nation show. The conversation began with Krebs' take on the misinformation swarming the vaccine. Dickerson asked the former CISA director if he noticed a similarity to his fight against election misinformation.
"Absolutely," Krebs responded. "What we are seeing here is an ecosystem of information purveyors. Some of this is politically motivated. Some of it is the anti-vax community. Some of it is profiteering. And I tend to believe that there's a lot of that going on here."
Former President Donald Trump fired Krebs from his position with the Department of Homeland Security after Krebs sided against the then-president's claims of election fraud. Krebs famously called the election "the most secure in American history." He later sued Trump campaign lawyer Joe DiGenova for defamation and emotional distress after the lawyer called for his execution on Newsmax.
Krebs was also asked to note changes to the kinds of misinformation being disseminated now versus when he was with the CISA. He said he believes there are many actors involved in spreading misinformation, including foreign entities.
"There's state actors, intelligence agencies. Again, the profiteers, you have conspiracy theorists, anti-vaxxers. You have political activists as well... You tend to have an overlap of these different actors." Krebs said.
"[Russian disinformation specialists] don't actually have to do a whole lot because we've done so much here domestically to ourselves," Krebs said. "But they get the seeds of division that they then amplify, they drive more activity, and ultimately what they're looking to do is undermine our confidence in the United States of America."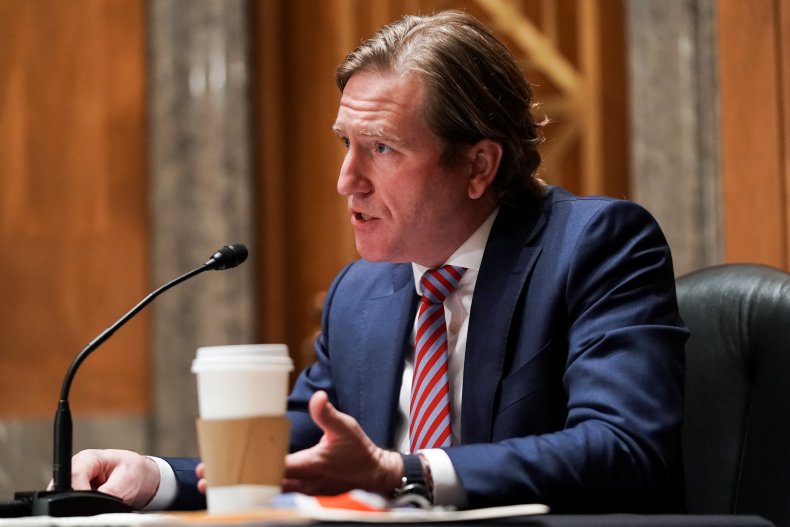 Krebs again drew similarities between the vaccine and the election by mentioning Facebook's role in spreading both helpful and harmful communication. He said the Biden administration and Facebook can both be right in their recent blame-shifting regarding COVID-19 misinformation.
"Facebook and other social media platforms can provide helpful information on the facts behind the vaccine. And the same thing happened in the elections last year. They had a banner and a trust page. But at the same time, there are those that can use those platforms for their own benefits to continue to push disinformation," Krebs said.
President Joe Biden said on Friday that a total of 12 accounts are responsible for a majority of the vaccine misinformation on Facebook and the platform was "killing people." Facebook retorted in a blog post by saying 85 percent of its users were vaccinated or plan to be, and the administration was "looking for scapegoats for missing their vaccine goals."
The "Dirty Dozen," as Krebs called the accounts, have contributed to the misinformation about the vaccine, but the issue goes beyond that. Even though many of the 12 have been de-platformed, the misinformation has become part of the rhetoric around the vaccine, he said.
"[Vaccine misinformation] is now so pervasive that it exists just naturally within the ecosystem on Facebook and elsewhere," Krebs said.
Krebs called for Facebook to be more transparent with their algorithm so that security experts and consumers can hold misinformation-spreading users accountable.
"Unfortunately, fear sells and those clicks drive more engagement," Krebs told Dickerson.
Newsweek reached out to Facebook for comment.