Exclusive: Under the Hood of 'The Grand Tour' and Amazon's £160 Million Gamble on Jeremy Clarkson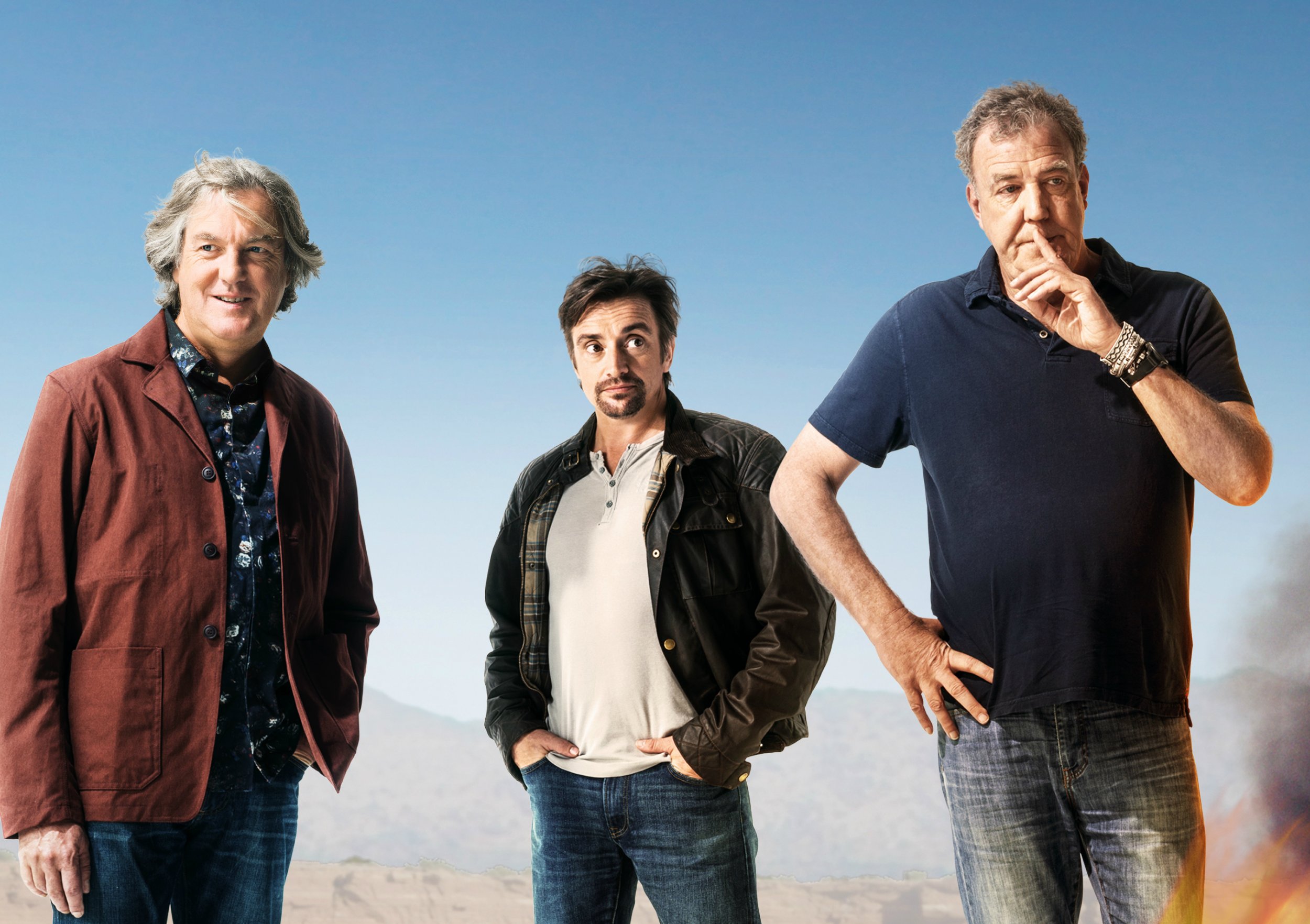 "The stakes are lower. I'm now 56, it doesn't really matter anymore, because I'll be dead soon," Jeremy Clarkson says. The former Top Gear host is telling Newsweek about whether he feels pressure for his new car show, The Grand Tour —launching on Amazon Prime Video November 18—to be a hit. After all, the spiritual successor to his old series Top Gear is said to have cost the online retailer £160 million for three seasons. "People could say, 'This is a terrible program and Amazon's wasted its money,' and I'll go, 'Yeah, I'll be dead before they even notice,'" Clarkson says.
Even if Clarkson is blasé about how the new show is received by critics and the millions of viewers who once watched him, Richard Hammond and James May on Top Gear , Amazon won't be. For them, betting on Clarkson and his two co-hosts is a high-stakes gamble. A factual program like The Grand Tour doesn't naturally fall into its wheelhouse—the web giant is better known for the award-winning dramedy Transparent . But Amazon is feeling confident the gamble will pay off because of the familiarity of the show's stars and format. At one point, Clarkson, Hammond and May's iteration of Top Gear made the Guinness World Records as the most watched factual program in the world, airing in 212 territories to an estimated global audience of 350 million.
"We have a saying: 'Good shows aren't good enough,'" says Amazon's vice president of Prime Video EU, Jay Marine, the man who bought the show in a bidding war that also attracted interest from ITV, Sky and Netflix. "It's very unique that you have a new show that comes with a built-in fanbase worldwide and the level of anticipation that this show has." Although Amazon, like its streaming counterparts, says it will not release viewing figures for the series, Marine tells Newsweek the trailer for The Grand Tour , released in early October, has been viewed nearly 12 million times online across Amazon's various social platforms, including 6.2 million times on its YouTube channel. "I love this deal. I can say, this was one of the most sought-after deals we've ever been involved in," says Marine. "We've looked at this [deal] every which way and we feel fantastic about it. Everything since we did the deal makes us feel better—everything from the fan reaction to the footage we've seen has exceeded expectations."
Amazon announced in July 2015 that it had triumphed in securing the services of Clarkson, Hammond and May—as well as their longtime Top Gear producer Andy Wilman—four months after Clarkson was dropped by the BBC after he hit producer Oisin Tymon in an argument over on-set catering. North Yorkshire police said it had conducted "routine enquiries" into the assault, but Tymon opted against pressing charges. Tymon received a £100,000 settlement in a discrimination case against Clarkson and the BBC in February.
The Grand Tour 's £160 million price tag spawned as many headlines as the stars did. Netflix, having missed out on the show, later said it wasn't "worth the money." Clarkson says that "[Netflix] were bidding about the same as Amazon…we just preferred Amazon." Clarkson says the budget isn't as astronomical as "newspaper talk" will have you believe and the cost per episode is "largely unchanged" from their Top Gear days. "And we have spent most of it on a tent," May adds, referring to the new show's large, traveling set.
There are many commercial factors Amazon will be looking at to determine whether its pact with Clarkson and company will be profitable. Key among them are "how many people are viewing the show, how many people are coming to the service as new to view the show" and what Marine describes as "completion rates—how many people stick with a given show," be it a single episode or a whole season. This intricate data sets streaming apart from traditional television, where shows are measured by estimated viewers per household. "On broadcast, sometimes it's about the lead-in show, not clicking away, the advertisers—it can't be too edgy. That's a different dynamic when you're a streaming service and have to give value [to the customer]. You want it to be people's favorite show."
Marine, although unwilling to divulge what viewing figures and other targets Amazon has set for The Grand Tour, is confident that the show will meet internal estimates. "Of course we have numbers…we don't share those," he says. "But I feel great. The reaction so far has been far better than what I dreamed of. I'm not worried at all about meeting the projections."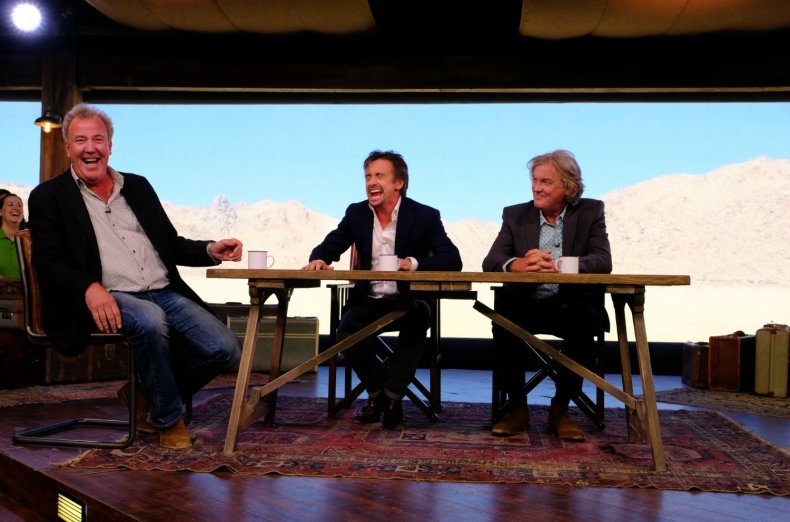 Shepherd's pie versus cottage pie
When I first speak to The Grand Tour clan, in September, they are filming what will be the show's first episode in the Californian desert. I'm promised time with all three presenters, but only two—Clarkson and May—answer the call. Hammond, I'm told, is suffering from dehydration. "The official line is he's dehydrated after being in the desert," Clarkson quickly interrupts the publicist. "The truth is, he got paralytically drunk last night and he's hungover." May chimes in: "He's technically dehydrated, but it's got nothing to do with the desert."
The stars' good-natured ribbing of one another, even off-camera, suggests that fans who loved Top Gear 's Clarkson years have little to worry about: The Grand Tour will still carry the essence of what made their former show so popular. " Top Gear was like a shepherd's pie. This is a cottage pie. It's still comfort food, it's still us, it still looks the same," says Clarkson. "But it's different and people will just have to get used to the fact that the Star in a Reasonably Priced Car [segment] and The Stig have gone. We have new things instead, which, had we done them first of all—had you always had a cottage pie—people would have been perfectly happy with."
But if things had panned out differently, The Grand Tour could have looked vastly different—or perhaps not existed at all. Clarkson was fired by the BBC for his altercation with Tymon, but Hammond and May were both invited by the corporation to stay on. So why did they choose to leave? "It became clear to me that it was almost a duty for us to do it, because the people who loved us wanted us to," reasons May. "To not do it would have been awkward, slightly churlish, and, to be honest, would have made us look unpopular." Comparing their situation to the shambolic way the BBC's other big factual hit, The Great British Bake Off , moved from the BBC to Channel 4 with just one of its four main stars, May adds: "We did it right."
When I finally catch up with Hammond, now suitably hydrated, in October—at a gastropub in Hammersmith, north London—he concurs. "As a machine for feeding ideas into one end and then getting television out of the other, we're better when we four are together," he says, alluding to Wilman, the former Top Gear producer who followed them to the new show.
Hammond and May are at ease talking about their BBC departures, but for Clarkson, the topic is more complex. When the fracas with Tymon that led to his dismissal is raised, the otherwise boisterous presenter suddenly becomes sheepish. "I don't really go into what happened. That was then, this is now—it's business as usual," Clarkson says, speaking over the phone from California in September.
Clarkson is eager to look ahead to his new, more functional relationship with Amazon, not ruminate on the cloud under which he left the BBC. The presenter says he's more "relaxed" working for the online retailer than he was at the publicly funded corporation, and feels more appreciated than he was at the BBC. "There are some very talented, hardworking, dedicated people in that organization. That being said, they're absolutely rubbish at talent management," he says. "Amazon watch [footage] and go: 'Wow, brilliant.' We never, ever got that from the BBC…not in 27 years, no one ever said, 'That was good.'"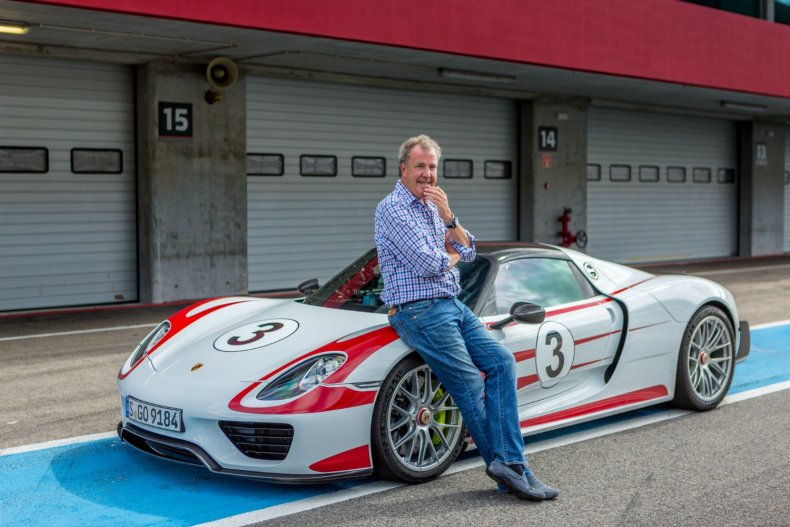 In the wake of the trio's exit from Top Gear , the BBC attempted to reinvent the show with a new cast led by BBC Radio 2 presenter Chris Evans and Friends actor Matt LeBlanc. The new look Top Gear got a head start on The Grand Tour , launching in May, but its ratings dipped below two million viewers by July. Clarkson admits to watching at least the first two episodes. I ask if there was a secret glee at the show's declining ratings. "I honestly don't know what they were…he lied," the star says with a smirk.
Amazon's car show will run for at least three years, while Top Gear isn't giving up: It has promoted LeBlanc to lead presenter for its next season following the departure of Evans, who quit the series after a single season. But Clarkson says there isn't any competition with their former show over who will get to feature the latest sportscar (but, if we were to keep score, The Grand Tour 's first episode will feature a McLaren P1, currently enjoying cultural resonance among millennials with a namecheck on The Weeknd track "Starboy"). "Everybody thinks it's a car review show—it isn't," he says. "What we want to do most is, 'Did you know you could do this with a car?' Rather than, 'Did you know this car was like this?' Doing something daft with a car is much more what we want to do, and we can always be the first to do that because it'll be our idea and nobody will have done it before."
The Grand Tour premieres on Amazon Prime Video on November 18. New episodes will stream every Friday.