The federal government has admitted that some members of the execution team that put Orlando Hall to death last month have since tested positive for coronavirus.
The concession came in a footnote in a reply to a lawsuit filed by two prisoners Patrick R. Smith and Brandon S. Holm at the Federal Correctional Complex in Terre Haute, Indiana.
The prisoners, neither of whom are on death row, are suing Attorney General Bill Barr in a bid to halt five upcoming federal executions, arguing that they are "super-spreader' events that put the lives of the prison's inmates at risk.
In a reply brief filed Monday, the prisoners' attorneys noted that the federal government has yet to reveal exactly how many execution team members have tested positive for the virus since Hall's November 19 execution for the rape and murder of a Texas teenager.
They wrote that the federal government's lawyers only noted in a "buried" footnote late in their opposition brief that "some" execution team members have tested positive since the date of the last execution.
"We are not told how many execution team members tested positive ("some"), nor did Defendants choose to have Warden Watson or anyone else address the issue is a sworn declaration," they wrote.
"But the fact that any execution team members tested positive after the most recent execution provides further, compelling evidence of the significant risk that conducting the scheduled executions will spread COVID-19 within FCC Terre Haute (and beyond). The risk is not 'speculative.'"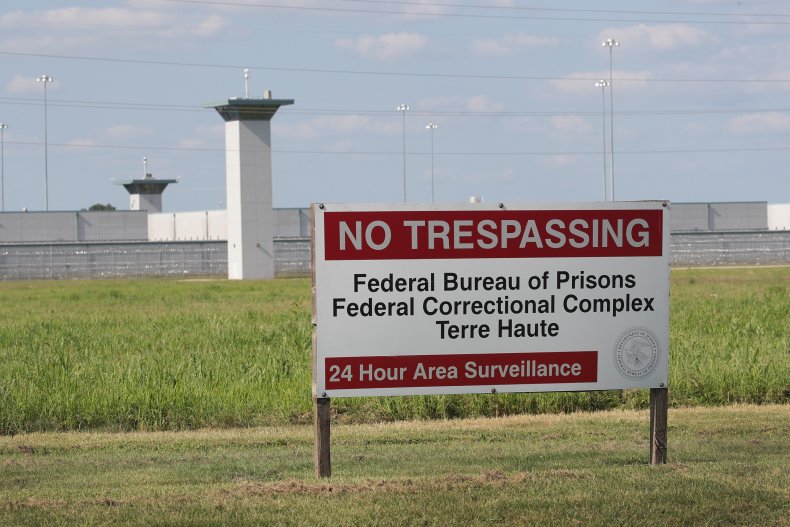 The federal government's response also included answers to questions the court directed them to answer.
They said the execution team consists of "approximately" 40 Bureau of Prisons (BOP) staff, who all come from outside FCC Terre Haute. They added that overall, around 50 to 125 individuals travel to the prison complex for each execution—the execution team, state and local law enforcement as well as witnesses and demonstrators.
The federal government's brief also noted that members of the execution team who travel from out-of-state do not quarantine on arrival to Indiana a few days before a scheduled execution, but begin their tasks immediately. They are also not "formally segregated" from other BOP staff.
In their opening brief, the prisoners' attorneys also noted that Hall's spiritual adviser Yusef Ahmed Nur had also tested positive for COVID-19 since his execution.
In a declaration, Nur detailed the close contact he had with numerous BOP staff on the day of the execution, including some who did not wear masks.
Nur said he spent around 15 minutes in the execution chamber while Hall was being put to death, he said. "While I was there, I was approximately four feet away from each of the unmasked executioners," he said in the declaration.
Hall said he had been tested for the virus on November 15, and received a negative result.
Five days after the execution, he took another test that was inconclusive. A second test, done on November 27, confirmed he was positive for COVID-19, he said.
According to the BOP, there are 180 inmates and 18 staff members who are COVID-19-positive at FCI Terre Haute, where Smith and Holm reside. Another 84 inmates and 3 staff at the nearby U.S. Penitentiary are positive for the virus. The complex houses more than 2,300 inmates in total.
The American Civil Liberties Union (ACLU), which has also filed litigation in recent months warning that federal executions would be coronavirus super-spreader events, condemned the federal government for moving forward with them.
Cassandra Stubbs, director of the ACLU's Director of Capital Punishment Project, told Newsweek: "At the risk of sounding like a broken record, there is simply no doubt that these executions spread COVID-19.
"By the BOP's own admission, its staff members who travel to Terre Haute to carry out these executions do not have time to quarantine when they arrive. Just a fraction of them have elected to be tested after the executions. The spread of disease that will occur if the wave of five scheduled executions—starting Thursday and scheduled until just before inauguration day—are allowed to take place will have been totally predictable and preventable."
Stubbs added: "The courts must step in to stop them, protect the people incarcerated at Terre Haute who have no control over the risk the government is subjecting them, and slow the senseless suffering of the American people."
The Trump administration resumed federal executions this summer, executing several inmates in quick succession despite the difficulties posed by the ongoing coronavirus pandemic, sparking an immediate outcry.
Five executions are scheduled to take place before President-elect Joe Biden takes office, starting with Brandon Bernard on Thursday. The execution of Lisa Montgomery, the only woman on federal death row, is scheduled to take place just days before Biden's inauguration on January 20.
The Department of Justice and BOP have been contacted for comment.
Correction 12/10/2020, 8:10 a.m. ET: A previous version of this article misstated when Hall was in the execution chamber.