'Exhausted' Russian Troops Could Be Defeated by 2023: Retired U.S. General
Retired Lieutenant General Ben Hodges says Russian President Vladimir Putin has overextended his military in Ukraine and that the invasion could come to an end next year if Western powers continue their military backing of Kyiv.
Hodges, who served as commanding general of the U.S. Army in Europe, made the remarks in an interview with Insider published Thursday. His relatively upbeat assessment comes amid signs of wavering U.S. support for Ukraine, just as the beleaguered country has indicated that Western-provided weapons are making a difference.
"The Russians are exhausted," Hodges told the news outlet. "They don't have much else they can do right now."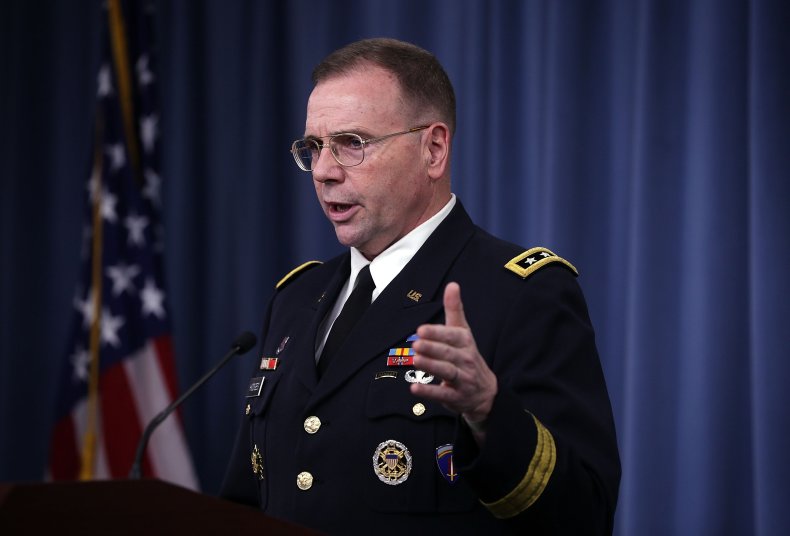 Since launching its invasion of Ukraine in February, Russia has faced early setbacks, failing to take the capital city of Kyiv and deliver the swift war promised by the Kremlin. Russian forces have made gains in Ukraine's south and in the eastern Donbas region, seizing control of an estimated 20 percent of the country.
But Hodges told Insider that Ukrainian troops hold a morale advantage over their Russian counterparts, whom he described and bogged down and worn-out. He also said the "full weight" of Western military support is only recently taking hold in Ukraine, particularly the long-range rocket systems.
The Ukrainian government released footage earlier this week showing its successful missile strike against a Russian ammunition depot in the occupied Kherson region. A second ammunition depot was reportedly destroyed Thursday by Ukrainian forces, who used American-made HIMARS long-range missile systems in both strikes.
"As the whole world has seen over the past week or so, we have been able to inflict massive damage to their missile defense systems and ammunition storage facilities deep behind the enemy lines," Luhansk Governor Serhiy Haidai told Newsweek recently.
Haidai, who oversees an area that's seen intense fighting, boasted that long-range guided heavy artillery has put Russian invaders into "panic mode." He added, "when we have sufficient amounts of such weaponry, we will be able to carry out further counterattacks."
Hodges told Insider that whenever Russians don't have an "overwhelming firepower advantage," their Ukrainian counterparts win every time. Arming Ukraine forces with weapons that allow them to strike Russian artillery, ammunition storage and command posts "disrupts the one thing that the Russians have that is to their advantage."
Ukraine has relied heavily on Western military assistance against the larger and better-armed Russian military. The U.S. alone has given Ukraine approximately $8 billion in security assistance since President Joe Biden took office, according to the Pentagon.
While the American public initially rallied to the underdog eastern European nation, there are signs that support is starting to slip. Polling data from Morning Consult shows that the percentage of U.S. voters concerned about Russia's invasion stands at 81 percent, down 9 percentage points from March.
Hodges told Insider that Putin could continue dragging out the "war of attrition," waiting for the American public to turn its attention to economic issues. But Hodges said Russia is "on the clock a little bit."
"If the West sticks together through this year, then I think it will be over," he said.
Newsweek has reached out to the Russian government for comment.