Expletive-Riddled Confrontation Between Coworkers Captured In Tense Video
A Reddit user shared a recording of a tense confrontation between two coworkers that escalated to the popular forum "Antiwork," where it has since gone viral.
"The 'Office Culture' is exactly why I want to work from home," read the title of u/ItsUsuallySunnyInAz's post, which garnered more than 53,000 votes since it was shared on Thursday.
What started as an argument between the two coworkers quickly grew into a yelling match in which both employees hurled expletives at each other. Though it was shared as a video, the visuals were covered for Reddit users to only hear the audio.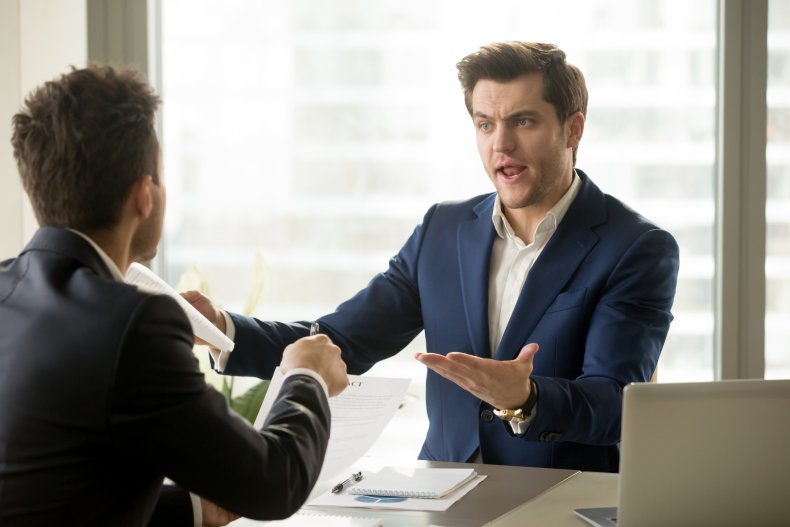 Working Remotely
Since the start of the COVID-19 pandemic, many offices allowed employees to work remotely.
This has continued to be a popular option, and the Pew Research Center reported that 60 percent of workers with jobs that can be done remotely said they would prefer to work from home either all the time or at least most of the time when the pandemic ended.
"This is up from 54 percent who said the same in 2020," the organization said.
Hostile Work Environments
u/ItsUsuallySunnyInAz said her manager did not allow them to work from home because "the office culture is important," per text that overlaid the video.
According to Forbes, there are several red flags to look for that indicate a toxic work environment, and one of the top indicators is an environment in which people feel disrespected.
The article said that a number of behaviors may be perceived as disrespectful, including passive-aggressive, demeaning and disruptive attitudes.
Abusive behaviors may also appear in work environments, which can occur when someone yells or curses at someone else.
"It's nearly impossible to have a nontoxic culture when abuse is present," Forbes said.
The Argument
The video picks up mid-argument as one employee accused another of "sabotaging" the office.
It intensified as one employee threatened to hit the other.
"Do you want your face to be in your f**king body?" an employee asked. "Shut the f**k up. You really want to go home and embarrass your f**king kids when you come home with a black eye?"
That same employee said he would "f**king kill" the other employee.
Shuffling can be heard in the background as other coworkers urged them to calm down before the video concluded. You can view/listen here.
u/ItsUsuallySunnyInAz answered some questions in the comments section and said that she has since found a new job and can work remotely about a month after this recorded incident.
"This was not the first type of scuffle in the office, and I'm sure it hasn't been the last since I left," she said.
u/ItsUsuallySunnyInAz wrote to Newsweek this was one of several similar incidents that took place in that workplace and she was already actively looking for a new job when this took place.
"After the threats were made during this specific incident, I started urgently looking for another job and pretty much accepted the first work-from-home position that I could find," she said.
After the incident, u/ItsUsuallySunnyInAz said the day continued as any other day.
"The two coworkers in the audio ended up buying each other lunch and beer that same afternoon and the manager just laughed about it when he got into the office that day," u/ItsUsuallySunnyInAz said.
The Reddit user, however, said she kept to herself for the remainder of the day and the rest of her time working for the company.
The confrontation captured in u/ItsUsuallySunnyInAz's video was the most "intense" one she witnessed, but she said there were other incidents.
These incidents have included the same coworkers featured in the video, as well as other employees and supervisors.
"Another coworker came in and within one hour had gotten frustrated and punched through his computer monitor," u/ItsUsuallySunnyInAz said. "He acted like it was no big deal and just went to the store to buy a replacement."
u/ItsUsuallySunnyInAz said that she was not allowed to work from home at any point until she complained that the person sitting next to them tested positive for COVID and was not consistently wearing a mask in the office.
While she were allowed to work remotely until their coworker tested negative, she said she worked in the office every day despite working a job that could be done remotely. Once that coworker tested negative, u/ItsUsuallySunnyInAz said she was required to work in the office once again.
u/ItsUsuallySunnyInAz sent their manager several requests to work from home due to "stress in the office," but was denied repeatedly.
She said she was told that the workplace was "good" for them.
Redditors React
"Listening to this made me angry even though it doesn't affect me at all," a Reddit user wrote. "What the hell is wrong with people?"
Another Reddit user said the altercation should be reported.
"I encourage you to empower yourself and report this to OSHA," they said. "No one has to tolerate a volatile work environment."
One said that they "could never" handle the work environment, while another said they would be "afraid" to work with an employee who exhibited that type of behavior.
"I feel like I have been in this meeting," another Redditor wrote.
Other Posts From Antiwork
An employee took to the "Antiwork" forum on Reddit to air his frustration about his boss who received an $87,000 raise while he and his coworkers haven't received a raise in years.
Another employee was applauded after he quit his job without providing a two-week notice because he felt he was treated "like a subhuman mule."
One manager received backlash when he took all the pizza that was intended for his employees.