Explosion in Garbage Truck and 'Dangerous' Acid Dump Prompts NYC Warnings
New York City's Sanitation Department (DSNY) issued a stark warning after an oxygen tank exploded in a garbage truck—and started a fire.
It tweeted out photos of the aftermath, which saw the New York City Fire Department (FDNY) scrambled to the scene to extinguish the flames.
It found three potentially dangerous tanks, as DSNY urged residents to properly dispose of their trash, as they admitted "it could have been worse."
The post, from @NYCSanitation, said: "There's a safe way to get rid of oxygen tanks—and it's NOT in the trash.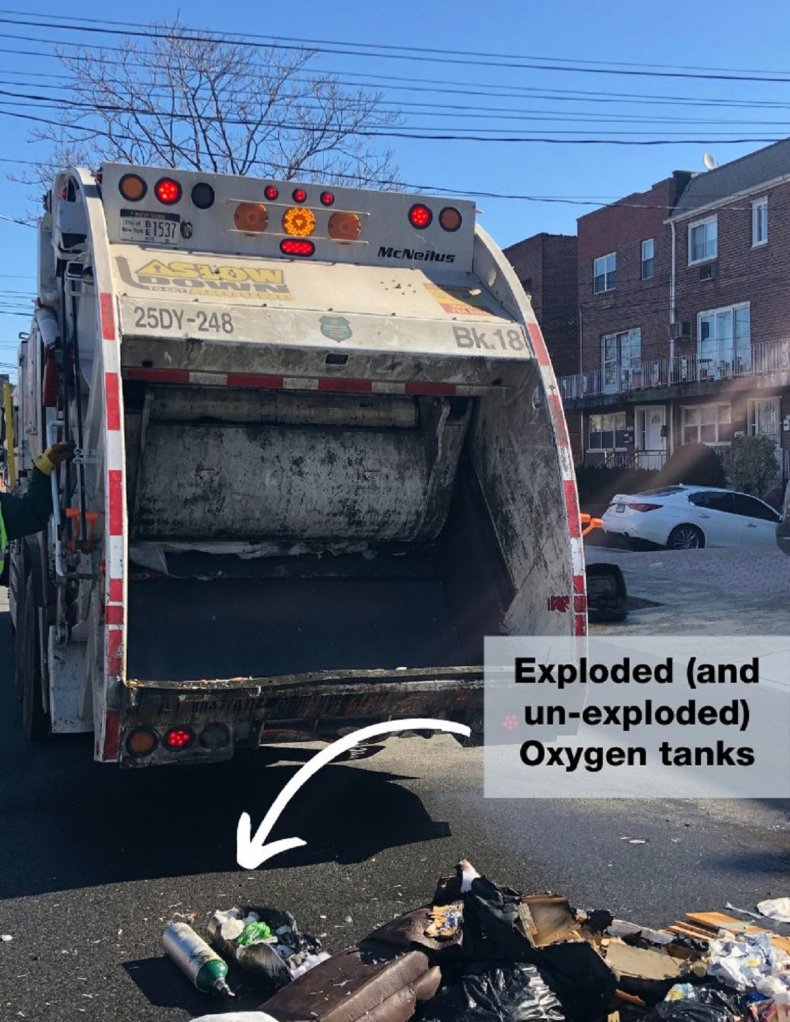 "Three tanks were thrown out recently—one exploded in our truck & started a fire!
"Luckily our Workers weren't hurt but it could have been worse."
They captioned the photos, tweeted on Wednesday, showing "exploded and un-exploded oxygen tanks."
A spokesperson from DSNY told Newsweek the incident ocurred on February 28, in front of 10520 Avenue K, Brooklyn.
They said: "Thankfully, no one was injured. FDNY responded to the incident and extinguished the fire.
"Our Environmental Protection Unit responded as well. When the contents of the truck were dumped, three oxygen tanks were found."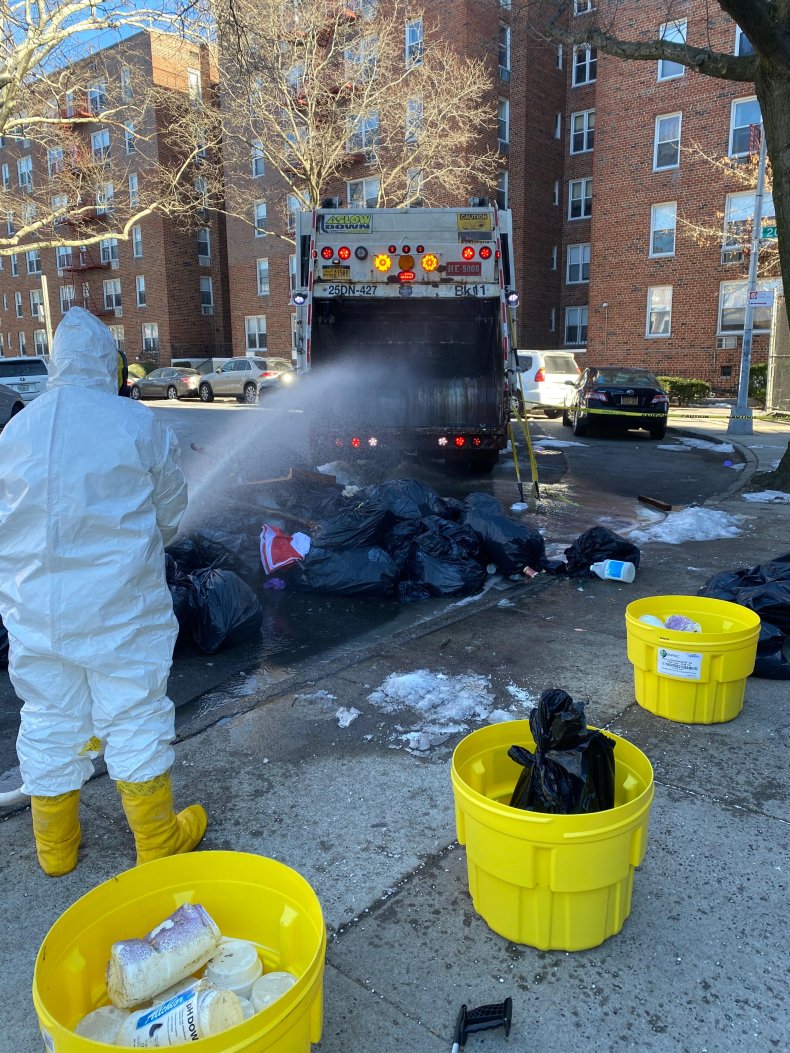 It's not the first time in recent weeks refuse workers in the city have been faced with a "dangerous" situation.
Earlier this month, 40 bottles of chemicals, including muriatic acid, were dumped in the trash, seeing smoke and fumes spew out of another garbage truck.
Photos tweeted on March 2 revealed someone in a hazmat suit spraying down the truck, with hazardous waste put in yellow bins.
They also shared snaps of the numerous bottles of chemicals, as the tweet stressed: "How many times do we need to say it? Hazardous materials SHOULD NOT BE PUT IN THE TRASH OR RECYCLING.
"Our Environmental Police Officers recently responded to a dangerous situation—smoke and fumes coming from the back of our truck.
"They found 40 bottles of chemicals, including muriatic acid. This is dangerous for Workers, residents & the environment.
"DON'T DO IT. Thankfully, our Workers are OK, but this situation could have ended differently."
Muriatic acid, sometimes referred to as hydrochloric acid, is "considered strong and highly corrosive," according to Westlake Chemicals.
DSNY cited information on its website on how to properly dispose of hazardous materials, including gas tanks, which says: "Do not attempt to relieve the pressure or remove the head, and do not discard in trash or recycling. Contents may be hazardous and pressurized tanks may explode when compressed in a truck.
"Exchange your old pressurized gas tank when purchasing a new one, or bring to a scrap metal dealer. All gas tanks are accepted at SAFE Disposal Events."
SAFE (Solvents, Automotive, Flammables, and Electronics) disposal events occur throughout the year in all five boroughs, with available dates up until June on the website.
The DSNY spokesperson confirmed to Newsweek the truck which was on fire was a "standard household refuse collection truck."
According to its website, the city maintains more than 2,100 collection trucks, collecting an average of 12,000 tons of trash and recycling every day.