Extent of Trump's Usefulness to GOP Questioned by WSJ Editorial Board After CPAC
The Wall Street Journal editorial board questioned the extent of former President Donald Trump's usefulness to the Republican party in an op-ed published Monday evening following his appearance at the Conservative Political Action Conference (CPAC).
"For Republicans and Mr. Trump, the future isn't as clear as the press and the former President would like," the board wrote. "The CPAC crowd cheered his speech, which was largely a collection of greatest political hits. But if CPAC represented America, Mr. Trump would still reside in the White House, not Mar-a-Lago."
"That's the cold GOP reality as the former President seeks to dominate the party from exile and tease a 2024 comeback," the board added.
The board then noted Trump lost the 2020 presidential election and "cost the GOP two Georgia Senate races" in January due to his election fraud claims.
"Mr. Trump is now trying to rewrite this history as someone else's fault—Democrats who cheated, Republicans who won't 'fight,' a cowardly Supreme Court that includes three of his appointees, anyone but himself," the board wrote, adding that according to a post-election analysis by pollster Anthony Fabrizio, "this isn't true."
The board continued: "Mr. Trump had one landmark victory in 2016 but he has cost the GOP dearly since."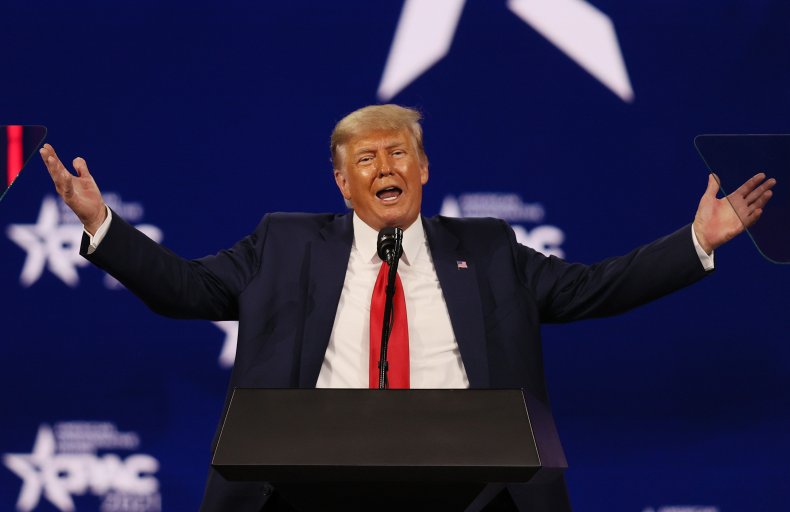 "Mr. Trump's base of support means he will play an important role in the GOP," the board wrote. "But as the Biden months roll on and the policy consequences of the 2020 defeat become stark, perhaps the party's grassroots will begin to look past the Trump era to a new generation."
During his CPAC speech, Trump said he wouldn't form a third political party because it would divide the Republicans. Although he spoke of Republican unity, Trump tore into GOP lawmakers who have criticized him since he left office in January.
Trump also hinted that he may run for the presidency in 2024, saying that President Joe Biden "has failed in his number one duty as chief executive, enforcing America's laws," after saying the current administration "is actively expediting the admission of illegal migrants."
"This alone should be reason enough for Democrats to suffer withering losses in the midterms, and to lose the White House decisively four years from now," Trump said during his CPAC speech. "Actually you know they just lost the White House, I may even decide to beat them for a third time."
Trump's CPAC speech has since been criticized by both Republican and Democratic lawmakers.
Republican Representative Adam Kinzinger of Illinois took aim at the former president's speech during a Monday appearance on MSNBC's Morning Joe.
"Quite honestly, I think what you can see in that speech yesterday was recycling old talking points, you know, just stream of consciousness," Kinzinger said. "And I think it's obvious there is no vision for Donald Trump. There's no desire to paint a vision."
"All he really desires is to stand in front of a crowd and be adored and he got that in ample amounts yesterday," Kinzinger added. "But, I don't think that shows that he's really going to be any serious growing force going forward."
Newsweek reached out to Trump's Office of the Former President, but didn't hear back in time for publication.