Extraordinary Rainbow Waterfall in Yosemite National Park Captured on Video
A resurfaced video of a rainbow at Yosemite National Park is drawing oohs and ahhs on social media.
The view of a mountainside at the California-based park has been viewed over 653,000 times and been liked nearly 57,000 times. Yosemite is located in four different counties in California and covers an area of about 761,747 acres, which ranks 16th nationally in terms of national park size.
The footage is believed to have been originally filmed by Salt Lake City-based photographer Greg Harlow, who specializes in outdoor photography and videography. Documented footage from 2017 taken at the location, which is under the auspices of the National Park Service (NPS), explained "very high winds at the perfect time of day" at about 9 a.m. and unusually heavy water for November of that year.
"These special circumstances created a previously undocumented 2,400-foot rainbow waterfall," Harlow described in a video under his YouTube account.
Numerous others have photographed and filmed the location in recent years.
National Park Trust, which advocates for the U.S. national park system and encourages stewardship for future generations, said certain parks offer favorable views for rainbows.
One is Joshua Tree in California. Known for its vastness in the Mojave Desert, the combination of flat land and mountains offers a scenic backdrop for rainbows. Others include Badlands National Park in South Dakota, home to 244,000 acres; Big Bend National Park in Texas, which includes a 30-mile automobile view of rivers and valleys; and, of course, the Grand Canyon where rainbows are described as "fairly common occurrences."
One Twitter user with the handle @windestainedlens said she has photographed rainbows on Bridalveil, Ribbon Fall, Horsetail Fall and Wildcat Fall in the Yosemite river canyon.
"All it requires is knowing where to position yourself for the right angle of light," she said, adding that the photographed rainbow popularized in Harlow's video was likely conducted on a misty winter morning.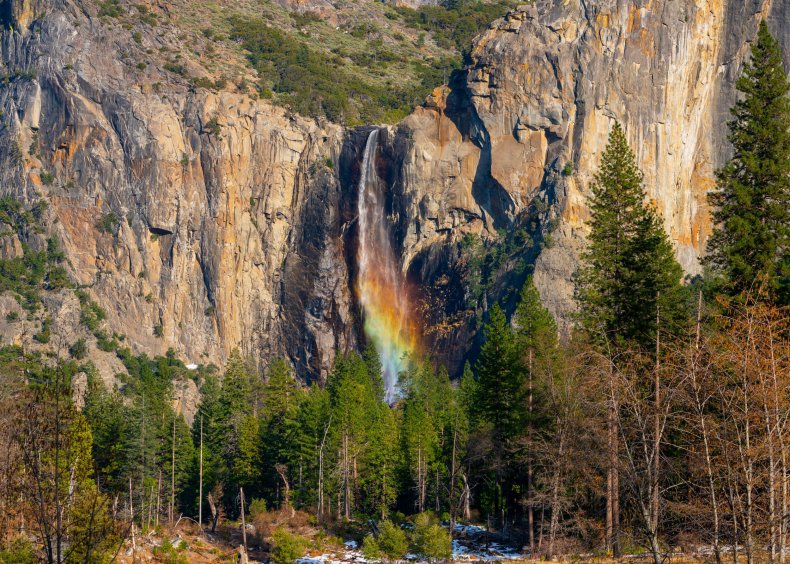 According to the NPS, Yosemite National Park was the 21st most visited national park in the U.S. in 2021 with about 3.3 million visitors. The top three parks were Blue Ridge Parkway, Great Smoky Mountains National Park and Golden Gate National Recreation Area, with about 15.9 million, 14.1 million and 13.7 million visitors, respectively.
On June 2 it was announced that Yosemite Conservancy was providing over $14 million to protect and preserve the park in the current calendar year, involving donor support for initiatives to understand threats to giant sequoias, plans to encourage and facilitate bicycle use and filling in gaps in Yosemite's Chinese history.
Biologists are currently studying and protecting a multitude of species, park officials said, including Yosemite toads, monarch butterflies, Sierra Nevada bighorn sheep, Sierra Nevada red foxes, peregrine falcons and an endangered population of Pacific fishers.
More than 700 conservancy-funded projects have helped preserve natural and cultural resources over the years, such as the restoration and protection of the Mariposa Grove of Giant Sequoias, Yosemite Falls, and the restoration of hundreds of miles of trails.
Earlier this year, a video clip of Yosemite mountain climbers went viral due to the nature of the climb in addition to footage of them sleeping in tents suspended high on the mountainside.
Last year a famous ultramarathon participant was found dead at Yosemite after going missing.
Newsweek reached out to Harlow and Yosemite staff for comment.