'Extravagant' Royal Couple Won't Go Into Retirement Quietly, Expert Says
Princess Michael of Kent—infamous for wearing a "racist" brooch to a lunch attended by Meghan Markle—may not go "quietly into retirement" after a royal career characterized by controversy, a former friend of Princess Diana's said.
Born Marie-Christine von Reibnitz in Bohemia, the 77-year-old and her husband Prince Michael of Kent are reportedly retiring from royal life.
She is perhaps best-known in recent times for attending Queen Elizabeth II's 2017 pre-Christmas lunch wearing a blackamoor brooch, depicting a person of color in a service role. Princess Michael said at the time that she was "very sorry and distressed" while social media users described the jewelry as racist.
Richard Kay, an old friend of Princess Diana's and Daily Mail columnist, suggested this may not be the last we hear from the couple after they hosted a glamorous summer party in the gardens at Kensington Palace for the prince's 80th birthday.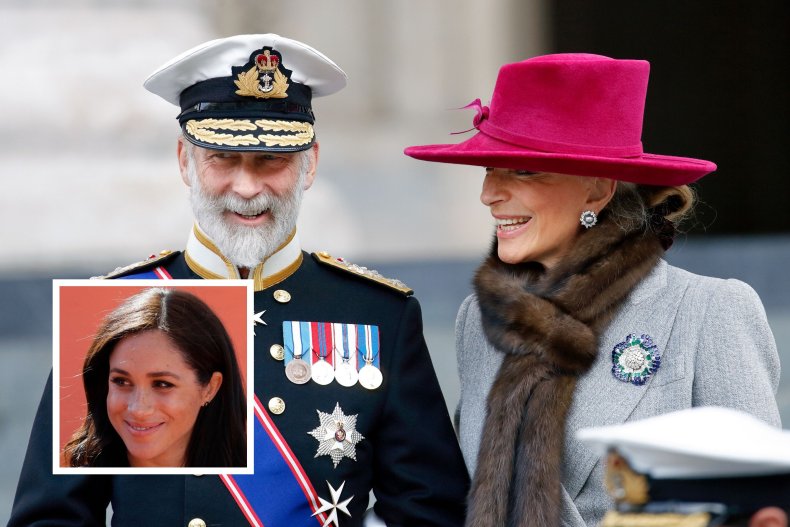 He wrote: "Will this most controversial of princesses and her prince now go quietly into retirement, or might there be yet another blaze of autumn sunshine?
"Judging by Monday night's lavish birthday party, don't bet against it."
Kay, who was among the last people to speak to Princess Diana, described how the couple themselves had not confirmed the report of their royal exit, which appeared in U.K. broadsheet The Daily Telegraph.
Describing the party, Kay wrote: "Just in case anyone had any doubts, the sound of popping champagne corks said it all this week—nothing much has changed in the extravagant lives of Prince and Princess Michael of Kent."
He added: "Of course, it may just have been coincidence, but some among the royal and aristocratic guests—they included Michael's elder brother, the Duke of Kent, Chantal Hanover, ex-wife of Prince Ernst August, and the Marquess of Northampton's former wife, Rosie—wondered if this display had some other significance.
"Last month it was reported that the Kents were to retire from public life. Apart from guffaws and social media mockery questioning what exactly they were retiring from, there has, so far, been official silence.
"There has been no announcement from the couple and nor has there been any change to the website Prince Michael, the Queen's first cousin, operates."
Princess Michael, the daughter of a Nazi Waffen-SS officer, was controversial long before the 2017 lunch where she met Meghan.
In May 2004, she was accused of telling a group of black diners at Da Silvano restaurant in New York: "You need to go back to the colonies," the New York Post reported at the time.
Princess Michael disputed the account, suggesting she had been discussing moving tables and said: "At this point, I would be ready to go back to the colonies," the Daily Mail reported.
However, she has also given a number of controversial interviews over the years, including one in which she said she was more royal than the royal family.
Prince Michael, Queen Elizabeth II's cousin, is also no stranger to controversy and was caught up in a cash-for-access sting by a British newspaper.
A friend of the prince, Lord Reading, told undercover journalists from The Sunday Times and Channel 4's Dispatches that the royal could help them access Russian President Vladimir Putin.
The investigative reporters set up a fake investment fund targeting gold and, after speaking to Lord Reading, offered Prince Michael $200,000 to record a speech to be played at their launch event.
In the footage, Prince Michael said: "I have never had any close connection before with gold and the idea makes me very happy."
A spokesman for Prince Michael at the time told Newsweek the allegations were "nonsense."
However, if the Kents do not go quietly there may be much they could say that could embarrass the royals.
For more royal news and commentary check out Newsweek's The Royal Report podcast: