Extreme California Weather Will Finally Bring a Snowstorm to East Coast
A storm that dumped snow and brought a rare blizzard to Los Angeles County this past weekend is now tracking east and forecast to bring snow to New York City.
Some East Coast cities have yet to see substantial snowfall this season. That is expected to change with the incoming storm. The storm will sweep through the Northeast starting Monday night and stretching into Tuesday. The National Weather Service (NWS) reported that parts of New York and Pennsylvania could receive 8 to 12 inches of snow, with a much wider area forecasted to receive 4 to 6 inches.
The New York City area has seen a very warm winter season, only collecting a few tenths of an inch from snow events that mostly occurred from late January and early February, according to NWS meteorologist Matthew Wunsch. The limited snowfall is rare for the city, which received an average of 38 inches of snow in the 2020-21 winter season, the most recent data available on the NWS website. In 2021, much of New York City's annual snowfall came later in the season, with 26 inches of snow falling in February.
Wunsch told Newsweek on Monday that temperatures will be close to freezing in New York City on Monday night, leading to heavy, wet snowfall. Shoveling heavy, wet snow can lead to injuries and even heart attacks, with Wunsch saying that is the biggest risk with the incoming storm.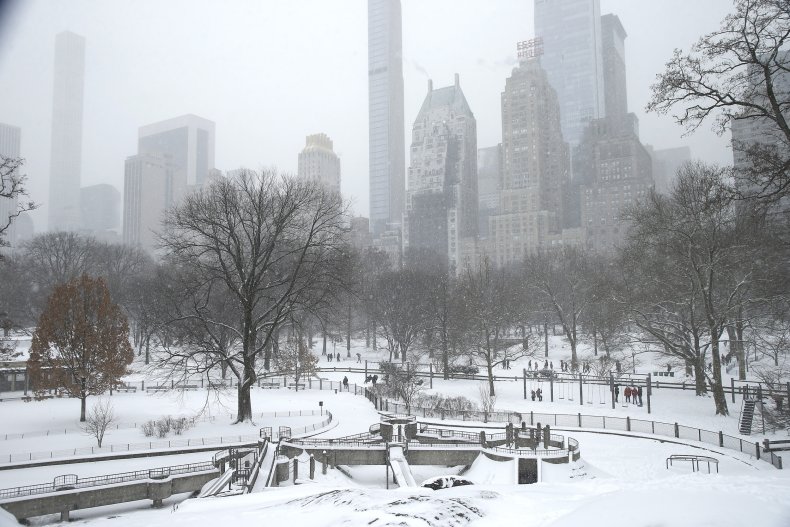 "Heavier, wetter snow has an easier time sticking to a lot of things," Wunsch said. "There's a big difference between dry, light snow and heavy, wet snow. It takes a lot less of it to be significantly heavier when shoveling it, and people forget that. Even 2 inches of wet snow could feel the same as of 6, 7 or 8 inches of powdery snow."
Wunsch added that New York City, which is expected to receive anywhere between 4 to 6 inches of snow, isn't expecting widespread power outages.
The storm landed in California early Friday morning and exited by the end of the weekend. It has brought an excess of precipitation as it moves east. Meanwhile, the Great Lakes region saw the effects of the storm on Monday. More than 140,000 power outages were reported in Michigan on Monday morning, with snow being forecast in Wisconsin as well.
As the storm trekked across the middle of the country, it brought a rare phenomenon to Oklahoma. A derecho, or a storm system with winds reminiscent of a tornado but without the circular motion, slammed through the state on Sunday night. Extremely strong winds topping 110 miles per hour not only tore through Oklahoma, but Texas and Kansas as well.
Meteorologist Matthew Cappucci tweeted a list of several cities in the area on Sunday and its wind speeds. In Memphis, Texas, winds were clocked at 114 mph. For reference, a hurricane is classified as a category 3 when winds reach 111 mph.