Extremely Rare, Serpent-like Creature From the Deep Washes up on Beach
An extremely rare, giant serpent-like creature from the deep sea has washed up on a New Zealand beach.
The oarfish turned up on Aramoana Beach near Dunedin, where it was found by a local, Isaac Williams. The beast was estimated to measure nearly 12 feet long, New Zealand news site Stuff reported.
Bridie Allan, a marine biologist and lecturer at the University of Otago, happened to be relaxing on the beach at the time.
Allan told Newsweek she noticed Williams "fossicking [searching] in the water with something."
"So I went and took a look. That's when I identified the fish. They are super rare. This is about the fifth sighting in New Zealand," she said.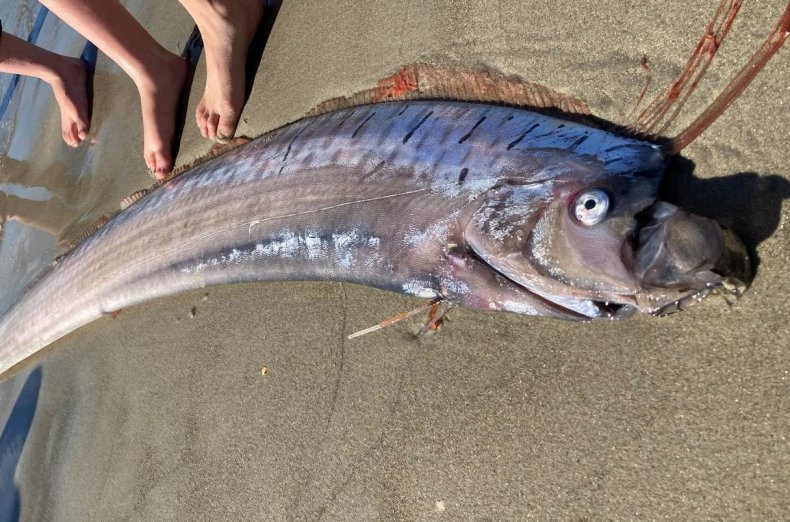 Oarfish can grow to huge sizes. They live in waters across the world, at depths of about 650 feet. The fish is possibly the source for many sea-monster legends, according to the Florida Museum, because of its unusual appearance and great size.
The species is extremely rare, and hardly ever seen by humans. Usually encounters are only when they have been washed up on a beach. A U.S. Navy team captured rare footage of an oarfish swimming in the deep in 2001.
When found, the fish in New Zealand was alive but very weak, Allan said on Twitter. A group on the beach attempted to return the fish to the water, but to no avail.
Video footage taken by Williams and reposted to Twitter by Allan, shows the ginormous beast lurking in the shallows.
"Woah, it feels like a shark," Williams can be heard saying. "It feels like a dolphin thing, look how long it is."
Williams carries the fish out of the water and places it down on the sand.
"What the hell!" he says. The fish's gills can be seen flapping slightly at it fights for air.
"I don't know what the hell it is," Williams says.
A picture captured by Allan show Williams and a few children holding the sea beast, which stretches across five people.
Allan told Newsweek she did not end up taking the fish as a specimen, but she wished she had done.
Allan is not sure where the fish came from or how it ended up washed ashore. It may have come from some deep-water canyons, situated off the coast of Otago, Allan told Stuff. However, she said this is "pure speculation."
At 12 feet long, this oarfish is actually quite small for the species.
In 2015, two Catalina Island Conservancy researchers came across a 13-foot oarfish in California. Another, found in 2013 off the coast of California measured 16 feet. And, one found in New Jersey in 1963 was even rumored to measure an enormous 49 feet.