F-16 Fighter Jet Doubts Buoy Russia Official: 'They Will Not Get Them'
NATO nations will not send modern Western-made fighter jets to Ukraine to help Kyiv fight off Russia's ongoing invasion of the country, an adviser to one pro-Moscow occupation authority leader has predicted, as the Kremlin and its allies simultaneously downplay Western military aid and warn of its escalatory potential.
Yan Gagin—a military adviser to Denis Pushilin, the head of the so-called Donetsk People's Republic established and maintained by Russia on occupied Ukrainian territory since 2014—told the state-run Tass news agency on Tuesday there are "great doubts" that Western-made fighter jets would be sent to Ukraine.
"First of all, Ukraine cannot get so many planes, if any," Gagin said. "There are great doubts that it will happen at all. As for new models, the latest generations of aircraft, they will not get them in any case."
Following its success in lobbying for NATO main battle tanks, Kyiv is now pushing for Western fighter aircraft. Such platforms have been a key priority for Ukrainian leaders since the opening days of the war, and the recent expansion of NATO military aid has raised hopes that fighter jet provision may finally be feasible.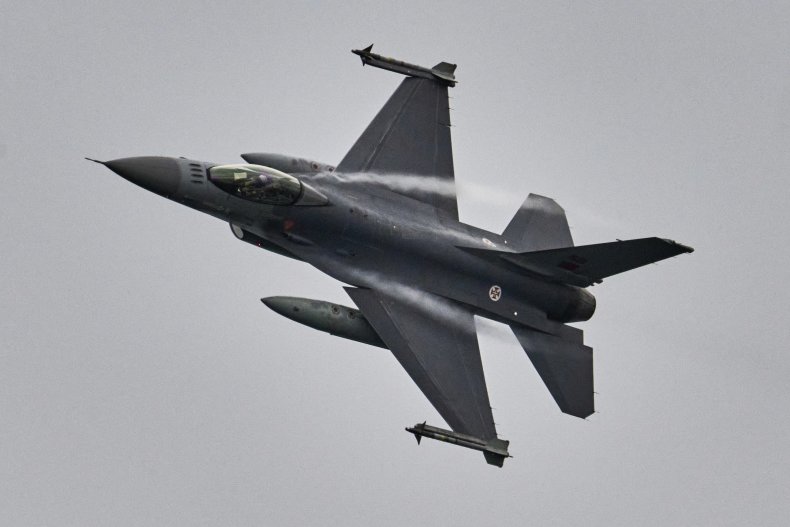 President Joe Biden appeared to throw cold water on the idea on Monday, telling reporters the U.S. will not be sending F-16 fighters to Ukraine. But a U.S. official later told Politico there has so far been "no serious, high-level discussion about F-16s," suggesting the matter is not yet decided.
Current and former Ukrainian officials have previously told Newsweek they are confident that fighter jets and other advanced weapons—for example, the MGM-140 Army Tactical Missile System, known as the ATACMS—will eventually be sent eastwards, but that the timeline will be dictated by a gradual coalescing of Western political consensus.
Russian officials, infuriated by the decisions of NATO nations to send main battle tanks to Ukraine, are warning that escalation of the 11-month-old conflict could have unforeseen consequences.
Moscow has long framed its invasion as a war against the "collective West," while simultaneously warning its Western adversaries against deeper involvement.
Gagin reverted to the same talking points when speaking with Tass, saying of Western nations: "They say quite directly and honestly that their task is to destroy Russia."
"They have been fueling the conflict in Donbas since 2014 with both money and weapons, their instructors, mercenaries, and servicemen," he added, referring to the eight years of fighting in eastern Ukraine, which was prompted by Russia's invasion and occupation of Crimea and parts of Donetsk and Luhansk oblasts.
That invasion was a response to the pro-Western Maidan Revolution toppling the pro-Moscow government of President Viktor Yanukovych in 2014. Russia has tried to falsely frame the popular uprising as a coup directed by Western intelligence agencies led by the CIA.