Who Is Fabiana Rosales? Venezuela Opposition Leader's Wife Meets Donald Trump, Says Situation Is 'Life or Death'
Fabiana Rosales, the wife of Venezuelan opposition leader Juan Guaidó, met with President Donald Trump at the White House on Wednesday, saying the situation in her country is currently "life or death."
"Today, in Venezuela, it's freedom or dictatorship, life or death," Rosales, 26, told reporters, according to NBC News. "Those who are paying the price of this hate are the children, dying in hospitals," she said, explaining that about 80 percent of the population is without power and many Venezuelans have been forced to go without food.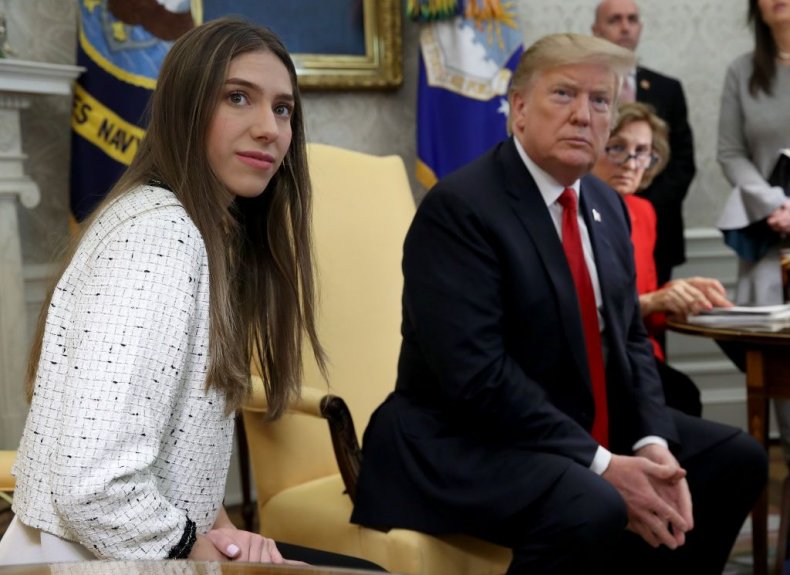 Guaidó, 35, who leads Venezuela's legislature the National Assembly, declared himself interim president of his crisis-ridden country in January. He stands in opposition to President Nicolas Maduro, who won re-election last year in polls that Guaidó, his supporters and many in the international community have declared illegitimate. Trump and several other nations in the Americas and Europe have backed Guaidó, calling for Maduro to step aside and allow new elections. But Maduro, who has been firmly supported by Russia, has dismissed the move by Guaidó as a coup.
A large-scale economic crisis has led to significant social problems and rampant crime in Venezuela over the past several years. Inflation has soared, leaving many Venezuelans unable to afford necessities such as food and medicine. Millions have fled the country as refugees, largely to nearby South American countries such as Colombia, Ecuador and Brazil.
Rosales, like her husband, has risen to international prominence as the couple campaigned for Maduro to step aside. They have argued that their efforts are supported by the Venezuelan constitution, which allows for the National Assembly leader to serve as acting president in the absence of a legitimate head of state.
"I got involved in politics because I want to change my country," Rosales recently said during an interview in Perú's capital Lima, NBC News reported. "I don't want my daughter to grow up wanting to leave Venezuela," she said.
Russia has sent troops and military experts to Venezuela in apparent support of Maduro against Guaidó and the U.S. Maduro has repeatedly claimed Trump is trying to kill him and warned against a possible invasion. The White House has said many times that all options are on the table.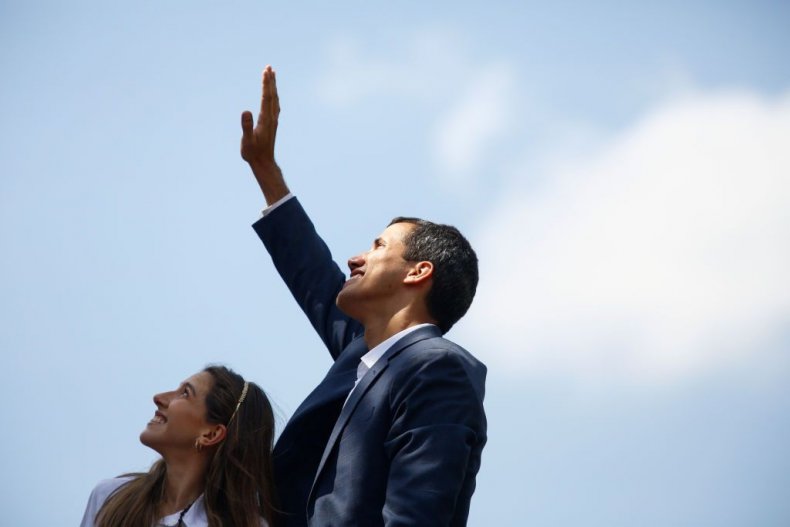 Speaking alongside Rosales on Wednesday, Trump demanded that Russian forces "get out" of the South American nation, according to Reuters. He also reiterated that "all options are open," suggesting the possibility of military intervention.
Although many in the international community have backed Guaidó and called for Maduro to step aside, some analysts have argued that international sanctions—not mismanagement of the economy—are responsible for the country's economic crisis.
"There is no doubt that the U.S. sanctions and financial blockade have enormously aggravated the situation and are directly responsible for the deaths of many through lack of access, or delayed distribution, to foods and medicines," Alfred de Zayas, a lawyer and former rapporteur for the United Nations human rights commissioner told Newsweek. "I have the evidence concerning banks refusing to transfer money to buy food and medicines, insulin, dialysis equipment, anti-malaria medicines, anti-retroviral drugs, etc.," he added.