Donald Trump Told the Colombian Mafia to 'Kill Me,' Venezuela's Maduro Claims
Venezuelan President Nicolás Maduro has alleged that President Donald Trump has ordered the Colombian mafia to assassinate him.
"Donald Trump has without doubt given an order to kill me and has told the government of Colombia and the Colombian mafia to kill me," the embattled South American leader said in an interview with Moscow's RIA news agency on Monday, Reuters reported.
Maduro has accused the United States and Trump of trying to kill him in the past. "From the United States, they have decided to kill me," the Venezuelan leader told a crowd last October. "They have given the order from the White House that Maduro be killed."
After an apparent assassination attempt on Maduro in early August, which involved a drone, the government quickly made arrests, saying the attack was planned by people plotting from Miami and Bogotá, Colombia.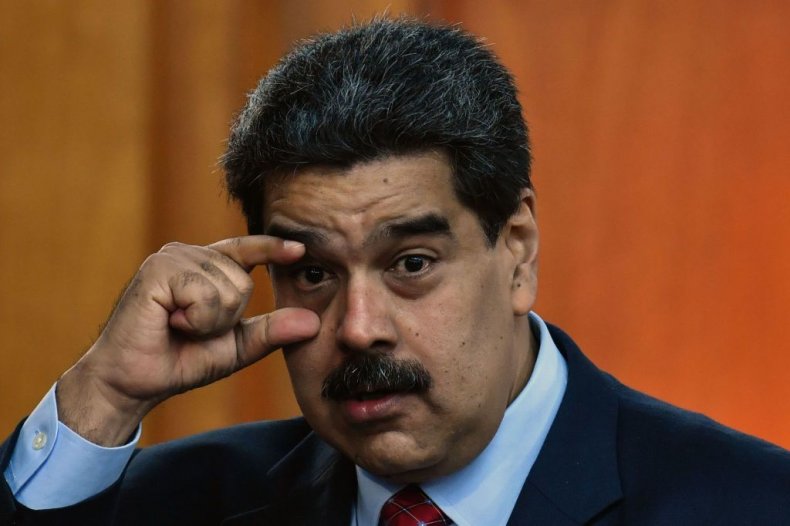 Last week, the Trump administration officially backed Juan Guaidó, an opposition politician and president of Venezuela's National Assembly, as the legitimate president of the South American nation. The decision was quickly followed by numerous allies in the Americas and Europe. Maduro's government has called Guaidó's efforts to form a transitional government and hold new elections a "coup."
But the 35-year-old Guaidó has cited the constitution to back his efforts, arguing that as the National Assembly president he should serve as acting head of state in the absence of a legitimate president. Although Maduro won re-election last year, the contest was widely condemned by members of the international community, as opposition politicians were jailed or barred from running. Voter turnout was less than 50 percent, with much of the population boycotting the election altogether.
Trump's administration has maintained that "all options" are on the table in support of Guaidó, which implies that military action is possible. A note on a paper held by national security adviser John Bolton during a press briefing on Monday has drawn significant speculation, as it appeared to suggest that the U.S. could send troops to Colombia as a possible warning to Maduro. Colombia's government has also backed Guaidó as Venezuela's legitimate leader.
Since coming to power in 2013, Maduro has overseen the worst economic crisis in Venezuela's modern history. Inflation has surpassed 1 million percent, and millions of Venezuelans have fled the country as refugees, primarily to nearby nations Colombia, Brazil and Ecuador. Crime and corruption have remained rampant in the country as well. The Maduro government has blamed U.S. sanctions for crippling the country's economy, and some experts agree.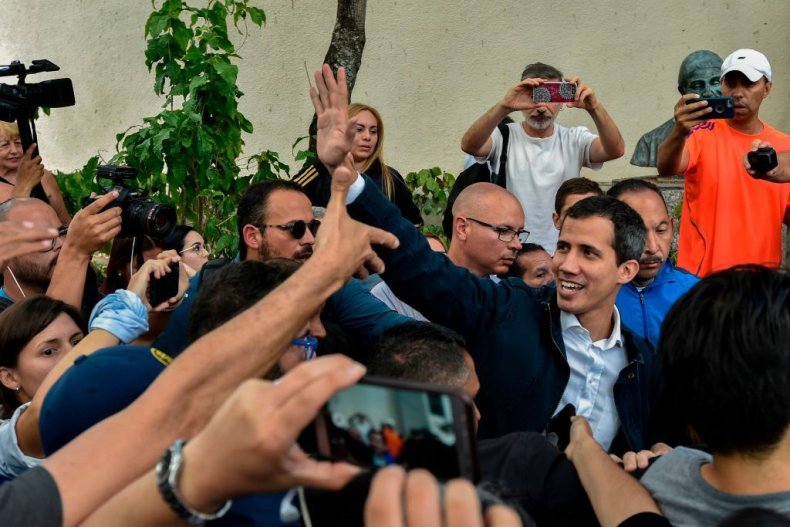 Alfred de Zayas, an international law expert and former United Nations special rapporteur who previously went on a fact-finding mission to Venezuela, told The Independent that sanctions have had a dire effect on the country. He blamed the punitive financial policies for the mass exodus of citizens. De Zayas also suggested that the U.S. was aiming to privatize Venezuela's national resources, an argument often made by Maduro.
"If you crush this government and you bring in a neoliberal government that is going to privatize everything and is going to sell out, a lot of transnational corporations stand to gain enormous profits, and the United States is driven by the transnational corporations," he argued.
But many others disagree, arguing that even if the sanctions weren't implemented, Maduro's policies alone would have led to an economic crisis.
On Monday, the Trump administration announced even harsher sanctions targeting the Latin American country's state-owned oil company. The move was couched as a way to cut funding to Maduro's government, allowing it to eventually be transferred to a transitional government under Guaidó's leadership. Maduro, however, has accused the U.S. of stealing the oil from the Venezuelan people.