'Yankee, Go Home,' Venezuela Blasts Trump Administration's Support for Maduro's Opponents as Protests Rock Caracas
Venezuela's Vice President Delcy Rodriguez hit back after her Washington counterpart, Vice President Mike Pence, voiced the Trump administration's full support on Tuesday for the South American country's political opposition led by Juan Guaido.
"Yankee, go home," Rodriguez said during a news conference, Reuters reported. She also referred to the political opposition as the "extreme right," calling their plans "perverse" and a danger to "stability and peace."
Guaido, who is the president of Venezuela's National Assembly, has led the political opposition in denouncing President Nicolás Maduro as a "usurper" and calling for a legitimate government transition. Maduro was inaugurated to a second term earlier this month after winning re-election last year in polls that were widely condemned by the international community.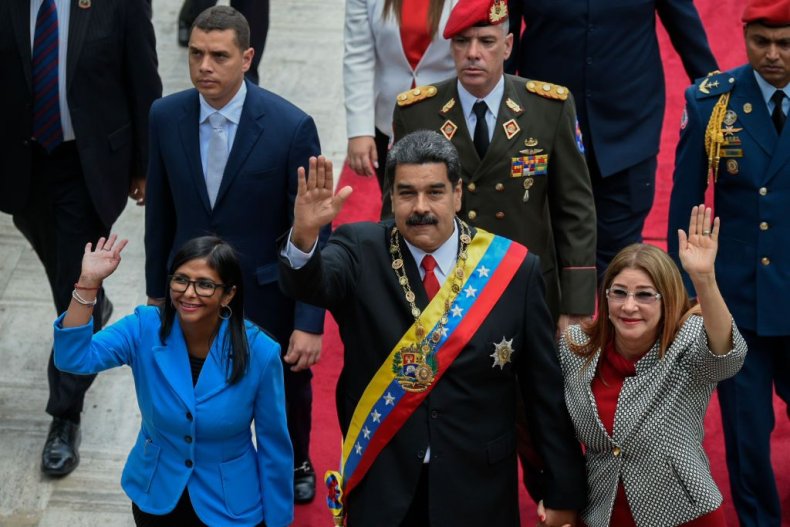 Since taking power in 2013, the leader has overseen the worst economic crisis in Venezuela's modern history, with inflation passing 1 million percent. As a result of endemic financial concerns, soaring crime and widespread corruption, millions of Venezuelans have fled their country as refugees, primarily to nearby Latin American nations such as Colombia, Ecuador and Brazil.
Although the National Assembly, the Venezuelan Congress, is controlled by the political opposition led by Guaido, the Supreme Court backs Maduro and has ruled that legislation from the legislative body is not valid. But earlier in January, the Organization of American States voted not to recognize Maduro as the legitimate leader of Venezuela, approving a resolution put forward by the U.S., Colombia, Argentina, Brazil, Chile, Costa Rica, Paraguay and Peru. Paraguay then moved to cut diplomatic ties with Venezuela altogether, with other Latin American nations signaling they would make similar moves or reduce their ties.
On Tuesday, Pence voiced the Trump administration's full support for Guaido and the Venezuelan National Assembly as they launched nationwide anti-Maduro marches.
"Hola, I'm Mike Pence," the vice president said in a video message, using a few Spanish words. "Nicolas Maduro is a dictator with no legitimate claim to power," he said, adding that Venezuela's National Assembly was the "last vestige of democracy" in the country.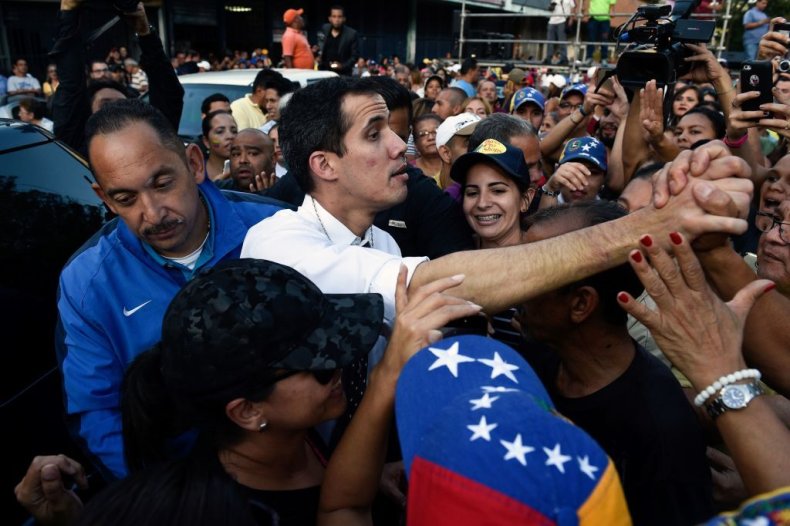 Later on Tuesday, a 16-year-old was reported shot and killed during an anti-Maduro rally. Hundreds of thousands of Venezuelans are expected to take to the streets throughout the country on Wednesday, according to the BBC. Maduro's socialist party is also planning countermarches in support of his government.
Ahead of the demonstrations on Monday, Guaido implored members of the military serving Maduro's government not to stop the movement with violence. "We're not asking you to stage a coup d'état, we're not asking you to shoot. We're asking you not to shoot at us," he said.