Trump Administration Officially Recognizes Venezuelan Congress Instead of 'Dictator' Maduro as Legitimate Government
President Donald Trump's administration has officially recognized the Venezuelan National Assembly as the legitimate democratic government of the South American country, Vice President Mike Pence announced on Tuesday, calling President Nicolas Maduro a "dictator."
Pence released a video address on Twitter to the Venezuelan people, throwing in a few Spanish words to accentuate his message. He expressed the administration's "unwavering support" for the people of the crisis-ridden Latin American country, while praising opposition leader Juan Guaido, who heads the National Assembly.
"Hola, I'm Mike Pence," he started the message.
"Nicolas Maduro is a dictator with no legitimate claim to power," the vice president said. "He has never won the presidency in a free and fair election, and has maintained his grip of power by imprisoning anyone who dares to oppose him."
He went on to call the National Assembly, Venezuela's legislative body, the "last vestige of democracy" in the country. Pence said the U.S. supports the body's decision to dub Maduro a "usurper" while pushing for a transitional government.
Last week, the National Assembly officially voted to condemn Maduro. Although a largely symbolic move, the legislative body hoped it would encourage other nations to take a stronger stand against the Venezuelan president. Maduro was inaugurated for his second term earlier this month, after elections last year that were widely condemned by the international community.
The Venezuelan leader has overseen the worst economic crisis in his nation's history, spurring millions to flee the country as refugees to nearby nations, such as Brazil, Colombia and Ecuador. However, the Venezuelan's supreme court, which supports Maduro's regime, has previously ruled that any legislation passed by the opposition controlled National Assembly is invalid.
The Venezuelan opposition plans to hold nationwide rallies against Maduro's continued governance on Wednesday. Pence said the U.S. supported the marches, using Spanish to emphasize his point.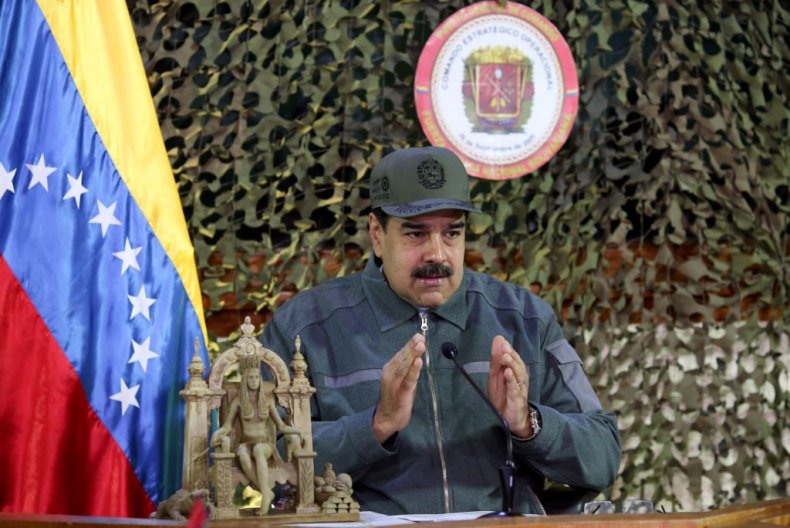 "As you make your voices heard tomorrow, on behalf of the American people, we say to all the good people of Venezuela: Estamos con ustedes ['We are with you']," he said.
Within South America, Paraguay has severed diplomatic ties with Venezuelan in rejection of Maduro's government, Reuters reported. Other nations have signaled that they will take similar steps, or reduce their diplomatic ties to the country, according to the Associated Press. The Organization of American States also voted earlier this month not to recognize Maduro as the legitimate leader of Venezuela, approving a resolution put forward by the U.S., Colombia, Argentina, Brazil, Chile, Costa Rica, Paraguay and Peru.
At the beginning of November, Trump's national security adviser John Bolton dubbed Venezuela, Cuba and Nicaragua the "troika of tyranny." He also referred to the three nations' presidents as the "Three Stooges" of socialism.