Five Men Arrested After Refusing To Wear Masks on Spirit Airlines Flight
A group of men were arrested at a Florida airport after a fracas sparked by their refusal to wear masks inside a plane spilled over inside the terminal.
The five men from New Jersey were on board the Spirit Airlines flight last Friday night when they were asked to leave the plane because of a "mask violation" inside the aircraft, Local 10 reported.
The issue then escalated when they got into a dispute with deputies from Broward Sheriff's Office, who had arrived to escort them from Terminal 4.
Video shown on the news network shows the group yelling profanities during a confrontation with law enforcement that ended in their arrests.
One of the men, Drake William Lloyd, 24, reportedly pushed a deputy and then his father, William Lloyd, 53, tussled with another officer to get to his son. Both face charges of battery on a law enforcement officer and disorderly conduct, according to the network.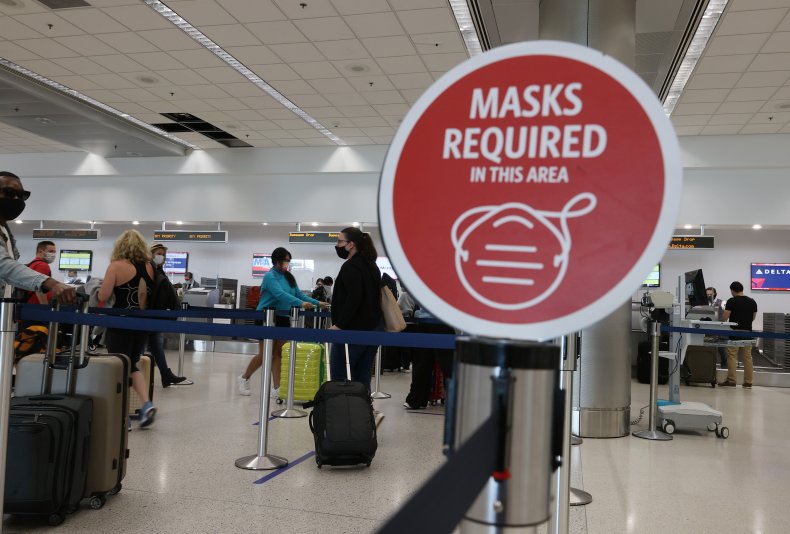 The three others were arrested for disorderly conduct. They were named as Michael A. Lloyd, 23, John Anthony Bruce, 24, and Matthew L. Novak, 24. Newsweek has contacted Spirit Airlines and Broward Sheriff's Office for further comment.
Wearing a face mask in an airport and on planes has been federally mandated since February 2, increasing the stakes for those who flout the rules. However, since then, there has been an increase in the number of spats involving masks on aircraft.
An American Airlines flight from New Orleans International Airport to Dallas last Friday was delayed by an hour after a female passenger ignored requests to wear a mask.
The plane returned to the gate and she was forcibly removed by deputies and stayed screaming for 10 minutes on the gangway, The New Orleans Advocate reported.
On the same day, an American Airlines flight scheduled to fly from JFK International Airport in New York to Miami International Airport was delayed by two hours after a man was angered by a flight attendant's request that he wear a mask.
Video footage of the incident showed the man saying: "I did nothing wrong. My mask is broken. I did nothing wrong," according to WPLG-TV, a news station based in Miami.
Earlier in July, passengers on an American Airlines flight from Charlotte, North Carolina, to the Bahamas had their trip canceled after a group of high school students allegedly refused to wear a mask on the plane.
The Federal Aviation Administration (FAA) has said that mask-related issues are contributing to a rising number of unruly passenger incidents.
The FAA said that as of July 27, it had received 3,615 reports of unruly passengers, with around three-quarters of them (2,666) related to mask-wearing.