Facebook Blocked in Myanmar Following Military Coup, Company Urges Authorities to Restore It
Social media platform Facebook was blocked in the southeastern Asian country of Myanmar on Wednesday following a military coup that took place on Monday.
Military leaders took control of the country following the election of members of the National League for Democracy (NLD). Myanmar's army claimed the election was fraudulent. High-ranking members of the NLD, including President Win Myint and state counsellor Aung San Suu Kyi were taken into custody on Monday.
On Wednesday, Facebook announced that it was inaccessible in Myanmar.
"We are aware that access to Facebook is currently disrupted for some people," the company said in a Wednesday statement obtained by Newsweek. "We urge authorities to restore connectivity so that people in Myanmar can communicate with their families and friends and access important information."
Telecommunications company Telenor Myanmar said it blocked Facebook after an order from Myanmar's military leadership.
"Telenor Myanmar has decided to comply with the directive on 4 February 2021, while expressing grave concerns regarding breach of human rights," the company said in a statement.
Newsweek reached out to Telenor Myanmar for further comment.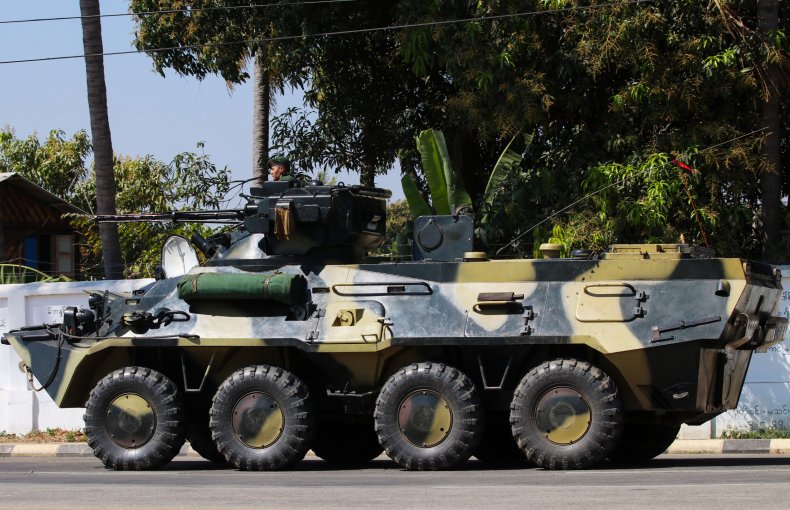 Information from the internet connectivity monitoring site NetBlocks indicated that other social media sites, such as Instagram, Messenger and WhatsApp had been restricted by Myanmar's state-run internet provider MPT.
According to Reuters, a Wednesday letter from Myanmar's Ministry of Information and Communications Technology said it had blocked Facebook because "the people who troubling the country's stability are spreading fake news and misinformation among people by using Facebook."
Myanmar's military, known as the Tatmadaw, launched the junta on Monday as the country's Parliament was getting ready to form a new government. A one-year-long state of emergency was declared. On Wednesday, the Tatmadaw charged Suu Kyi with illegally importing walkie-talkies. Myint was detained on allegations that he violated the country's coronavirus restrictions during an NLD rally in September 2020.
Tatmadaw Senior General Min Aung Hlaing, the leader of the coup, said in a Tuesday statement that "until a government is formed after the next election, the military needs to steer the country."
U.S. officials swiftly denounced the military action. On Sunday, Secretary of State Antony Blinken called for Myanmar's military leaders to release "all government officials and civil society leaders" arrested in the coup.
On Monday, President Joe Biden called the coup a "direct assault on the country's transition to democracy and the rule of law." According to White House Press Secretary Jen Psaki, Biden's administration is reviewing the possibility of enacting sanctions against Myanmar.
"I don't have an exact timeline for you," Psaki said about the sanctions during Wednesday's press briefing, "but it is a priority."