Reps. Jimmy Gomez and Mark Pocan Call Out Facebook for Allowing Anti-Vaccine Pages
Wisconsin Democratic Representative Marc Pocan and California Democratic Representative Jimmy Gomez sought an explanation from Facebook on Tuesday regarding an anti-vaccination protest at Dodger Stadium which was organized on the social media platform.
Between 40 and 60 demonstrators blocked the main entrance of a vaccination event at Dodger Stadium on Saturday, causing the Los Angeles Fire Department to temporarily close the site. The protest was organized on a Facebook page called "Shop Mask Free Los Angeles," which features videos of people visiting retail establishments without wearing face masks.
In December 2020, Facebook said it would begin removing content that spread misinformation about the safety of the vaccines. After the protest at Dodger Stadium, Pocan and Lopez wrote a letter to Facebook CEO Mark Zuckerberg asking why protest organizers were allowed to use the social media platform for planning purposes.
"Despite your pledge to remove content containing misinformation about the safety and efficacy of vaccines, and also misinformation about the coronavirus itself, a page on your platform with almost 3,000 followers was allowed to organize this weekend's action," Pocan and Gomez wrote.
Pocan and Gomez asked Zuckerberg how "this effort was allowed to organize on Facebook through a page with almost 3,000 followers that linked to websites devoted to the baseless 'Plandemic' narrative and misinformation pertaining to mask-wearing efficacy" and what actions Facebook was taking the "ensure similar pages and efforts on Facebook are found and removed."
"Lives are literally hanging in the balance of your corporate actions and decisions," the representatives wrote, "you must do more."
Newsweek reached out to Facebook for comment.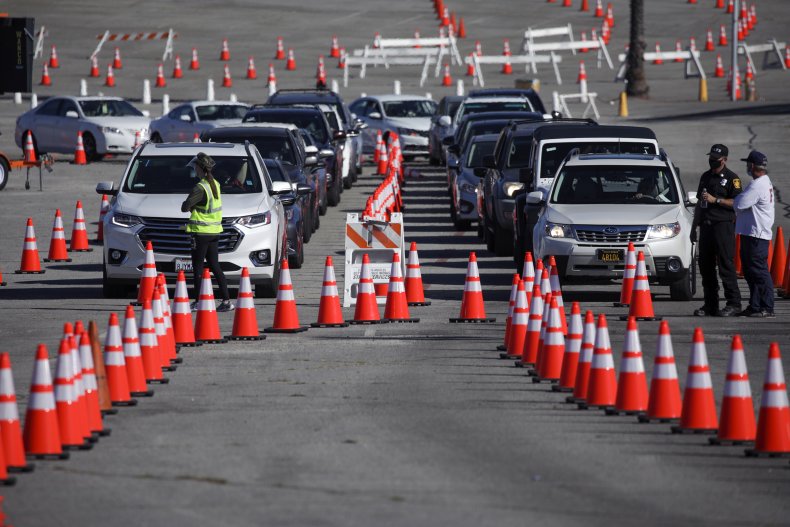 Authorities closed the main entrance to Dodger Stadium because of Saturday's protest for approximately one hour. Vaccinations continued inside the stadium during the closure with roughly 5,740 doses of the vaccine administered to individuals who had made appointments.
According to Los Angeles Police Chief Michel Moore, a protest zone will be provided for future demonstrations at the Dodger Stadium vaccination site. Moore added that protests which disrupt the vaccination would result in arrests.
"Our action is to be immediate and swift in the sense of holding them accountable for that unlawful activity," Moore told the Police Commission on Tuesday.
Facebook said in a December 2020 blog post that it would take down remove misinformation about the virus and the vaccines, including "false claims that COVID-19 vaccines contain microchips, or anything else that isn't on the official vaccine ingredient list."
Between March and November 2020, Facebook reported the removal of over 12 million posts by users that spread misinformation about COVID-19. Approximately 167 million posts were labeled for possibly disseminating information that was disputed by health authorities.
As of Tuesday, California had reported 3,342,647 confirmed cases of COVID-19 with 41,402 fatalities attributable to the virus according to information from Johns Hopkins University.