Facebook Shuts Robinhood Stock Traders Page Over 'Sexual Exploitation' Not GameStop 'Frenzy'
A Facebook group dedicated to discussion of stock trading on the Robinhood app was suspended by the social media site on Wednesday amid a frenzy of investment activity that has shaken Wall Street markets this week.
The community, called Robinhood Stock Traders, counted more than 150,000 users as members before being pulled offline by Facebook. Its founder Allen Tran, 23, said that he received the notification on January 27 and defined the move as censorship.
"We were first on the picking tree to be cut off because we are on Facebook, not a free platform like Reddit," Tran, of Chicago, told Reuters on Thursday.
A subreddit called r/WallStreetBets surged in popularity this week as it became ground zero of a swell of investments into GameStop and a handful of other companies who were in the crosshairs of hedge fund short sellers betting that they would fail.
Members of the subreddit poured money into GameStop stock, forcing the price to rise to the point multiple investment firms closed their short positions due to losses.
The movement has broadened into a battle with Wall Street and corporate funds, while the Robinhood app was widely criticized on Thursday after restricting users' trades. GameStop ended yesterday down 44.3 percent from Wednesday's closing price.
As of Friday morning, it remains unclear what content on Robinhood Stock Traders had sparked the suspension. The notification, shared online, said the group violated policies on "adult sexual exploitation," without describing any specific posts.
The platform's notification to the group read: "We have these standards because sexual solicitation can make some people feel unsafe on Facebook."
A Facebook spokesperson, Kristen Morea, told Reuters: "This group was removed for violating our Community Standards, unrelated to the ongoing stock frenzy" but did not elaborate further. Facebook has been contacted for clarification by Newsweek.
Tran told Reuters some group members had made "tens of thousands of dollars" from stock trading linked to the r/WallStreetBets investment activity. He also said he had never personally encountered adult content in his former Facebook group.
"With all these major institutions being frustrated with the success of retail, they are trying to target any groups they can," the group founder said.
The following graphic, provided by Statista, shows the year-to-date stock performance of GameStop, tracked since the beginning of 2021 when it was well under $50.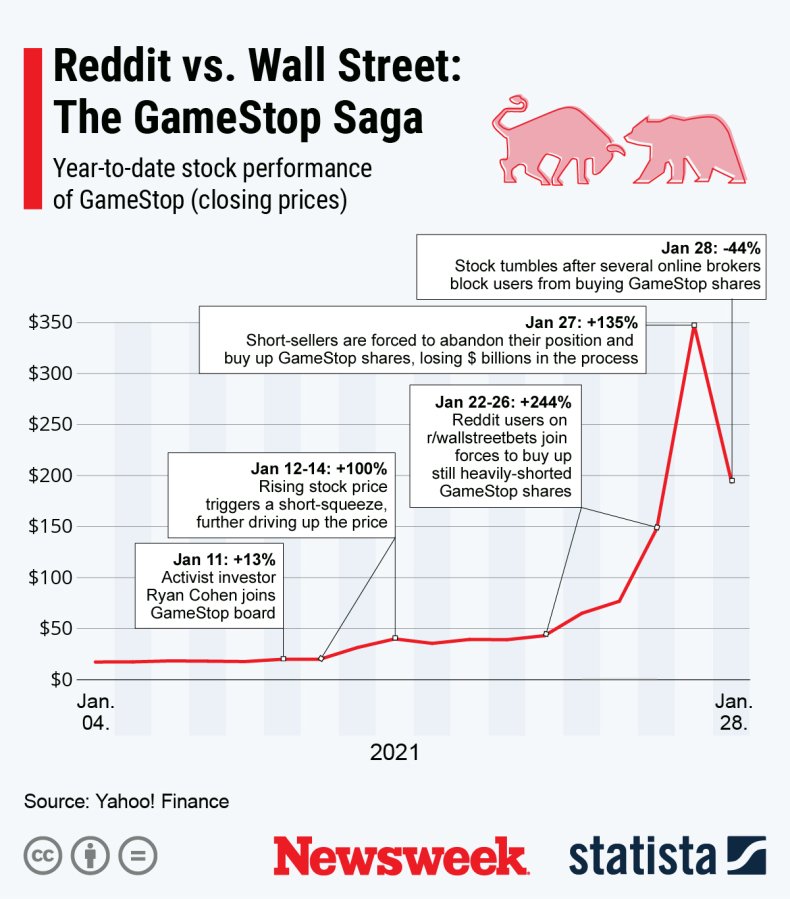 On his Facebook account, Tran wrote "Ya boi got zuccked" and pointed followers to a new public group. He was making a reference to Facebook CEO Mark Zuckerberg.
He wrote on the new page that people should add friends to the community, saying: "We are getting censored hard and we are fighting back as strongly as we can." At the time of writing, the new group, Robinhood Traders, had over 9,100 members.
The Robinhood app was bombarded with 1-star reviews on Thursday after announcing that it would halt the purchasing of stocks including GameStop, BlackBerry and AMC—some of the most popular securities for investors over the past week.
After strong backlash, and legal threats, the app's co-founder Vladimir Tenev tweeted it would reinstate "limited buys" of the stocks. He denied that the decision had been made on the "direction of any market maker we route to or other market participants."
Update 1/29/21: This article was updated to includ an infographic.