Facebook Vs White House? Marjorie Taylor Greene Insists They Are 'Working Hand in Hand'
Representative Marjorie Taylor Greene has accused social media companies of conspiring with the White House to censor free speech, as she responded to Newsweek about her suspension from Twitter for promoting "misleading" COVID-19 information.
The Republican lawmaker was kicked off Twitter for 12 hours after she repeated her criticism of coronavirus vaccines.
The suspension came after an appeal by President Joe Biden and the Surgeon General, Vivek Murthy, for tech companies to clamp down against bogus vaccine claims—calls which were met with a strongly-worded rebuttal by Facebook.
But despite the dispute between the White House and Facebook, Greene said she believed there was a link to her predicament and the White House push to curb misinformation.
In an emailed statement to Newsweek, via her spokesperson, Greene said: ""Twitter, Facebook, and the rest of the Silicon Valley Cartel are working hand in hand with the White House to censor Americans. This is a Communist-style attack on free speech.
"These Big Tech companies are doing the bidding of the Biden regime to restrict our voices and prevent the spread of any message that isn't state-approved.
She added that she "will not back down."
Newsweek has contacted Facebook and the White House for comment.
Undeterred by her Twitter suspension, Greene earlier used Facebook to deliver a video message stating her "freedom of speech...shouldn't be violated and censored."
"What I'm saying right now on this Facebook Live is what regular Americans are saying every day at home," she added.
Greene's block stemmed from her tweet on Sunday that that the vaccine was "human experimentation," as she revisited a theme about her opposition to the jab that she has pushed regularly.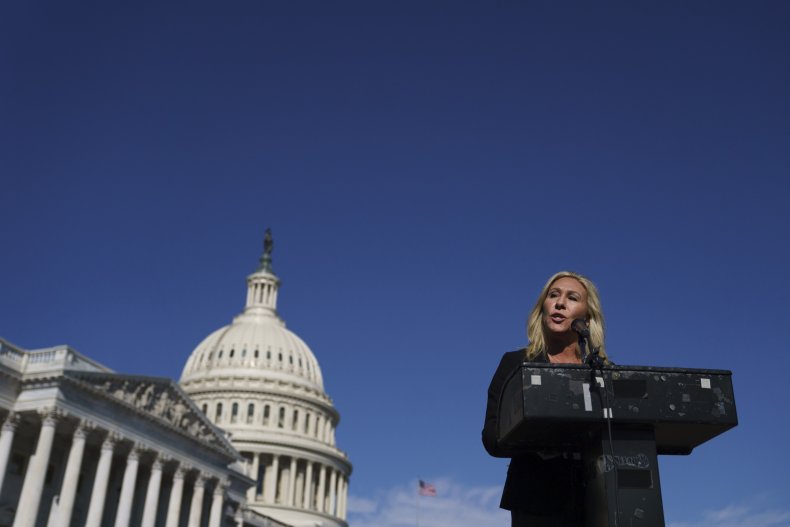 On Monday, she also said vaccinations "should not be forced" on military personnel for a disease that was "not dangerous for non-obese people and those under 65."
Data from U.S. Centers for Disease Control and Prevention (CDC) says that nearly a quarter of a million of U.S. COVID deaths were of people under 65, the Associated Press reported.
The congresswoman's Twitter block was her second strike for sharing misinformation about the virus.
In light of Greene's suspension, a Twitter spokesperson told Newsweek that Greene's account "has incurred multiple strikes" and the social media giant was following an "escalated enforcement action" on repeated violations of its COVID-19 misleading information policy.
"We will take action on false or misleading information about the prevalence of the virus, or risk of infection or death," it said in a statement.
Another suspension could last seven days for a fourth strike and she could be banned from the platform for a fifth strike.
Meanwhile, the number of U.S. cases of COVID-19 increased by 17,000 over a 14-day period—the first time there has been such a serge since late fall.
Last week, Biden said that false COVID claims on Facebook were "killing people."
But on Monday, the president rowed back on those remarks, although he did repeat his plea for a crackdown on the lies spread about disease.
Biden said he wanted the social media giant to "do something about the misinformation", adding, "instead of taking it personally that somehow I am saying that Facebook is killing people."