Surgeon General Backs Biden Criticism of Vaccine Misinformation After Facebook 'Scapegoat' Response
Surgeon General Vivek Murthy said Sunday that social media companies are not doing "enough" to prevent COVID-19 misinformation, following a feud between the Biden administration and Facebook over whether tech companies are responsible for hurting the nation's vaccine rollout.
Speaking on both CNN's State of the Union and Fox News Sunday, Murthy doubled down on the administration's viewpoint that health misinformation is spreading across major social media sites and companies like Facebook should do more.
"There have been some positive steps taken by these technology companies. Some of them have worked to try to promote accurate sources like the CDC and other medical sources," Murthy noted on State of the Union, before adding, "but what I've also said to them, publicly and privately, is that it's not enough. We are still seeing a proliferation of misinformation online.
"And we know that health misinformation harms people's health, it costs them their lives...and the platforms have to recognize that they've played a major role in the increase, speed, and scale with which misinformation is spreading."
On Fox News Sunday, Murthy added that "misinformation is still spreading like wildfire" and rejected the notion from Facebook that the White House is looking for scapegoats after it missed its COVID-19 vaccination goals.
"This is about the health of Americans and the reality is that misinformation is still spreading like wildfire in our country, aided and abetted by technology platforms," Murthy said during the interview.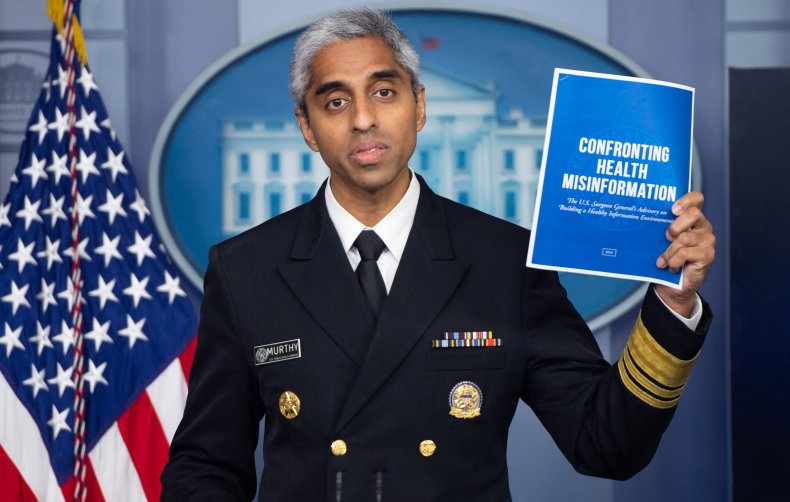 Murthy's statements come a day after Facebook released a statement accusing the Biden administration of incorrectly blaming the social media company after the president said Thursday that Facebook was "killing people" over the spread of misinformation.
"At a time when COVID-19 cases are rising in America, the Biden administration has chosen to blame a handful of American social media companies. While social media plays an important role in society, it is clear that we need a whole of society approach to end this pandemic. And facts — not allegations — should help inform that effort," Facebook said in a press release on Saturday.
"The fact is that vaccine acceptance among Facebook users in the US has increased. These and other facts tell a very different story to the one promoted by the administration in recent days," the statement added.
On Sunday, Murthy told Fox News that he has never questioned Facebook's intentions in addressing the spread of false information, but that good intentions alone will not make a difference.
"Intention is good, but at the end of the day it doesn't save the life of somebody who is misled by misinformation on these sites, who didn't get vaccinated, who got sick and lost their life as a result," Murthy said. "I'm asking these companies to step up and take responsibility for what's happening on their side. I'm asking them to look out for the people across this country who—whose lives depend on having access to accurate information."
Murthy issued an advisory last week calling health misinformation an "an imminent and insidious threat," writing in a statement that "it can cause confusion, sow distrust, and undermine public health efforts, including our ongoing work to end the COVID-19 pandemic."
Dr. Anthony Fauci, director of the National Institute of Allergy and Infectious Diseases, said Saturday that with today's level of vaccine misinformation, eradicating smallpox and polio in the U.S. would have been been unlikely decades ago.
"If we had had the pushback for vaccines that we're seeing in certain media ... we probably would still have smallpox and we'd probably still have polio in this country if we had the false information that's being spread now," Fauci told CNN's Jim Acosta.
"If we had that back decades ago, I would be certain that we'd still have polio in this country," he added.
In an effort to prevent misinformation, the White House said last week that it would begin flagging problematic Facebook posts that spread false statements on vaccines.
Newsweek contacted Facebook for additional comments, but it referred to its earlier statement.