Fact Check: Are Photos of Random 'Piles of Bricks' in Kenosha Genuine?
As the jury in the Kyle Rittenhouse trial deliberates, social media is awash with rumors about the planting of bricks across Kenosha amid concerns that protests could erupt after a verdict is delivered.
The Claim
Social media and blog posts claimed that random unattended pallets of bricks were appearing in Kenosha. Some were accompanied by pictures and videos purporting to show the piles on the streets of the city.
Initial posts did not contain any visual evidence, but they referenced an audio file that was allegedly clipped from a publicly available database of Kenosha police communications, recorded between 12-1pm EST.
A Reddit post with the claim received nearly 2,000 votes before being archived, with several other posts on Twitter garnering hundreds of interactions.
It was also picked up and shared by a number of Telegram and 4Chan accounts, with limited engagement. Other posts, some containing images of brick pallets, continued to spread on Thursday.
The Facts
The original claim appears to stem from a single piece of communication from a patrol officer on a police radio dispatch, which was clipped and shared on multiple social media sites as the basis for a wider narrative.
Newsweek was able to corroborate that the clip was indeed taken from the Kenosha County Public Safety online archive of police communications from November 16.
Though the poor sound quality makes it difficult to decipher the full conversation, it appears that officers are responding to at least two complaints about "stacks of bricks." The operator is heard telling officers that the person reporting had corrected the supposed location of the bricks twice.
In their response, an officer mentions that "some guys were doing some work on a building, I talked to them, they seem alright." Another officer then reports "no stacks of bricks found on the road," but goes on to say he "rode down an alley," where someone is "down" resulting in "bricks everywhere." The operator then replies "ok."
Taking the "bricks everywhere" phrase in its original context shows that they were not unattended nor did they "appear mysteriously" as some commentators claimed.
The phrase "bricks everywhere," though clearly referring to a single location that the officer investigated, was nevertheless taken out of context by those spreading the claims to imply that the patrol officer saw bricks all over the city.
The location of the alley ("near 22nd and 68th") mentioned in the dispatch is at least 1.4 miles away from the Kenosha County Courthouse.
A nugget of truth—in this case, the radio recording—was enough to fuel escalating misinformation, including provably dated photos and videos, presented as evidence of piles of bricks in Kenosha, and tie it to existing false narratives about protests.
Responding to a comment request from Newsweek, the Kenosha County Sheriff's office stated that it had not received any confirmed reports of "piles of bricks" in the area.
In an emailed response to a Newsweek inquiry, the Kenosha Police Department (KPD) stated that it has received "calls from concerned citizens reporting seeing these social media disinformation campaigns."
"We have been on the lookout for things that could be used as projectiles against police and infrastructure. Our officers have not found anything to substantiate any of the claims being made on social media," the KPD public inquiry officer wrote.
The KPD also published a Twitter update stating that it was aware of "numerous attempts by malicious actors to spread disinformation on various social media platforms," but that it found "no credible threat to public safety" to date.
Claims of findings of brick pallets, fuel canisters, and other objects that could potentially be used against law enforcement have in the past emerged around areas of current or potential social unrest, including the George Floyd and Black Lives Matter protests. Most of them have been debunked or shown to be misleading.
At least one such incident was proven partially true—in May 2020 the Kansas City police did confirm discovering several piles of bricks amid George Floyd protests, though they emphasized that they did not find evidence that the materials were placed there by anyone linked to the protests.
In a number of other cases, some bricks were found that belonged to construction companies carrying out construction work in the vicinity of protest "hotbeds." In some cases there were more mundane explanations—such as that bricks in cages were in fact security barriers along the road.
Notably, rumors that "authorities" would start "planting bricks" in Kenosha began to emerge in days prior to the time the police radio dispatch was sent.
Some social media users and bloggers baselessly suggested that law enforcement, government officials, or billionaires, including George Soros and Bill Gates, were behind the supposed provocations—echoing a common and debunked conspiracy theory trope popularized by QAnon.
Most of the early posts on the topic didn't feature any visual evidence, instead linking back to the police radio call, or simply quoting, without full context, the phrase "bricks everywhere."
But those claims were later accompanied by images purporting to show the said piles, which in fact have been used misleadingly to support similar claims in past protests.
For example, a reverse image search of pictures in this collage shows that it features images that were previously shared during the George Floyd protests last year (and even back then were used misleadingly), and some are even older.
The Ruling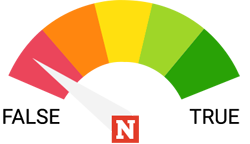 False.
Several images shared on social media in recent days were misrepresented as showing piles of bricks in Kenosha. The images were in fact much older and previously used for similar purposes during past protests, so the claims are false. The audio recording in which a police officer states there are "bricks everywhere" is in fact referring to a specific location that the officer investigated, not the whole city. The Kenosha Police Department stated that it has not as of yet corroborated any reports of "piles of bricks," but warned of nefarious actors spreading misinformation on social media.
FACT CHECK BY NEWSWEEK