Kansas City police officers said Sunday they found piles of bricks and rocks in and around the Country Club Plaza, a hotbed for protesters over the past week as news of George Floyd's death sparked outrage in Missouri and across the country.
The rocks and bricks were intended for use during the riots, the Kansas City Police Department said in a tweet. Following several days of violent protests and concern that the violence would continue, the department called on residents to contact police if they discovered additional stockpiles of potentially harmful items.
"If you see anything like this, you can text 911 and let us know so we can remove them," Kansas City police said on Twitter. "This keeps everyone safe and allows your voice to continue to be heard."
Almost all of Kansas City's police officers were hit by objects thrown at them, and two were hospitalized by Saturday night, the department said on Twitter.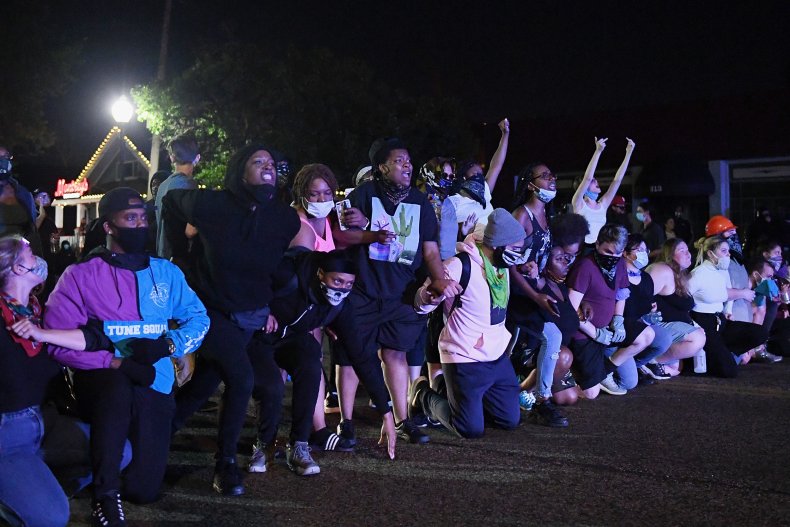 "We were notified by some of our community partners of the existence of these materials in the vicinity of the protests," Sergeant Jake Becchina, a public information officer with the Kansas City Police Department, told Newsweek.
"We don't have confirmed direct info that they were placed there by protest groups, but we were very aware of the presence of these materials that could be used to harm officers or damage buildings," Becchina said.
Just one day before the rock and brick piles were discovered, police arrested 85 people in Kansas City in connection with the protests, which escalated quickly on Saturday as protesters threw rocks, frozen water bottles and other objects at officers. According to a tally by the Associated Press, an estimated 1,400 people were arrested in connection with protests across the U.S. by Sunday morning. By Monday morning, the news outlet said that number had jumped to at least 4,100.
The wave of protests inspired by George Floyd, who died while in Minneapolis police custody on May 25, has swept across the nation, with protests turning violent in several large cities and government officials issuing curfews and declaring states of emergency in response to the unrest.
But Floyd's own brother has called for protesters to demonstrate peacefully and said violence was not what Floyd would have wanted.
"He was about peace, unity," Floyd's brother said during an interview with ABC News Sunday night. "If you're angry, it's OK to be angry, but channel your anger to do something positive or make a change another way."
The mayor of Kansas City also called for peaceful protests. Though Mayor Quinton Lucas said the protests had de-escalated between Saturday and Sunday, he told KCTV5 Monday morning that the focus on a violent minority of demonstrators was "regrettable."
"We can't let the actions of a few tarnish what I think is an important message," Lucas said.