Fact Check: Did Eric Trump 'Leak' Mar-a-Lago Security Cam Password Online?
Eric Trump has made a number of controversial and dubious claims in the wake of the Mar-a-Lago raid at the FBI.
In the weeks that followed, the former president's son has claimed Joe Biden personally signed off on the raid (which was explicitly refuted by the Department of Justice), and that the incident has, in fact, galvanized support for his father (which has some basis to it).
However, in between a round of interviews, Eric also appears to have inadvertently given out internet security details for his father's Florida residence via Donald Trump's social media app "Truth Social." Or so Reddit and Twitter users have alleged.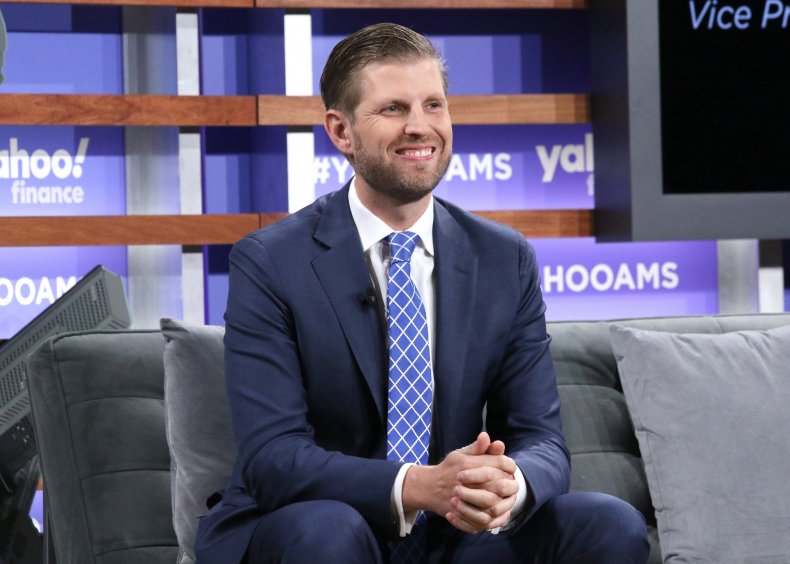 The Claim
A tweet, sent on 20 August 2022, claims that Eric Trump revealed the name and password for Mar-a-Lago's Wi-Fi in a selfie he sent on Truth Social.
The tweet, which has received more than 100,000 engagements, claims that it is the password for Mar-a-Lago's security cameras too.
The claim, including the screenshot, has been shared on other platforms, including Reddit, where it received more than 17,000 upvotes on the r/PoliticalHumor subreddit and was reposted on other subsites.
The Facts
Eric Trump's reflections on the Mar-a-Lago raid have, on occasion, veered into unevidenced, speculative and somewhat bewildering territory, including claims that the FBI acted "improperly" during the search and that people tried to buy him dinner to apologize for the incident.
But likewise, the claims targeting Donald Trump's 38-year-old son regarding the Mar-a-Lago Wi-Fi are speculative and unsupported by evidence.
As Newsweek Fact Check established, the photo of Eric Trump is genuine; it was posted to Truth Social on August 16, 2022.
However, although a network Wi-Fi password and login keys are clearly visible, there is no information in the picture to suggest it was taken at Mar-a-Lago.
It's not clear where the interview was filmed as the Trump-owned platform does not appear to have any geotagging functionality. In the video broadcast on Fox News, Hannity does not reveal the location, from which Eric is joining the videocall, nor are there on-screen title cards clarifying this point.
The image in the background appears likely to have been an artificial backdrop, as it shows the view from the Palm Beach Lake Trail, about an eight minute drive Mar-a-Lago. If the broadcast was taken on location, Eric would have had to be sitting along the open lake trail or in a boat on the jetty.
It is also worth noting that Eric mostly resides in Florida, in Palm Beach County, about a 30 minute drive from his father's residence (it is only a few minutes walk from the Trump National Golf Club in Jupiter, FL).
Some Reddit users speculated that the login and password was likely for portable broadcasting equipment provided by the network for the interview.
A comment from Trump's representatives in an email to Newsweek adds credence to that theory.
"This was a studio van from a thirty party to Fox News," an Eric Trump spokesperson told Newsweek on Monday.
While it is in theory possible that the van was driven up to Mar-a-Lago and used its "home" wifi, there is no evidence to support that. Besides, it would likely have its own internet connection capabilities, rather than having to piggyback off the Mar-A-Lago WiFi.
Additionally, given that the label states "Guest," the details are most likely for a guest network, and therefore not private or confidential.
Crucially, there is also no indication that the login details, regardless of which network they offer access to, are in any way related to the security cameras and systems in Trump's residence (which would likely be set up on a separate and secure network anyway).
While it may be advisable for Eric to take more care with his Wi-Fi passwords, there's no evidence that the video was shot at Mar-a-Lago, or that the details were related to the Trump property, let alone to its security cam network.
Newsweek has contacted Fox News for comment.
The Ruling
Unverified.
The photo was published by Eric Trump and shows him taking a selfie exposing what appears to be a Wi-Fi password and login details. It does not show where the photo was taken, and there is no evidence to support the claims that he was recording at Mar-a-Lago. Trump's representatives told Newsweek that the picture was taken in a studio van rented to Fox by a third party.
FACT CHECK BY Newsweek's Fact Check team