Fact Check: Did Player Collapse in Juniors Tennis Final Because of Vaccine?
Czech tennis starlet Jakub Menšík collapsed to the ground and was taken off court in a wheelchair after an exhausting three-set final lasting nearly four hours.
Menšík lost to top seed Bruno Kuzuhara 7-6, 6-7, 7-5 in Junior Boys Australian Open final, which took place on January 29 in Melbourne, Australia.
The Claim
The video of the final moments of the tournament, showing the Czech player falling to the ground and twitching with what seemed to be cramps or spasms, was shared widely online, with some speculating that it was caused by drugs or a bad reaction to the COVID-19 vaccine.
Some of the claims were based on the assumption that Menšík was vaccinated against COVID. A post on the r/Conspiracy subreddit also blamed the vaccine, while dismissing the idea that the fall was because of a cramp.
"NOT a leg cramp. Australian Open Juniors Final. Menšík collapses just like that comedian Heather McDonald. Vaccine firms will just deny deny deny. But for how long can this delusion last?" the post with the video of the incident speculated, without evidence.
The Facts
Menšík collapsed upon losing the final point of the tournament because of exhaustion and cramps.
In fact, the player can be seen cramping up several times towards the end of the match, which lasted 3 hours 43 minutes. That included a punishing 33-point rally in the final game in very hot and humid conditions (average humidity in Melbourne was 87 percent on January 29, 2022).
It is true that all Australian Open participants were required to be vaccinated, as stated in the tournament's official guidelines.
"Children aged 12 and under at the time of travel are considered fully vaccinated for the purpose of travel. Once in Australia, anyone aged over 12 and 2 months will be required to be fully vaccinated to enter venues," the tournament's information sheet for junior players states.
The strict entry requirements came into the media spotlight when the Men's top seed Novak Djokovic was barred from the Australian Open because of his unvaccinated status. He was then deported from the country for fear that his presence "would stoke anti-vaccine sentiment."
While Newsweek could not corroborate Menšík's vaccination status independently, there is no evidence to support the claims that his fall was caused by the vaccine. He also did not faint or lose consciousness, as some users claimed.
According to the United States Tennis Association, tennis players generally experience cramps due to muscle fatigue and dehydration or loss of electrolytes. As with other sports, athletes may also cramp after competition—sometimes hours later.
Though this case presents a more extreme body reaction that seems to include muscle spasms, it is an example of how exhaustion and cramps manifest themselves, Alex Bull, a London-based LTA Performance Coach, told Newsweek.
"It's not that common as these guys and girls are ridiculously fit, but the weather, humidity and circumstance in the match would 100 percent play a massive role," Bull said.
"Stress and anxiety brought about by such a close-fought battle would've made him tense, which in turn leads to overusing muscles and over-stretching muscles.
"Playing at that intensity over that duration combined with the heat and humidity can often cause the body to cramp up."
And Menšík himself confirmed as much in an interview a few days later with a Czech news outlet.
"The cramps hit me because of exhaustion, [the] temperature on court was insanely high and I had played a difficult match the day before, so the exhaustion was just building up. I even cramped on the plane on my way back home," he said, according to Televizni Noviny.
Newsweek reached out to the International Tennis Federation and Tennis Australia for comment about Menšík's reaction and his current condition. The player appeared to be in good health as he was playing basketball at the Novak Djokovic academy in Belgrade on Thursday, according to his most recent Instagram story.
Similar incidents have occurred in both Men's and Women's tennis tournaments over the years, during and after matches. Notable examples include Caroline Wozniacki suffering a full-body cramp in Doha in 2009, and Rafael Nadal's leg cramp during the post-match press conference at the 2011 US Open.
The Ruling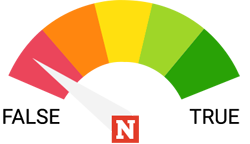 False.
There is no evidence to support the claims that a COVID vaccine was to blame for the Australian Junior Boys Open finalist collapsing to the ground at the end of the match. The player himself stated that his body was cramping up due to exhaustion and high humidity after a brutal three-set match.
FACT CHECK BY NEWSWEEK