Fact Check: Do Polls Show Ron DeSantis Losing to Democrat Charlie Crist?
As the election for Governor of Florida draws closer, several prominent social media accounts have claimed that the incumbent Ron DeSantis may be facing a tougher challenge than anticipated, with recent polls allegedly tilting in favor of his Democratic opponent, U.S. Rep. Charlie Crist from the 13th District.
One of the most popular Republican leaders, DeSantis has long been tipped to challenge Donald Trump in the Republican presidential primaries. As such, many expected him to comfortably secure his re-election in November's midterms, but does new polling put a dent in his ambitions?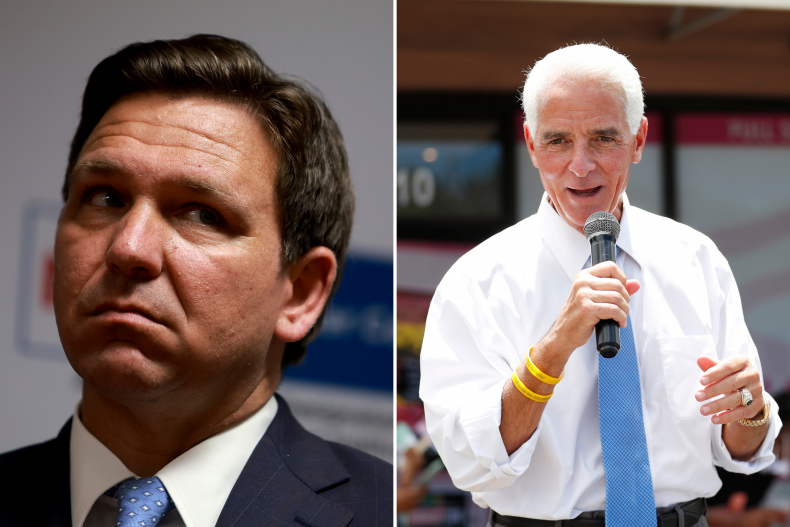 The Claim
A number of left-leaning Twitter accounts have claimed that Crist has edged higher than DeSantis in recent polls.
"BREAKING: Florida Republican Governor Ron DeSantis' re-election chances are put in major jeopardy as a new poll of Florida voters shows that he's losing to Democrat Charlie Crist, who is at 48% of the vote compared to DeSantis' 47%," wrote OccupyDemocrats in a tweet that gathered nearly 100,000 interactions since June 22, 2022.
"BREAKING: Democratic Florida frontrunner Charlie Crist is polling one point higher than Ron DeSantis. DeSantis can be DeFeated," the user BrooklynDad_Defiant! tweeted.
Others, however, remained confident in DeSantis's win.
The Facts
At least some of the claims around purported shifts in Florida's gubernatorial race appear to be referencing a private poll by Tony Fabrizio, a veteran GOP strategist and pollster.
The poll was referred to by Crist's campaign on Tuesday.
"Charlie Crist is in this race to defeat Ron DeSantis, and this secret GOP poll shows that he's doing exactly that," Samantha Ramirez, spokesperson for Crist, said according to Village News. "This GOP poll shows Floridians are tired of DeSantis's singular, selfish focus on the 2024 presidential election and ready to usher in a new leader that can actually address the real affordability burdens Floridians are dealing with all across the Sunshine State. Charlie is the experienced fighter Floridians need and want in Tallahassee right now."
Crist himself is up against Nikki Fried, Florida's Agriculture Commissioner, in the Democratic primaries, though the odds are heavily skewed in his favor. Newsweek has reached out to Crist for comment.
The poll results were initially mentioned in an NBC News report.
"A survey of 1,200 registered Florida voters conducted in mid-May by Trump pollster Tony Fabrizio and obtained by NBC News showed DeSantis earning 47 percent of the vote and his top Democratic rival, former Gov. Charlie Crist, earning 48 percent [...]" the article states.
But, as the reporter goes on to clarify, the latest data comes with some caveats.
First of all, the 1 percent lead is effectively negligible, given the poll's margin of error of +/- 2.9 percent.
Additionally, the methodology used also raises some questions: The poll didn't screen for likely voters, meaning that it does not factor in a potential turnout gap between Republicans and Democrats in the election.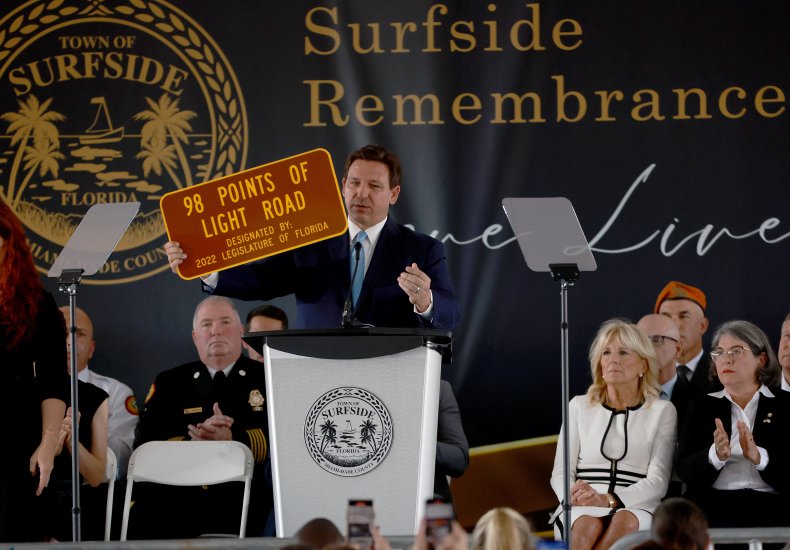 Fabrizio admits as much in responding to a Newsweek request for comment, in which he provided both the survey results for the poll mentioned above, as well as a more recent one. The survey methodology notes that samples "drawn from a known registered voter list in FL."
"Note that the data is from surveys of Registered voters and NOT likely voters. So it is highly likely that DeSantis would fare a bit better among a likely voter sample," Fabrizio highlights in his response.
In fact, the figures he provided for June show DeSantis regaining the lead, raking up 50 percent of the prospective votes, compared to 47 percent for Crist.
Some have also suggested that Fabrizio's long-standing association with Trump also puts a question mark over the reliability of the poll. The veteran GOP operative was the pollster for Donald Trump's 2016 presidential campaign, and is a long-time friend of Trump allies Roger Stone and Paul Manafort, both of whom have been pardoned by Trump.
Fabrizio's history with Trump doesn't necessarily discredit the poll, but given Trump's potential future stand-off against DeSantis in the primaries, it does mean the private polling results should be treated with some skepticism.
Fabrizio told Newsweek that the questions in the survey "were not asked at any clients request, but rather questions we added at our own expense onto regular statewide surveys we do in FL."
Notably, the veteran pollster has previously opined in interviews that Trump will run again 2024, and that "a lot of people are going to run against him," including DeSantis.
Another poll, conducted by The Political Matrix/Listener Group, also showed Crist gaining an incremental advantage of 50.6 percent of the 714 respondents polled.
But here, too, the methodology is dubious, with the pollsters themselves noting that it sampled "likely voters" via landline calls. Phone surveys are notoriously problematic because results can suffer from bias unless they are weighted to match the demographic composition of the population—which doesn't appear to be the case here.
And similarly to the Fabrizio poll, the margin of error here, +/- 3.67 percent, far exceeds Crist's apparent lead of 1.2 percent.
Meanwhile, the majority of other polls, past and more recent, still have the current governor in a comfortable lead.
A February-March poll by Saint Leo University gave a whopping 16-point advantage to DeSantis.
A University of North Florida poll had an even bigger margin in the governor's favor, giving him a 21-point lead ahead of Crist.
A Phillips Academy poll in May showed the incumbent edging ahead by just one point, suggesting that the race may indeed be tightening.
According to polling aggregator RealClearPolitics, DeSantis leads Crist by an average of 8.8 percent, and Fried by 13 percent, though it is worth noting that some of the polls it includes are dated to 2021, and the most recent one is from February 2022.
Looking beyond polls at other metrics, DeSantis remains largely popular in Florida, with a solid approval rating of 58 percent—the highest among the elected officials surveyed in a University of North Florida poll—amid recent controversies, such as his ongoing spat with Disney.
Another poll, conducted in April by Morning Consult, showed 56 percent of Floridians approving of the governor and just 38 percent disapproving.
Finally, DeSantis's popularity is also evident from the fact that he continues to draw in impressive sums of money from his supporters, raising more than $113 million during his re-election campaign cycle as of April.
Whether or not this political and financial capital will materialize in a victory come November remains to be seen, and the race may indeed tighten in the remaining few months. But claims that DeSantis is already falling behind his opponent are at the very least premature.
Newsweek has reached out to DeSantis for comment.
The Ruling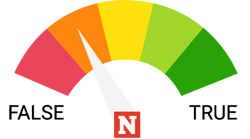 Mostly False.
While two recent polls have indeed shown a narrow lead for DeSantis's opponent Charlie Crist, it falls within the margin of error, while the reliability and scope of the polls also come into question. Other (albeit mostly older) polls still have the incumbent firmly in the lead as the Florida gubernatorial race heats up.
FACT CHECK BY NEWSWEEK