Fact Check: Does Florida Now Have Lowest Daily U.S. COVID Cases Per Capita?
Over the past year, Florida and other Republican-led states have resisted federal measures to curb the COVID pandemic due to concerns over infringing on individual freedoms.
Governor Ron DeSantis and Florida lawmakers have recently pushed back against what DeSantis has called "heavy-handed" COVID mandates, passing legislation to prohibit private employers from requiring vaccines and schools from requiring masks.
The Claim
George Papadopoulos, a former advisor to President Donald Trump and a conservative author, this week shared an article stating that Florida, which has resisted measures intended to curb the pandemic, is currently experiencing the lowest per capita COVID case rate in the U.S.
In a tweet liked hundreds of times, Papadopoulos, who has over 800,000 Twitter followers, wrote: "Florida CONTINUES To Thrive Against Covid; Retains Lowest Case [sic] Per Capita In Country."
He cited the right-wing website PatriotFetch, which framed the statistic as a success of Florida over "blue" states—which have tended to be more accepting of mandates.
Similar arguments have also been made by others. Daniel Cox, a Republican member of the House of Delegates in Maryland, wrote on Facebook on November 28 in reference to Florida's low cases per capita: "Never locked down. No masks. No V mandates. We will do this here in Maryland."
The Facts
It is true that Florida had the lowest or joint-lowest number of new daily COVID cases per 100,000 people, according to The New York Times' COVID data tracker as of November 30.
The state had a per 100,000 new case count of six, in line with Alabama and Hawaii.
However, while Florida is experiencing low case rates now, it is the joint seventh-worst-affected state in regard to overall death rates per 100,000 people throughout the COVID pandemic as a whole, according to the Centers for Disease Control and Prevention (CDC) data as of November 30.
Similarly, it has reported the 15-highest COVID case rate per 100,000 people throughout the pandemic as a whole, the CDC data also showed.
The top 10 states with the highest COVID cases per capita as of November 30 were nearly all led by Republican governors, with the exception of Rhode Island and Kentucky.
Biostatisticians told Newsweek that Florida's current low case rate is a snapshot in time and should not be used to vindicate the effectiveness of no-mandate policies.
"It's not appropriate to evaluate success in controlling the pandemic by looking at one snapshot in time," Nicholas Reich, professor of biostatistics at the University of Massachusetts, Amherst, told Newsweek.
"Sure, Florida is having quite low case and hospitalization rates right now, but they only got there after enduring one of the most intense periods of COVID infections, hospitalizations, and deaths that any state has seen yet…Those aren't indicators of successful pandemic management overall."
The below graph from the U.S. Centers for Disease Control and Prevention shows how Florida's per-capita daily cases, shown in blue, compare to the other most populous states in the U.S. It shows Florida experienced a sharp spike in COVID cases this summer.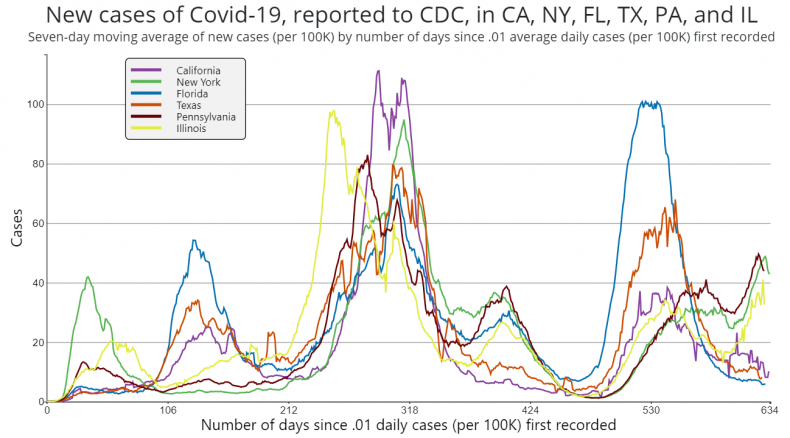 Jennifer Dowd, associate professor of demography and population health at the University of Oxford, echoed the point.
She said: "You can't infer things about how prevention measures are working or not from what's happening at one moment in time regionally."
"All parts of the country that were on fire with Delta this summer are currently low and vice versa. We truly do not know why it has moved around like this regionally from the beginning of the pandemic but it has been a consistent pattern of flare-ups followed by periods of relative quiet."
"But another wave will almost surely crash back into Florida, where vaccination rates are lower than many places in Europe that are currently seeing spikes," Dowd concluded.
Newsweek has previously spoken to experts about why some states seem to be doing better than others in terms of case rates recently.
The Ruling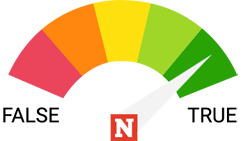 True.
It is true that Florida is experiencing the lowest or joint-lowest per-capita daily COVID case rates at the time of writing.
However, this followed one of the biggest summer spikes in the country, making Florida one of the harder-hit states in overall case counts, and cannot be used to infer the success of Florida's COVID measures or lack thereof.
FACT CHECK BY NEWSWEEK