Fact Check: Is Donald Trump's Popularity 'Through The Roof' Since FBI Raid?
Donald Trump's war of words following the raid on his Mar-a-Lago residence has been as much a part of the story as the findings of the FBI search.
The former president's accusations have included that the bureau planted evidence, that the raid was a search for Hillary Clinton emails, as well as making calls for a "new election" that could reinstate him.
Despite the real possibility of prosecution, Trump has also said that the raid, far from damaging his reputation, has actually propped up his popularity.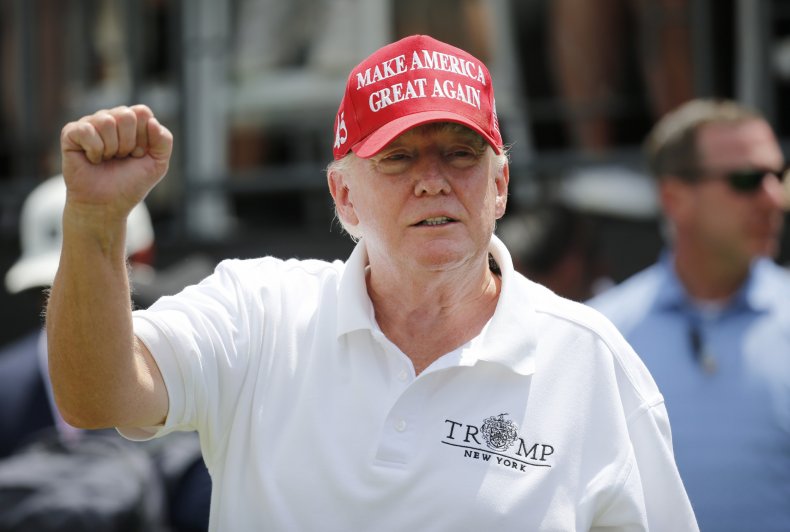 The Claim
A tweet posted on September 1, 2022, included a video in which Donald Trump said his poll numbers had "gone through the roof" because of the FBI raid of Mar-a-Lago.
The Facts
It's not clear which polls Trump is referring to. As he no longer serves as a political leader, and has not officially confirmed his intention to run for office in 2024, there are fewer live trackers of his approval ratings, as there were when he was president.
Most polls are published through think tanks and media outlets which may have their own political leanings and/or choose to work with a polling company that is more likely to represent groups of one political persuasion.
Often these polls are framed around particular events—such as the FBI raid—rather than presenting a more general picture of a given public figure's popularity.
Crucially, Trump does not state which polls he's referring to or who was polled either. "Through the roof" is quite vague as a claim too. It may refer to a substantial increase in approval ratings or that numbers are record-breaking; his follow-up claim ("I've never been involved in an event that's driven me up like this") suggests he may have meant the latter.
However, based on a variety of polls taken from just after the raid to the present date, his claim seems unevidenced at best, and somewhat misleading.
It's true that after the raid Trump enjoyed an uptick in popularity among some pollsters. For example, a National Tracking Poll published by Politico for 10 August, 2022, found among more than 2,000 voters 57 percent said they would vote for Trump in the 2024 primaries, a 4 percent boost on the previous month.
An NBC poll released for 22 August, 2022, also found that 41 percent of Republican or Republican-leaning participants supported him after the Mar-a-Lago raid, compared to 34 percent when the same question was asked in May 2022.
However, not all the results around this time were unanimous in support. A Washington Post analysis of YouGov/Economist polling reports found that while Trump did see his favorability among Republicans increase in the week after the raid, his ratings had remained largely the same compared to earlier in the year.
More recent polling suggests his support may be waning. Another YouGov poll, conducted August 20-23, 2022, found that half of registered voters thought Trump should face criminal charges for handling classified documents.
On August 31, 2022, a survey by Quinnipiac University found that half of Americans thought that Trump should be prosecuted over handling of classified documents. Interestingly, the same survey found that slightly more voters thought Trump should run in 2024 compared to results taken in July 2022.
And on September 1, a Wall Street Journal poll found that a majority of voters thought the FBI's search of Mar-a-Lago was justified, compounding ill feeling toward the former president.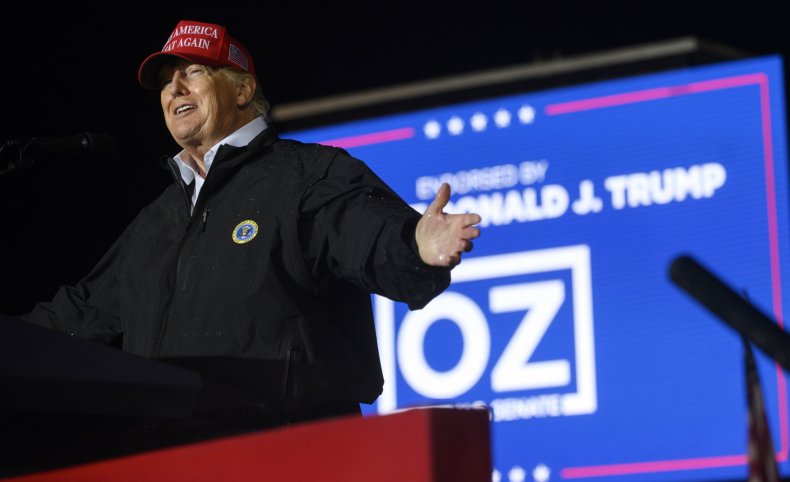 Furthermore, it seems that Biden is enjoying greater popularity since the raid on Mar-a-Lago. Trackers by FiveThirtyEight show his approval rating has increased and disapproval rating decreased since around the end of July 2022.
A Wall Street Journal poll for August 17-25, 2022, found the president now has a six point lead over Trump.
Republicans appear to still strongly support Trump; a USA Today/Ipsos poll found the majority of voters think he can win the next election and should be the party's nominee.
The Wall Street Journal poll found that the majority of voters thought the search was justified, while also indicating that 57 percent of Republicans were now more likely to vote in the November midterms because of it.
All in all, there seems to be some grounds to suggest that Trump may enjoyed some additional support following the raid, particularly as it appears to have galvanized his base.
However, to suggest his numbers are "through the roof", without any qualification, is misleading at best. While some data does show modest growth in support among certain parts of the electorate, others show only partial changes (or little historical movement).
The former president is no stranger to bending facts to support his popularity. In 2018 he claimed that he had higher poll numbers than Abraham Lincoln, despite presidential polling having not started until 1936. While in office, he was also accused of fabricating approval ratings.
Newsweek contacted Donald Trump for comment.
Correction: 9/5/22, 3:35 a.m. ET: This article was updated to correct a spelling error.
The Ruling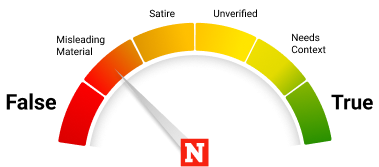 Misleading Material.
While some polls suggest that Trump saw a boost in partisan support, overall his electoral appeal appears to have either remained largely the same or decreased. The lack of clarity about which polls he may have been referring to further undermines the claim's credibility.
FACT CHECK BY Newsweek's Fact Check team