Fact Check: Did George Floyd Die of a Drug Overdose, as Tucker Carlson Says?
George Floyd's cause of death has been questioned in a viral Fox News clip, in which host Tucker Carlson claimed he "almost certainly died of a drug overdose."
The Claim
The host of the Tucker Carlson Tonight show made the claim on Wednesday night and also asserted that "Democratic partisans" used the death and the January 6 insurrection at the Capitol to overturn the "old order."
In the clip, which has been viewed more than 3 million times on Twitter, Carlson said the Black Lives Matter movement had changed the country "more in 5 months than in the past 50 years."
He added: "They used the sad death of a man called George Floyd to upend our society.
"Months later, we learned the story they told us about George Floyd's death was an utter lie. There was no physical evidence that George Floyd was murdered by a cop. The autopsy showed that George Floyd almost certainly died of a drug overdose. Fentanyl.
"But, at that point, facts didn't matter. It was too late. Cities had been destroyed, along with the fabric of this country itself. Scores of people have been killed.
"Democratic partisans used a carefully concocted myth, a lie to bum-rush America into overturning the old order and handing them much more power. It worked flawlessly. So, why wouldn't they do it again?"
Andrew Lawrence, deputy director of rapid response at Media Matters, shared a 90-second clip of the show on Twitter that has been viewed 3.5 million times. It also has been liked more than 34,000 times and has been retweeted on more than 11,000 occasions.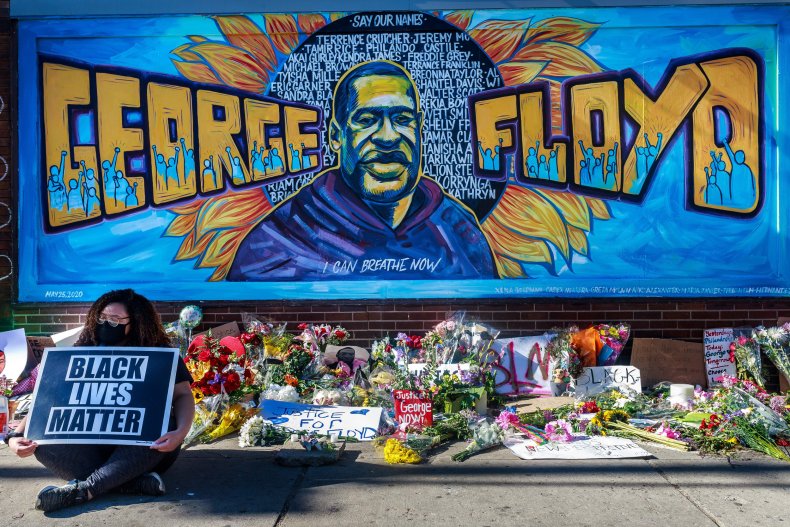 The Facts
Floyd, 46, died in Minneapolis, Minnesota, at 9:25 p.m. CT on May 25, 2020, after Police Officer Derek Chauvin pressed his knee down on the back of his neck for 8 minutes, 46 seconds.
The Hennepin County Medical Examiner (HCME) said the cause of death was "cardiopulmonary arrest complicating law enforcement subdual restraint, and neck compression."
It continued to list arteriosclerotic and hypertensive heart disease, fentanyl intoxication and recent methamphetamine use as being significant conditions that were underlying causes in Floyd's cause of death.
Medical examiners said the fentanyl levels were at a potentially "fatal level," but that it was a combination of factors that led to Floyd's death.
A private autopsy ordered by Floyd's family disputed the findings of the HCME and concluded his death was by "homicide caused by asphyxia due to neck and back compression that led to a lack of blood flow to the brain."
Chauvin, who was charged with second-degree murder and second-degree manslaughter, will stand trial starting March 8.
His lawyer, Eric Nelson, filed court documents in which the focus of the defense rests on alleged medical evidence that Floyd died of a drug overdose.
The Ruling
Mostly false.
The HCME did list drug use as being a factor that could have contributed to the death of George Floyd. But it reported that neck compression and cardiopulmonary arrest played a larger role in his death.
The HCME and family-ordered autopsies ruled homicide as the cause of death.
Neither report claims that Floyd died of drugs or a pre-existing condition, but instead that his heart stopped and that the cause of death was restraint.