Fox News host Tucker Carlson claimed in a clip, now viewed more than 3 million times, that George Floyd died from a drug overdose. He then went on to attack the Democrats' response to Floyd's death and the Capitol riot.
The host of the eponymous Tucker Carlson Tonight show linked the Democrats' responses to the BLM movement and insurrection of January 6, suggesting both could be part of a larger effort to overturn the "old order" of America.
In a clip from his prime time Wednesday night show, Carlson alleged "Democratic partisans" had manipulated the facts around the death of George Floyd last spring to advance a left-wing agenda and were now doing so once again following the January 6 insurrection.
Carlson said: "Beginning on Memorial Day, BLM and their sponsors in corporate America completely changed this country. They changed this country more in 5 months than it had changed in the previous 50 years. How'd they do that? They used the sad death of a man called George Floyd to upend our society.
"Months later we learned the story they told us about George Floyd's death was an utter lie. There was no physical evidence that George Floyd was murdered by a cop. The autopsy showed that George Floyd almost certainly died of a drug overdose. Fentanyl.
"But, at that point, facts didn't matter. It was too late. Cities had been destroyed, along with the fabric of this country itself. Scores of people have been killed.
"Democratic partisans used a carefully-concocted myth, a lie to bum-rush America into overturning the old order and handing them much more power. It worked flawlessly. So, why wouldn't they do it again?"
George Floyd died in Minneapolis, Minnesota, on May 25 last year, after police officer Derek Chauvin was filmed pressing his knee into Floyd's neck for just over eight minutes.
Ahead of Chauvin's March 8 trial, where he is accused of second-degree murder and second-degree manslaughter, his defense team filed court documents that focus on presenting evidence that they claim shows Floyd died from a drug overdose.
The Hennepin County Medical Examiner (HCME) determined the manner of death was a homicide and the cause of death was due to "cardiopulmonary arrest complicating law enforcement subdual restraint, and neck compression."
It also listed arteriosclerotic and hypertensive heart disease, fentanyl intoxication and recent methamphetamine use as other significant conditions underlying Floyd's death.
A private autopsy ordered by Floyd's family disputed the findings of the HCME, and concluded he died by "homicide caused by asphyxia due to neck and back compression that led to a lack of blood flow to the brain."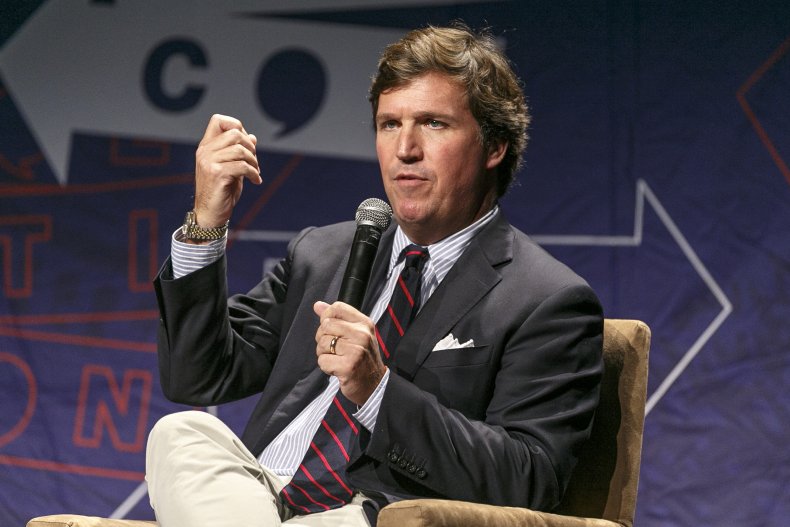 Carlson also dedicated a segment of his show to hit out at Democrats' statements about the storming Capitol building, claiming it could be seen as an attempt to push their agenda in impeaching Trump.
He focused on a statement made by impeachment manager Rep. David Cicilline (D-RI) in which he claimed former President Donald Trump had "incited an armed angry mob to riot."
Carlson continued: "There are no reports of rioters at the Capitol Building that day discharging weapons or threatening anyone with a gun."
He then referred to news coverage of the death of Capitol Police Officer Brian Sicknick who died following the insurrection.
Cuts of segments from MSNBC and CNN were then played where anchors and hosts, including Anderson Cooper, said Sicknick had died after "being hit in the head with a fire extinguisher."
Sicknick's cause of death has not been made public and FBI agents are reviewing fresh video footage to help establish the 42-year-old officer's cause of death. No one has yet been charged with Sicknick's death and an autopsy has not been made public.
Capitol Police have, however, said that dozens of its officers were injured during the insurrection as Trump supporters forced their way into the building. Officers also said pipe bombs and guns were also found near the Capitol the night before the insurrection.
Publically available video footage shows members of the crowd using shields, flagsticks and pepper spray to damage the building and attack officers.
Newsweek has contacted Fox News and congressional Democrats for comment.