Fact Check: Has Advice On Pfizer Vaccine Use During Pregnancy Changed?
While evidence suggests that COVID-19 is fading as a major issue among Americans, vaccine misinformation continues to take hold online.
Only recently, vaccine skeptics used President Joe Biden's COVID infection as a platform to peddle misleading claims about the virus and the use of vaccines.
And even well-worn tactics, like quoting government information out of context, is still being used to mislead the public about vaccine safety.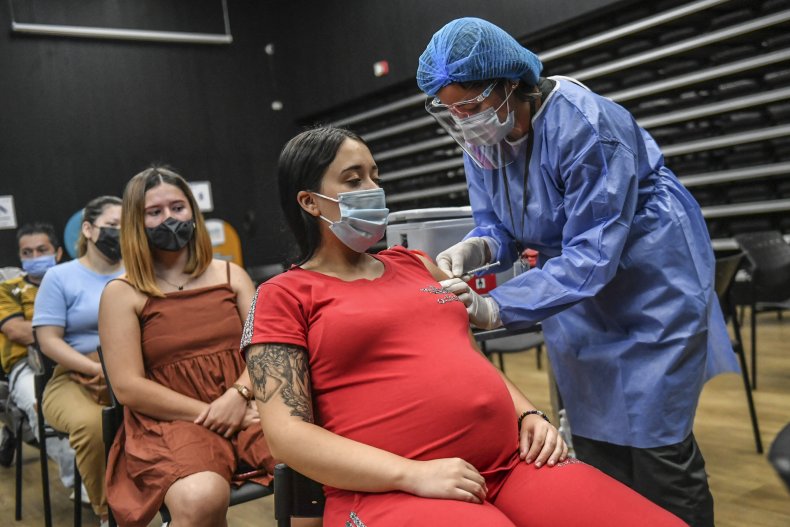 The Claim
Multiple tweets posted in August 2022 suggest that the U.K. government no longer recommends the use of the Pfizer COVID-19 vaccine during pregnancy or while breastfeeding.
The claim spread to the U.S. where it was shared by, among others, American MMA fighter Jake Shields.
The Facts
Much like the CDC, the U.K. medicines regulator (the MHRA) provides regular updates and advice on the safety profile of all vaccines it has approved for use, which can be found on its website.
It does not, at the time of writing, advise against the use of the Pfizer vaccine among pregnant or breastfeeding women.
It states: "There is no current evidence that COVID-19 vaccination while breastfeeding causes any harm to breastfed children or affects the ability to breastfeed.
"COVID-19 vaccines do not contain live components and there is no known risk associated with being given a non-live vaccine whilst breastfeeding.
"The current advice of the Joint Committee on Vaccination and Immunisation (JCVI) is that breastfeeding parents may be offered any suitable COVID-19 vaccine depending on their age."
It later adds: "The product information for COVID-19 Vaccine Pfizer/BioNTech and COVID-19 Vaccine Moderna has been updated to reflect the new safety data and that the vaccines can be used during pregnancy."
The "update" referred to in the tweets is not part of the MHRA's advice. It is information taken from another government webpage, not updated since 2020, and presented out of context.
While the webpage screenshotted in the tweets is from an authentic U.K. government page, it has nothing to do with its current recommendations on vaccine use. It was first published in 2020 to accompany a submission made by Pfizer for temporary approval of its vaccine.
It was changed on December 30, 2020, to include information about pregnant and breastfeeding women, text from which was quoted on Twitter. However, as an archived version of the webpage from January 2021 shows, the information has not been updated recently.
Although the webpage was updated on August 16, the changes have nothing to do with breastfeeding or pregnancy. A separate webpage entry states the August 16 update concerned information regarding the use of booster vaccines.
Crucially, the information about breastfeeding and pregnancy submitted to the MHRA has not changed recently.
Other information on the same webpage shows just how drastically out of date it is.
For example, it states: "At the time of this report, the number of COVID-19 cases in the UK is estimated at 1.64 million and more than 60,000 deaths have been attributed to the disease."
As of August 30, 2022, the U.K. government says the cumulative number of cases in its country (with specimen taken) has reached 19,833,314 while the number of people who have died within 28 days of being identified as a COVID-19 case by a positive test stands at 164,624.
The CDC's current advice recommends COVID-19 vaccination for "all people 6 months and older" including "people who are pregnant, breastfeeding, trying to get pregnant now, or might become pregnant in the future."
It adds: "Evidence continues to build showing that COVID-19 vaccination during pregnancy is safe and effective. There is currently no evidence that any vaccines, including COVID-19 vaccines, cause fertility problems in women or men."
The Ruling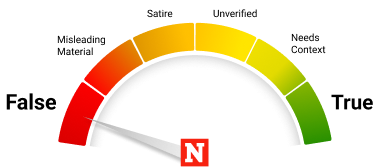 False.
The U.K. government (and the CDC) say the COVID-19 vaccine is safe during pregnancy and breastfeeding. The webpage shared on Twitter is part of a legacy document first published in 2020.
While the webpage was updated recently to include unrelated new information, its entry on pregnancy and breastfeeding has not changed since 2020 despite current recommendations supported by government and health advisors.
FACT CHECK BY Newsweek's Fact Check team