Critics of President Joe Biden have rallied to use his COVID infection to question the effectiveness of vaccines and attack a former erroneous statement he made about the vaccines.
Biden tested positive for COVID on Thursday and the White House said the president was experiencing what were described as "very mild symptoms." The president will now isolate at the White House, where he will continue to carry out his duties and participate in planned meetings virtually, and will continue to do so until he tests negative.
Shortly after the news broke, conservative commentators such as Charlie Kirk, Paul Joseph Watson, and tech entrepreneur Eli David took to Twitter to highlight the fact that Biden caught COVID despite having had four vaccines. These include his initial two shots plus a further two boosters.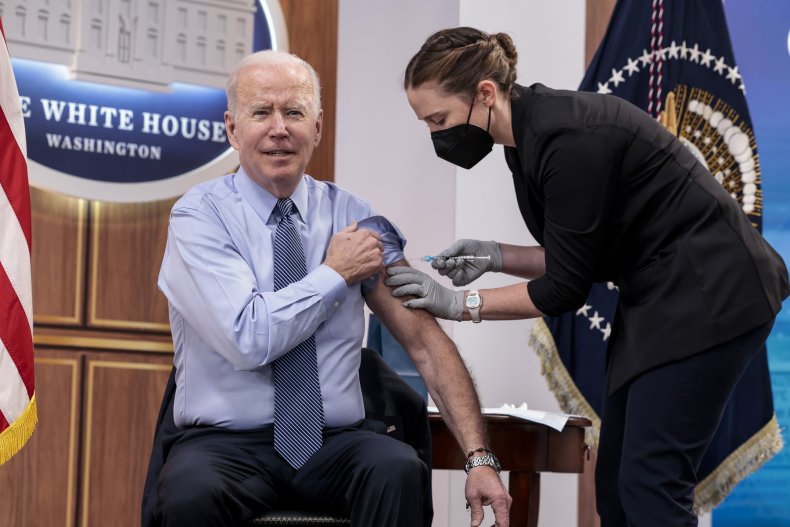 "Twice vaccinated and twice boosted Joe Biden tests positive for COVID-19," wrote Kirk on Twitter.
David shared a video clip of Biden saying "this continues to be a pandemic of the unvaccinated," and tweeted: "He just tested positive for COVID after getting four shots." David added a clown emoji to the end of that sentence.
Others referred to a statement previously made by Biden in which he incorrectly said people would not get COVID if they were vaccinated. "You're not going to get COVID if you have these vaccinations," he said during a July 2021 CNN town hall.
Using examples of so-called breakthrough infections, in which people get infected with COVID despite vaccination, is a tactic that vaccine skeptics have used to question the effectiveness of vaccines or mandates.
"Today he [Biden] should end his destructive vaccine mandate on our military," tweeted Republican Congressman Darrell Issa of California, referring to Biden's 2021 comment.
It should be noted that Biden also stated at another point in the same appearance that "If you're vaccinated, even if you do 'catch the virus'...you're not likely to get sick." This is a more accurate representation of scientific consensus on the vaccines at that point.
The scientific consensus since the start of the vaccine rollout has always been that the vaccines would not entirely prevent infection and those breakthrough infections such as Biden's will be possible even in people who have had booster shots.
Even the initial Emergency Use Authorization for the Pfizer vaccine in December 2020 was based partly on initial data showing that the vaccine was 95 percent—but not 100 percent—effective at preventing infections.
In addition, there are several factors that mean breakthrough infections are even more likely—and to be expected—today than when the vaccines first came out. For example, due to its ongoing evolution, the SARS-CoV-2 virus now is more capable of evading vaccine-mediated immunity than it was when vaccines first came out.
There's also the fact that several months or longer will have passed since many people received their last vaccine, and data shows that the protection offered by the shots wanes over time.
In short, it would be misleading to imply that Biden's infection is an example that vaccines are ineffective. The U.S. Centers for Disease Control and Prevention's (CDC) position today is that although "people who are vaccinated may still get COVID-19...when people who have been vaccinated get COVID-19 they are much less likely to experience severe symptoms than people who are unvaccinated."
The question of whether the vaccines' inability to protect people from infections in 100 percent of cases and the detrimental effect of new variants warrants criticism of mandates—as per Congressman Issa—is another conversation altogether.
The headline of this article was updated.
Uncommon Knowledge
Newsweek is committed to challenging conventional wisdom and finding connections in the search for common ground.
Newsweek is committed to challenging conventional wisdom and finding connections in the search for common ground.