Video of President Joe Biden assuring Americans exactly one year ago that they would not get COVID-19 if they are vaccinated resurfaced Thursday after the commander in chief tested positive for the novel coronavirus.
The White House announced Biden's positive test results, saying he was only having mild symptoms. "He is fully vaccinated and twice boosted and experiencing very mild symptoms. He has begun taking Paxlovid. Consistent with CDC guidelines, he will isolate at the White House and will continue to carry out all of his duties fully during that time," White House press secretary Karine Jean-Pierre said in a statement emailed to Newsweek.
Shortly later, Biden posted to Twitter, writing: "I'm doing great. Thanks for your concern." The president included an image of himself sitting and working at his desk.
Critics of the president and skeptics of the vaccine quickly resurfaced previous remarks he made claiming that those who are vaccinated will not get COVID-19. Exactly one year ago on July 21, 2021, during a CNN Town Hall, Biden asserted: "You're not going to get COVID if you have these vaccinations."
"It was one year ago today that Biden said this quote: 'You're not going to get covid if you have these vaccinations,'" Greg Price, a right-wing digital strategist, tweeted, sharing a clip of Biden at the Town Hall.
Political commentator and OutKick founder Clay Travis tweeted the video as well. "Last July Joe Biden on @cnn 'You're not going to get covid if you have these vaccinations.' Biden has now had FOUR covid shots and still got it," Travis wrote.
Many others tweeted the clip or the quote, pointing out that the president had now contracted COVID-19. Biden's old remarks were quickly fact-checked by Newsweek, the Associated Press, Snopes and others shortly after he made them last year.
While vaccinations have been shown to protect against severe infection and death, they are less effective at preventing infections altogether. Biden's complete remarks during the CNN Town Hall included this context, although he did overstate and say that the vaccines would protect against infection in general.
"If you're vaccinated, you're not going to be hospitalized, you're not going to be in the IC [intensive care] unit, and you're not going to die," Biden said during the event. "So it's gigantically important that...we all act like Americans who care about our fellow Americans," he added.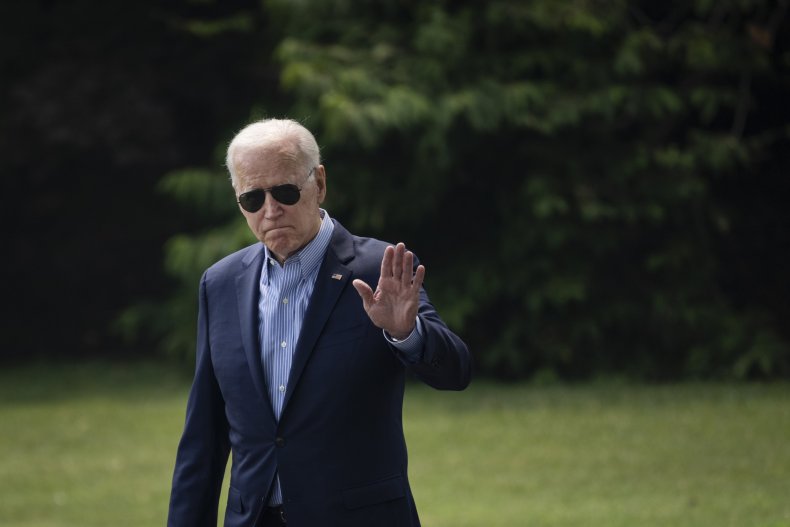 As Biden faced mockery from right-wing critics, others on the left voiced their well-wishes and pointed to the efficacy of vaccines.
"Wishing President Biden a speedy recovery from COVID-19. Glad to hear his case is mild - an important reminder about why being vaccinated and boosted can help keep everyone safe. Feel better soon,@POTUS!" Representative Adam Schiff, a California Democrat, tweeted.
Initial studies showed that the approved COVID-19 vaccines were highly effective at preventing infections, severe disease and death. However, after new variants of the novel virus emerged, efficacy against infections dipped, but vaccines have generally remained strong at preventing serious cases, hospitalization and death.
Some 78 percent of Americans have received at least one dose of a COVID-19 vaccine, while 67 percent are considered fully vaccinated, according to The New York Times tracker. Meanwhile, nearly 128,000 people per day have been testing positive for the novel virus on average over the past two weeks. Nearly 42,000 people are currently hospitalized with COVID-19 nationwide, and about 426 people have died per day over the past 14 days.