Fact Check: Did Joe Biden Reject Idea of Mandatory Vaccines in December 2020?
President Joe Biden's stance on COVID vaccine mandates is in the spotlight after sweeping new federal measures were outlined as the pandemic continues.
The Claim
Rep. Kevin McCarthy (R-CA) tweeted that Biden had said on December 4, 2020, that he did not think the COVID vaccine should be mandatory,
He shared a video of Biden, which he said was from December 2020, in which the then president-elect was asked: "Do you want vaccines to be mandatory?"
To this, Biden said: "No I don't think it should be mandatory, I wouldn't demand it be mandatory."
McCarthy, the House Minority Leader, accused Biden of lying after the announcement of new federal measures on the imposition of vaccines.
The Facts
The question of vaccine mandates was posed to Biden back in 2020, at an event in Wilmington, Delaware, on December 4.
According to a transcript from Rev and video from a stream of the event from December 4 reviewed by Newsweek, he was asked the following after his speech: "Do you think the COVID vaccine should be mandatory?"
He rejected the notion and spoke of wanting to "encourage people to do the right thing," as opposed to mandates.
"No, I don't think it should be mandatory. I wouldn't demand it to be mandatory," he replied.
"But I would do everything in my power—just like I don't think masks have to be made mandatory nationwide—I'll do everything in my power as President of United States to encourage people to do the right thing and, when they do it, demonstrate that it matters."
On Thursday, September 9, Biden issued executive actions that demand all federal workers and contractors must be vaccinated, with a limited set of exceptions.
Biden also announced that the Department of Labor is developing an "emergency rule" requiring private employers with 100 workers or more to "ensure their workforces are fully vaccinated or show a negative test at least once a week."
Vaccination requirements for hospitals and healthcare facilities were also expanded.
"Already, I've announced, we'll be requiring vaccinations that all nursing home workers who treat patients on Medicare and Medicaid, because I have that federal authority," Biden said.
"Tonight, I'm using that same authority to expand that to cover those who work in hospitals, home healthcare facilities, or other medical facilities—a total of 17 million healthcare workers."
The rules are to impact some 100 million Americans in total, the Associated Press reported.
The measures have faced immediate pushback, with Republican governors vowing to fight them.
As well as Biden's past remarks, it was also highlighted that White House Press Secretary Jen Psaki said in July that vaccine mandates were "not the role of the federal government."
Newsweek has contacted the White House for comment on the president's past remarks.

The Ruling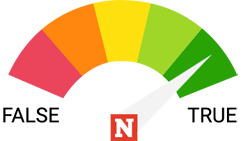 True.
FACT CHECK BY NEWSWEEK
In December 2020, while president-elect, Biden said he did not think vaccines should be mandatory and that he would not demand they be.
The remarks were made in Wilmington, Delaware, following him delivering remarks on the November 2020 jobs report.